The Ripple price is stable. While the SEC brought in a settlement negotiator, the Ripple—a blockchain company seeking to disrupt remittance—tapped the services of a former U.S. Treasurer.
Ultimately, it is upon a U.S Judge to deliver the final verdict.
Whether XRP is a security or a utility could, in any case, be sequential in market capitalization.
Hopes, however, hinges on the last few wins against the agency.
Despite claims of "harassment," many agree that Jay Clayton was ill-advised to sue the payment company.
The agency went against the grain, opposing stances by, for example, FinCEN, whose documents say XRP is a digital currency.
SEC Requesting Assistance from Foreign Entities
Presently, it has emerged that the SEC also sourced information from at least 20 foreign entities—including regulators and trading platforms– as part of their case preparation.
Even though Ripple lawyers pushed back, that didn't stop the SEC. The latter argue that the Request for Assistance from foreign regulators is a legal precedent. These requests are not subpoenas—enforceable by federal courts.
The SEC will now provide the defendants with documents obtained from foreign regulators and other entities who willingly submitted information about Ripple and XRP.
Q1 2021 Sales of XRP
Away from the courts, there appears to be accumulation. Data reveals that Ripple sold almost double the amount of XRP in Q1 2021 than in Q4 2020. XRP sales rose 97 percent to $150.34 million from $76.27 million. It hints at increasing demand for On-Demand Liquidity (ODL).
Ripple Price Analysis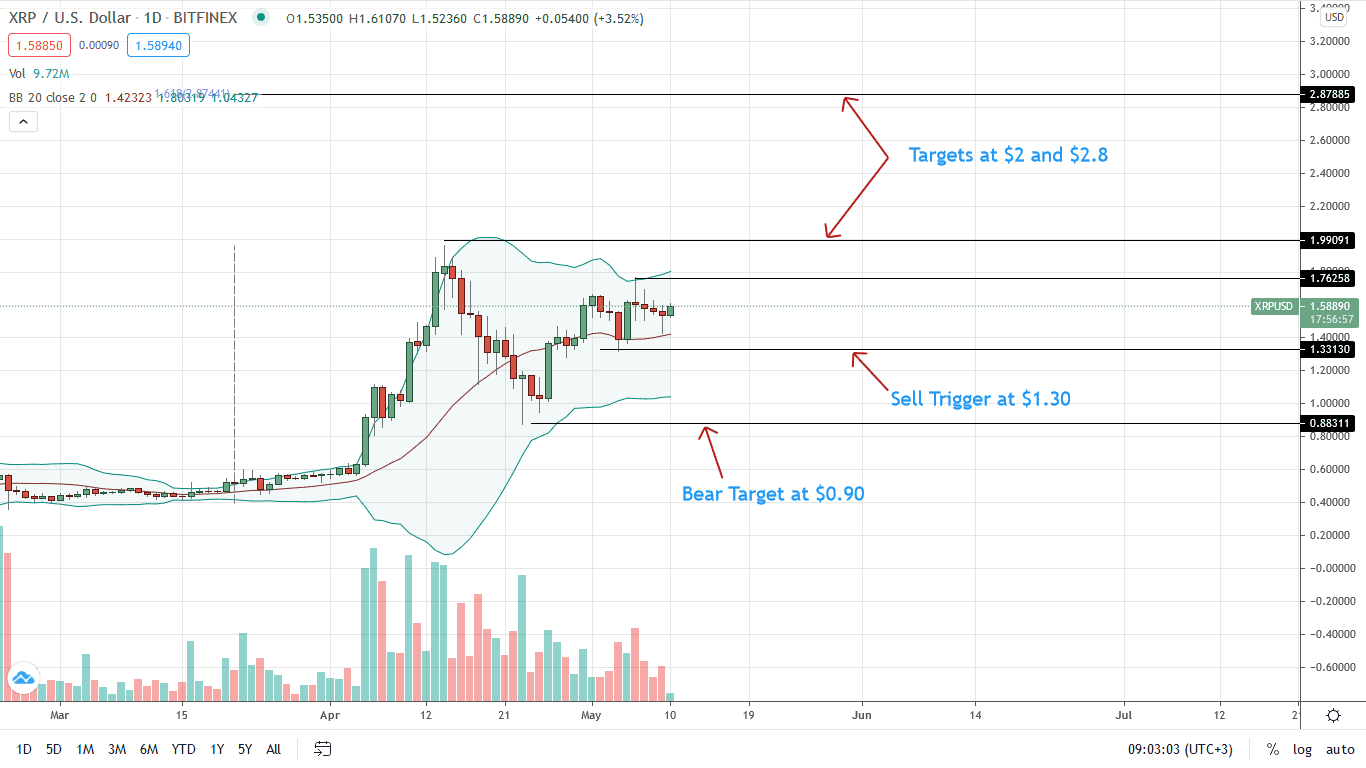 The Ripple price maintains an uptrend, although prices are restricted in tight trade ranges.
After incredible gains in April and rejection of higher highs, last week ended lower.
Stable versus the greenback, XRP traders can buy the dips provided they trend inside the week ending May 2 with increasing trading volumes.
In the immediate term, buyers are angling for around $2—March 2021 highs–and $2.8—the 1.618 Fibonacci extension level of the March 2021 trade range.
However, this is provided prices found support above $1.30 and the middle BB.
Dips below these levels may trigger the next wave of lower lows, with bears angling for $1—a psychological level—and $0.90–April 2021 lows.
Chart Courtesy of Trading View
Disclosure: Opinions Expressed Are Not Investment Advice. Do Your Research.