The Ripple price has successfully managed to shake-off December 2020 drawdown–if the daily chart's price action guides.
As of writing on Feb 15, the XRP price is trading above $0.50, $0.25 short of Dec 2020 highs, and is back, firmly to third, flipping Tether (USDT) and others, including Polkadot.
The Modernization of Finance's Payment Rails
If anything, it has been a rollercoaster ride, a redemption of some sorts, and a shot in the arm for diehard holders and believers of the project's bottom line.
While there are two distinct companies that both work on XRP, relying on the digital coin as part of their business operations, it is evident that their synergies are paying off, propping prices.
At the core, Ripple is a modern payment system that seeks to revolutionize how value should be move. There is the RippleNet suite fronted by Ripple Inc., where over 400 banks are plugged in.
Within RippleNet is On-Demand Liquidity that uses the XRP for on-demand liquidity, eliminating the need for Nostro accounts for banks.
XRP Held by Americans
On the other hand, end-users benefit from the quick and cheap settlement. With XRP acting as a transfer vehicle, there have been various benefits for users in terms of speeds and costs.
Over 100 exchanges support the XRP coin. Albeit their recent legal troubles, clarity following the case will be a massive boost for Ripple, and it was inevitable.
Observers say that millions of Americans hold XRP. Many companies are already keen to experiment with ODL to save on costs.
Furthermore, their inroads and impact in the SE Asia banking scene highlight the usefulness of the technology.
Ripple Price Prediction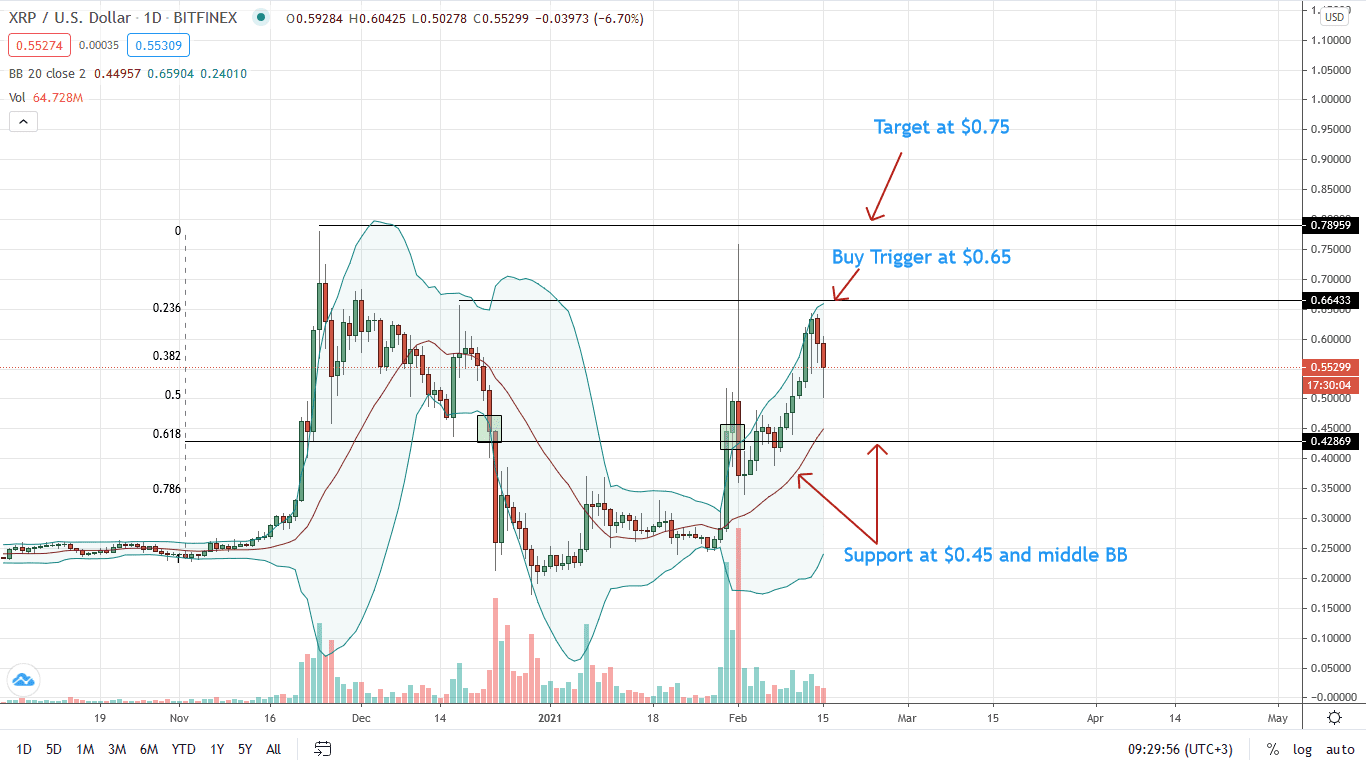 The XRP price is bottoming up, adding 32 percent week-to-date. Notably, the XRP price is posting gains versus BTC and ETH within the same period, adding seven and 19 percent, respectively.
Judging from last week's bull bar, the path of least resistance is northwards even with the crypto dump.
A break above $0.65 opens up the XRP/USD price to $0.75 in the immediate term. However, this breakout's rapidity depends on participation levels—a measure of trader interest.
Note that trading volumes have been relatively lower throughout last week, a fraction of Feb 1's inverted hammer. Therefore, a close above $0.65 should be with participation exceeding recent averages, forming the baseline for $0.75 for aggressive traders.
Leaning on caution, losses below $0.45, the 61.8 percent Fibonacci retracement level of October to November 2020 trade range, may cause traders to unwind their XRP longs. In that case, the XRP price may dump back to $0.30.
Chart Courtesy of Trading View
Disclosure: Opinions Expressed Are Not Investment Advice. Do Your Research.
---
If you found this article interesting, here you can find more Ripple news