On Monday, Meta announced more details about the feature that will allow users to showcase their digital collectibles on Instagram.
The company is experimenting with digital collectibles on Instagram starting this week by inviting select artists and collectors in the US and Canada to share their own or purchased NFTs that they have created or purchased on Instagram.
With the new feature, you can connect a digital wallet, share digital collectibles, and tag the creators and collectors of the digital collectibles automatically. A digital collectible can be posted or shared on Instagram without incurring any fees in the process.
Helping the New Artists
It is very exciting to hear that Meta is continuing to roll out digital collectibles on its Facebook and Instagram pages – and that they have decided to give people the ability to post digital collectibles that they own. As a result of this change, people will be able to link their digital wallets to either app once and be able to share their digital collectibles across both apps at the same time.
We are launching our international expansion today into a hundred countries in Africa, Asia-Pacific, the Middle East, and North America. Further, it is now possible to connect the Flow blockchain to Coinbase Wallet and Dapper wallets and post-digital collectibles coined on the Flow blockchain that is created by the user.
A digital collectible can be posted on Instagram as long as you connect your digital wallet to the Instagram account in order to do so. There are many third-party wallets that are currently supported by this software, including Rainbow, MetaMask, Trust Wallet, Coinbase Wallet, and Dapper Wallet, which is coming soon.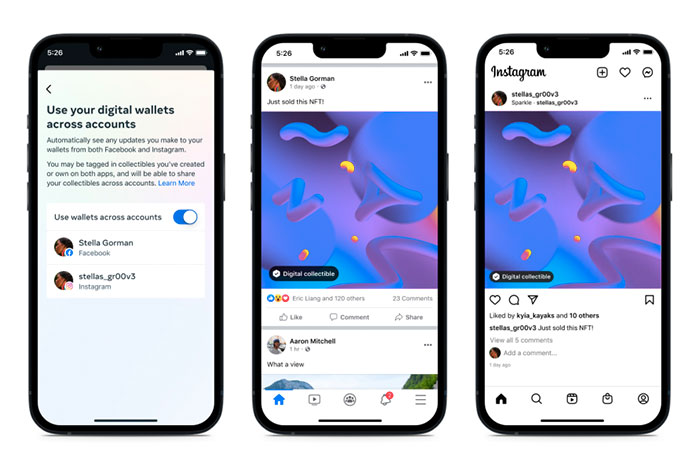 Currently, Ethereum, Polygon, and Flow are supported as blockchains that can be used in the application. Using Instagram to share a digital collectible is free of charge, and there are no fees involved in doing so.
Meta provides this feature by collecting and organizing public data from open blockchains, like Ethereum, in order to provide the users with this feature. It is possible to only identify which collectibles belong to collectors and creators by connecting their third-party wallets to Instagram in order to identify which collectibles belong to them.
From the moment of launch, Ethereum and Polygon will be supported by the platform, with Flow and Solana to follow soon after. It is anticipated that Rainbow, MetaMask, and Trust Wallet will all be compatible for use with the application, as well as Coinbase, Dapper, and Phantom coming soon.
It is expected that Meta will expand access to digital collectibles in the near future, ensuring that more creators and collectors will have the opportunity to own digital collectibles.