High end fashion house, Gucci and luxury jewellery giant, Tiffany, have become the latest companies in the luxury fashion segment to embrace non-fungible tokens (NFT). In recent months, the luxury segment has been one of the commercial sectors that has come closest to the crypto world. Why is 'haute couture' beamish on NFTs?
NFTs are causing a paradigm shift across nearly every sector of the society. They are revolutionizing everything from finance to art to retail fashion. The concept of digital collectibles has been spreading like wildflower amassing unprecedented traction from celebrities, sports stars, media houses, global conglomerates as well as start-ups. Despite a crypto slump triggering a drop in the demand for NFTs, ultra luxury fashion brands have sparked a bullish sentiment for the digital art sector.
NFTs are Spreading Like Wildfire
Now accepting @ApeCoin payments via @BitPay, select Gucci boutiques in the USA expand the range ofcryptocurrencies available for in-store purchases, yet another step in the House's exploration of Web3.

— gucci (@gucci) August 2, 2022
Recently, Italian luxury fashion brand, Gucci, announced that it will accept Bored Ape Yacht Club-affiliated, ApeCoin (APE), at select U.S. stores. Earlier this year, some Gucci stores in the U.S. started taking cryptocurrencies, including Bitcoin (BTC), Ethereum (ETH) and Dogecoin (DOGE), as well as five dollar-pegged stablecoins. Not only this, the iconic fashion house entered the metaverse by buying a plot of digital land in, The Sandbox. In March 2022, Gucci inked a deal with popular NFT project, 10KTF, to launch its own non-fungible token (NFT) collection.
Meanwhile, luxury jewelry brand Tiffany & Co navigated towards the NFT sector with the sale of a 250 diamond and gemstone encrusted pendants for CryptoPunk nonfungible token (NFT) holders. Tiffany's tryst with NFTs kicked-off in March when they purchased an Okapi NFT from contemporary artist Tom Sachs for $380,000. On April 1, Tiffany launched 'TiffCoins', a limited-release of 400 18-karat gold coins with the company logo individually engraved on each coin.
We're taking NFTs to the next level. Exclusive to CryptoPunks holders, NFTiff transforms your NFT into a bespoke pendant handcrafted by Tiffany & Co. artisans. You'll also receive an additional NFT version of the pendant. Learn more: https://t.co/FJwCAxw8TN #NFTiff #TiffanyAndCo pic.twitter.com/pyKlWejHv4

— Tiffany & Co. (@TiffanyAndCo) July 31, 2022
Major Luxury Fashion Brands Banking on NFTs to Capitalize on Market Growth

Major luxury fashion brands have already forayed into the world of NFTs. Prada, Versace, and Balmain among a host of other fashion brands have announced NFT releases, crypto payment options and digital stores in the metaverse. Txampi Diz, chief marketing officer at Balmain said that crypto adoption has increased multifolds in recent times leading to an explosion of interest from companies and brands looking to launch their own NFT projects and capitalize on market growth. Diz added,
"We need to build our own space in Web3, and we need to test which experiments make sense for us as a luxury house. This has to be part of the global marketing strategy for every brand."
According to a recent Bloomberg podcast, luxury brands are exploring the crypto sector to accept cryptocurrencies as a form of payment and to be able to reach out to a broader audience connecting more with the younger generation. Fashion brands are betting big on NFTs because they offer "exclusivity", which is key for fashion firms, since non-fungible tokens are unique and are aimed at a niche segment.
In addition, high end fashion can also act as a connection point for the cryptocurrency, blockchain and Web3 market to reach the entire commerce sector, establishing very interesting new scenarios for the future.
Why NFT Sentiment still Bullish Amidst Market Rout?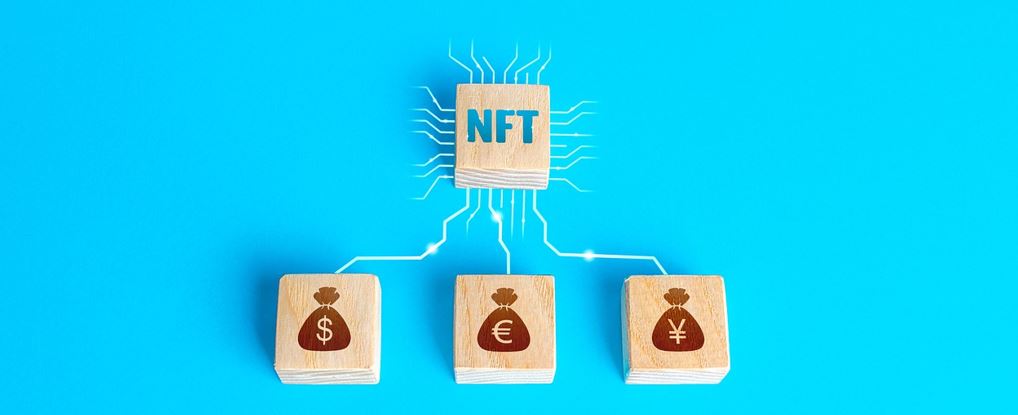 Despite the falling crypto prices and a decrease in demand for NFTs, brands like Gucci and Tiffany, are banking on cryptocurrencies to increase their revenue. It is very interesting as to how Gucci is accepting crypto that would directly imapct their balance sheet. This could eventually ease up the company's tax implications, accounting implications and regulatory hurdles. It is also a way to show that as a brand, the companies are keeping up with the new trends. In a statement, Diz, said,
"We like to say we have an audience and not only customers. We believe that luxury brands have also become media, and for us, NFTs are an interesting and powerful tool."
George Yang, founder of Web3 fashion brand Cult & Rain, suggested that there are parallels between the ways designer sneakers are kept deliberately scarce. He explained that the NFT market has boomed because collectors "want something that's rare, that is scarce, that adds value". Yang expressed,
"When it comes to sneakerheads, everybody wants something scarce. Everybody wants sneakers that are special, everybody wants sneakers that other people can't have."
Nelly Mensah, head of Web3 and metaverse at French luxury powerhouse LVMH believes NFTs can create an entirely new market of consumers. Brands would be wise to develop strategies that embrace this new digital frontier.