In the process of playing the Ethereum upgrade, it seems that there is a divide emerging between the retail and professional markets. This week has seen the crypto world buzzing with news about the upcoming software upgrade for Ethereum.
As a result, there is a divide in expectations when it comes to how to position yourself for the so-called Merge: retail investors have been selling their tokens while institutions have been investing in them.
Consequences on the Market
ETH traders at Genesis have expressed some new bullish views regarding the cryptocurrency, with investors buying calls and selling puts on ETH. According to Enigma analysts, traders are likely to expect a retracement of Ether's big rally that has been taking place since June following Ether.
A trading firm called B2C2 has seen a significant increase in the amount of Ether purchased. However, in recent days, there have been a number of BlockFi's customers that are selling their products. 
Matt Maley, the chief market strategist at Miller Tabak & Co., said that given the Federal Reserve's hawkish stance, retail investors are getting nervous about another risk-off period for the markets, especially given the Fed's hawkish stance.
They are therefore taking a couple of chips off the table in order to do this. As a result, institutional investors, who are more sophisticated than retail investors, are leveraging the current dip to add Ether to their portfolios.
According to a note from Cumberland on the Merge, the typical trade that has been happening in the last few weeks has been buying spot Ether and selling futures against it.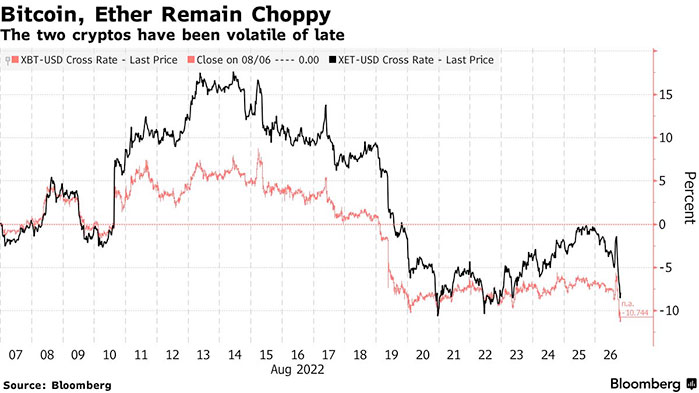 An example of this would be the ETH PoW trade, which allows Ether holders to receive a token that will be forked off the ETH network without the risk of ETH prices going down. Despite this, the unpredictability surrounding the upgrade has led to Ether holders selling September and December futures contracts in order to offset the uncertainty.
Stephane Ouellette, the president and chief executive officer of FRNT Financial Inc., said that there are now more questions being asked around the Ether chain split than ever before. As a result of the upgrade, he will be able to assess the value of a potential new proof-of-work chain that may emerge as a result. He said: 
"There are a growing number of arb strategies emerging around the complex, and clients are also trying to decide if there are outright value plays in both the PoS and PoW chains around the merge event." 
Though some are selling Ether right now, sentiment hasn't soured yet, and the Merge is still being seen as a positive development, even though some are selling Ether right now.