Litecoin was among the top-performing altcoins this week, raking in gains of more than 20% in the past seven days. The LTC bulls managed to crack several barriers along the way as it now reached the recently hit local top.
Litecoin was up by 16% over the last 24-hours, which drove its price to $242.17, at press time. It securely held its position as the ninth-largest crypto-asset by market cap on the leaderboard. Is there room for more gains?
Litecoin [LTC] 24-Hour Chart: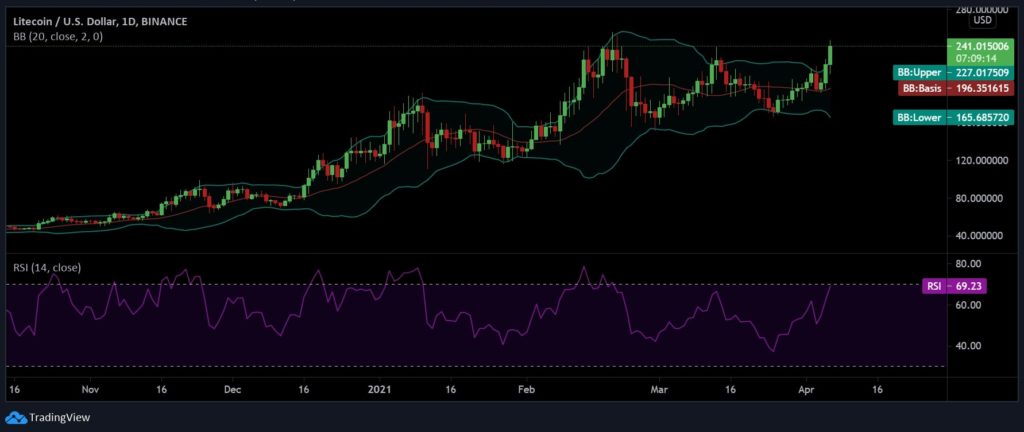 The crypto-asset was now at a crucial stage. While LTC was still below its all-time high levels, the latest attempt to target higher was accompanied by major milestones on the institutional as well as on the developmental side.
Coming back to the daily chart, the Bollinger Bands diverged abruptly on the 5th of April stirring a phase of high volatility in the Litecoin market. This could mark the beginning of a potential rally all the way up to its peak level that was last seen in January 2018.
The Relative Strength Index [RSI] was also heading to the overbought zone depicting the rising buying appetite in the market. It was indicative of the fact that there is still room left for a leg higher.
Looking at the larger picture, the altcoin market has recovered significantly. The same cannot be said for Bitcoin whose price stagnated below $60,000. Its silver counterpart, however, has been raging since last week. So what is behind the fresh strength?
CoinShares' Litecoin Exchange-Traded Product
The latest surge, however, coincided with a major European digital asset investment company, CoinShares' announcement of launching physically backed Litecoin ETP.
The all-new 'CoinShares Physical Litecoin' is reportedly listed under the ticker symbol LITE. At launch, each unit of the Litecoin ETP is backed with 0.2 LTC. This essentially offers investors in the market "passive exposure" to the LTC network's native token.
The new investment product, which happens to be CoinShares' third physically backed exchange-traded product offering, will be first listed on Switzerland's regulated cryptocurrency exchange called SIX Swiss Exchange with a base fee of 1.50% p.a.
Following the development, Chief Revenue Officer Frank Spiteri remarked,
"CoinShares is the leader in creating novel ways for investors to access the digital asset ecosystem, and LITE is the next step on a path to bringing a more comprehensive and diversified offering of ETPs to market."
In yet another related development, Litecoin Founder Charlie Lee joined BTCS Inc, the digital asset and blockchain technology-focused company, as the newest independent member of its Board of Directors on the 5th April.
---
If you are interested in this project and want to be informed of everything that happens, visit our Litecoin News section