There is much news circulating in the crypto market showing big luxury brands like Johnnie Walker, Louis Vuitton, and Gucci are interested in crypto.
For example, according to a tweet by Johnnie Walker's official account:
It's official: Johnnie Walker Blue 🤝 has partnered with @veefriends and @garyvee pic.twitter.com/woyFzHK7lH

— Johnnie Walker (@JohnnieWalkerUS) May 3, 2022
"Johnnie Walker Blue has partnered with @veefriends and @garyvee."
The former is an NFT project shaped around intellectual property, and the latter is one of the famous startup and crypto influencers.
Luxury Brands Embracing Crypto
In other news, Gucci is offering more in the crypto industry. This month, some US stores will accept cryptocurrency payments, and all directly-operated stores in North America will accept the technology this summer.
To make crypto payments in-store, customers will receive an email containing a link that contains a QR code that allows them to carry out the transaction from their crypto wallet. Gucci stores in New York, LA, Atlanta, and Las Vegas have taken cryptocurrency for the first time: Wooster Street and Rodeo Drive in Los Angeles, Miami Design District, and The Shops at Crystals.
Among the cryptocurrencies, Gucci will accept are Bitcoin, Bitcoin Cash, Ethereum, Wrapped Bitcoin, Litecoin, Shiba Inu, and five stablecoins pegged to the US dollar. Also, Dogecoin will be accepted.
The standard method of accepting crypto payments in physical stores is via QR code or NFC reader on the point of sale terminal that connects to a customer's smartphone cryptocurrency app, similar to how you pay with a credit card. Retailers can convert payments to fiat currency, like US dollars, or keep them as cryptocurrencies.
Among the brands, Gucci has built out just recently is a Web3 team. They've also acquired and are developing digital real estate on The Sandbox, where Adidas, Al Dente, and others have their land. Among the first luxury brands to release NFTs was Gucci; the one-of-one film sold for $25,000 in June. To date, it has released two additional NFT projects, opened a Discord server, and made a significant investment in Sandbox.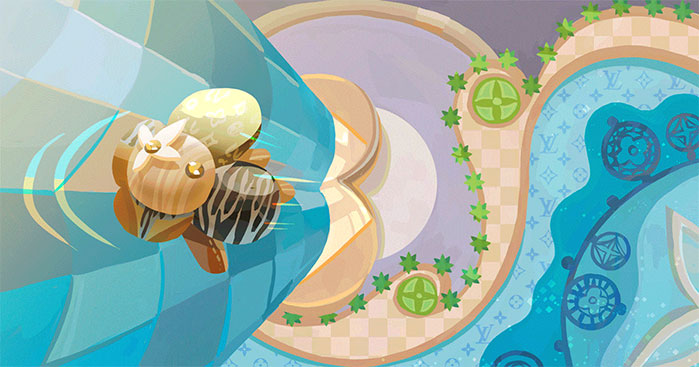 The other luxury brand interested in NFT and other crypto concepts is Louis Vuitton, according to Vogue Business. Following the launch of Louis: The Game last August, a standalone game app for Louis Vuitton that rewards players with historical postcard NFTs, the brand is further investing in its virtual platform as luxury's relationship with gaming grows.
In the NFT project, players are educated on the brand's 200-year history via free NFTs instead of an auction or price sale. Upon reaching a certain threshold, players will be eligible to take part in an NFT raffle.
There will be 10 NFTs distributed in the raffle, which runs until 4 August, featuring Vivienne, an anthropomorphism of the company's monogram. Vivienne will appear in a variety of looks in the NFTs that will function as an avatar on social networks, similar to an LV PFP.