Google Trends shows that late last year, cryptocurrencies such as Bitcoin, Ether and Litecoin were hot topics . Over the course of the past few weeks, this has changed as interest seems to wane. What's dropping is not just interest in online searches related to cryptocurrencies, their prices have been taking plunges too.
Following results returned from Google searches, words such as Bitcoin, Ethereum and Litecoin has dropped in search volume by 80% of what was obtainable in October 2017. A study of the Google search chart would almost give impression you're looking at the BTC/USD price chart. An indication that the popularity of Bitcoin is directly proportional to its price.
Although there has been a reduction in interest as seen from lower volume of searches of cryptocurrencies such as ripple, the apathy seem not global. Google result shows that some countries still return higher interest in digital currencies. Countries such as Switzerland, Netherland , South Africa, Singapore, Canada, Austria, Slovenia, Ghana and Norway still show higher than average interest in Bitcoin.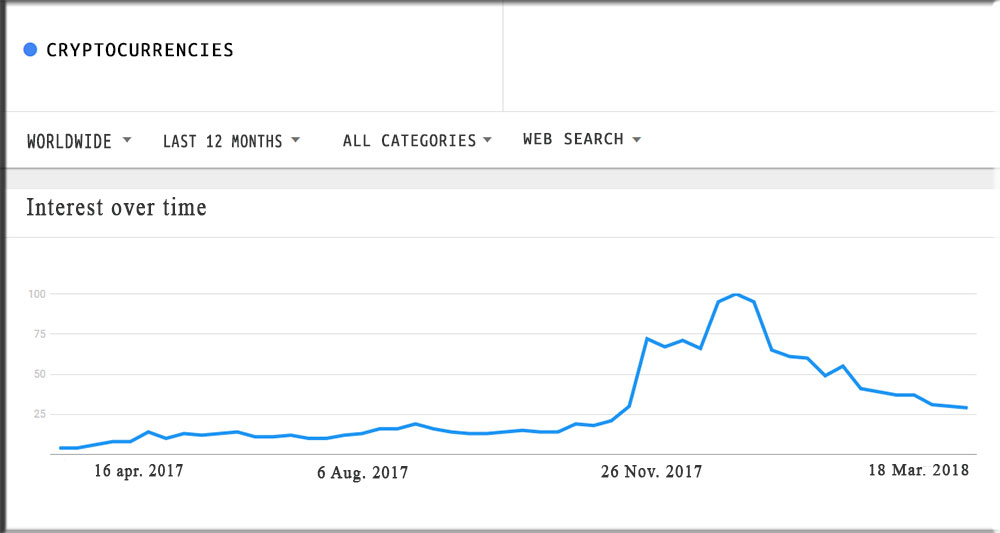 Related searches which are still remarkably high are "bitcoin bubble", " bitcoin cash news", "Binance", " ripple price". "Trading" is still a popular search in Asia, especially Japan, where "ether" the second most capitalized coin is still having a high search volume. Litecoin which boasted a high search last October seems to no longer hold the interest of people.
Last January, following Google Trends, a study predicted that with the waning interest in cryptocurrencies Bitcoin would likely drop in value to $7100. In reality, it fell to $6000 by February. The decline affected searches related to cryptocurrency related jobs although those associate with blockchain, the underlying technology seemed unaffected.
Aside declining interests, it seems that searches are getting more sophisticated. Two countries, Austria and Bolivia are searching more for Bitcoin Cash than other digital currencies.
Bitcoin had its highest search volume when its price spiked last year. Apparently, many of those searches were from new investors hoping to make it big through an investment. With the January dip in prices, they abandoned the quest to become instant millionaires. Experience has shown that millenials have exhibited persistent interest in Bitcoin. Most have maintained interest in the digital currency.
Fundstrat's Thomas Lee has predicted that Bitcoin could still hit $20,000 by July. According to him the pattern shown by the coin is not different from what it showed in April – July of 2013 which if repeated would likely see a tremendous spike.