The latest stats of SushiSwap shows a considerable accumulation sentiment from whales that can result in price gains. Santiment published a new report about this DeFi platform detailing the stats of whales and their accumulation. This report shows a positive future for SUSHI as more accumulation may result in confidence in holding the coin for longer terms.
According to the latest report from Santiment, whales are currently holding 3.4% more of the total supply of SUSHI:
"#Sushiswap gained +10% on Tuesday, and the accumulation pattern of whale addresses has looked strong. Addresses with 100k to 10m $SUSHI have now accumulated 3.4% more of the total supply, a total of 8.34M coins worth approximately $53M."
Addresses holding 100k to 10M SUSHI are now holding about 42% of the total supply of this token. This metric has been rising from a long time ago. After SUSHi hit an ATH in the price chary in March 2021 at 21$, whales are accumulating more of this token. Despite some dumps in the accumulation chart, it always has an uptrend movement. Although the price has been declining since November this year, whales haven't stopped accumulating. It's a common trend in the market. Those who hold lots of a token and feel confident about it try to hold more and even add to their holdings, especially when the price dumps.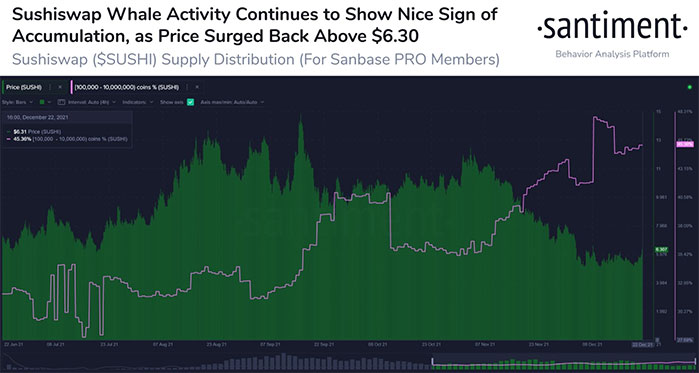 The opposite strategy is often made by retail or amateur users. They trade coins for the hope of profits but don't know the best time to buy or sell. When the price dumps, many of them sell their coins because of fear. It's time whales come to the market and add to their holdings because most of them think long-term about their investments.
Whales accumulating more tokens can be a very good sign of possible price jumps in the future. These holders can affect the market by buying and selling large amounts of tokens. When they decide to have more amount of a token (SUSHI here), it means they may try to pump it in the future. Retail traders can use this opportunity to enter a trade and buy that token.
Metrics showing whale actions and sentiment aren't enough for deciding investment in tokens. They may have various strategies with their effect on the market. But the current stats for SushiSwap shows there can be positive movements for this network. These reports may result in social metrics rising for SUSHI that are very effective in changing price directions.