Ethereum [ETH], the world's second-most valuable digital currency, was battling near the coveted range of $2000. The ETH miner balances of the network, however, is seeing a renewed bullish momentum.
As confirmed by the leading on-chain market analysis platform, Santiment, Ethereum miner balances have been on a rise. According to the latest stats, the miner balance figures now stood at $112k after posting a recovery of 20% in a little over a month.
Santiment's latest tweet regarding the same read,
"Miner balances for Ethereum have been rising steadily for the past month or so. After miners held a staggering 163.3K $ETH back on March 26th, it dipped to as low as 94.2K on June 6th. Now, balances are on the road to recovery back to 112k."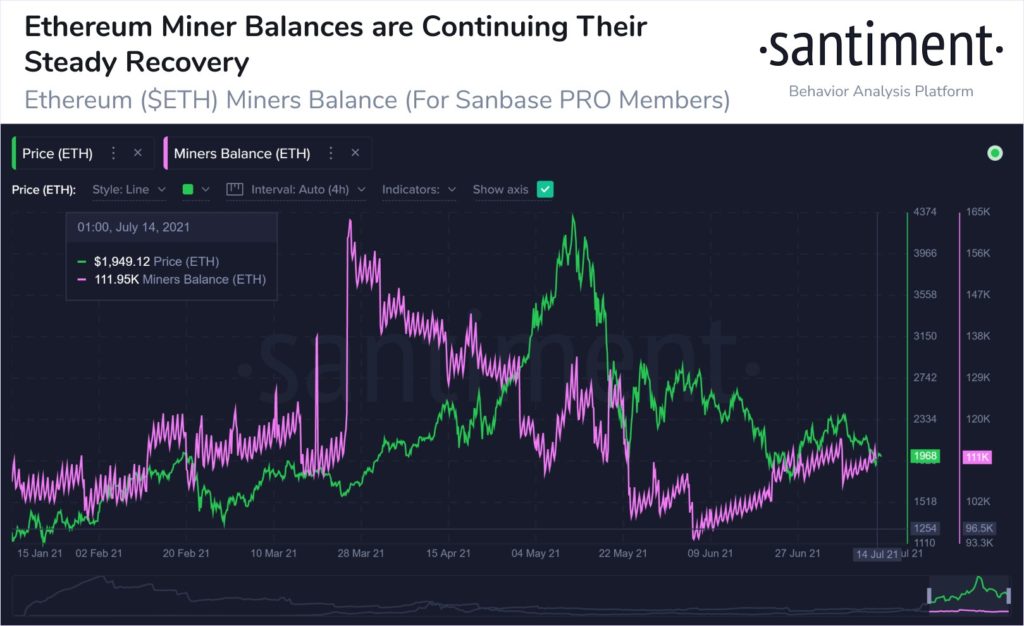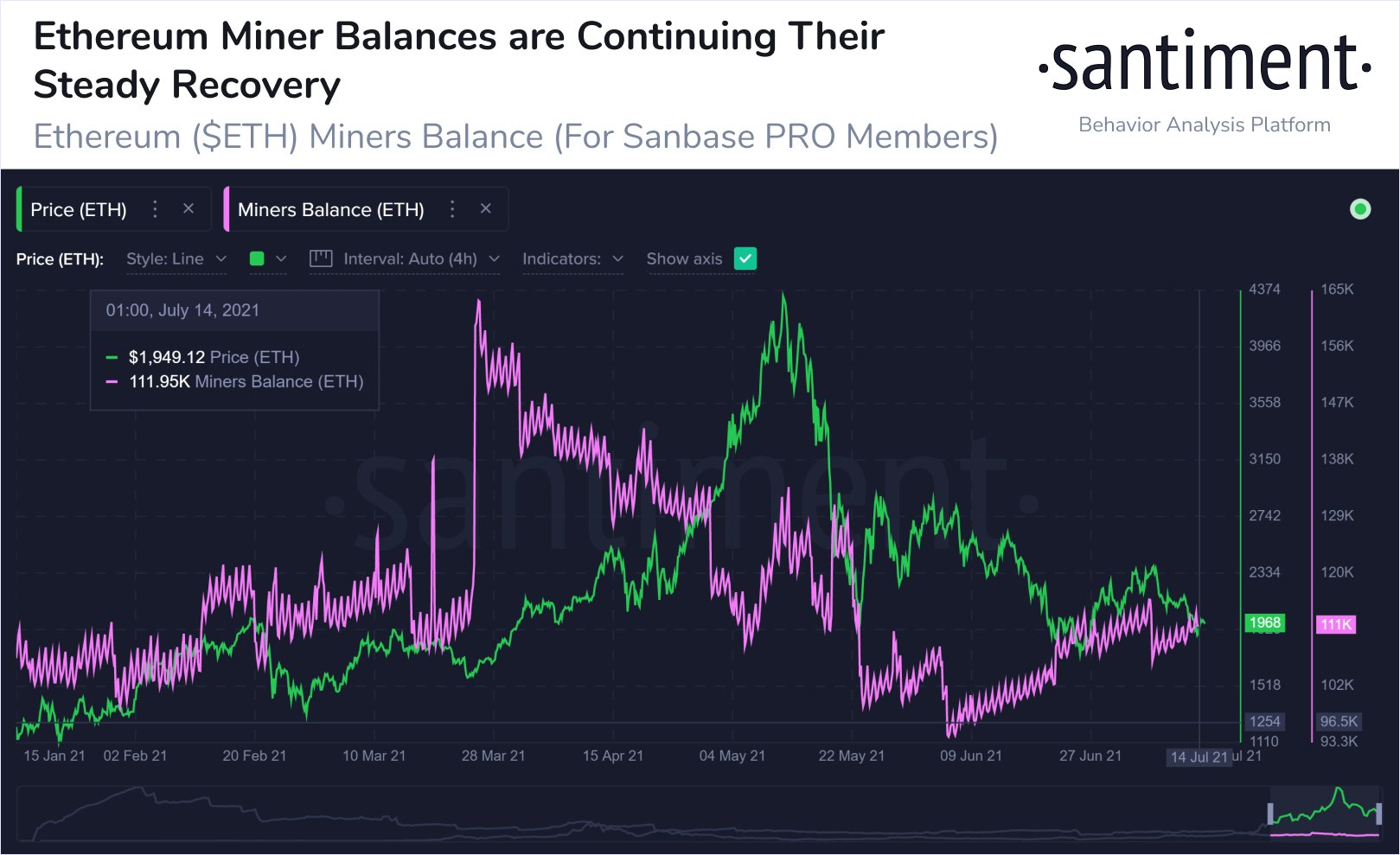 The latest recovery in the balances of the Ethereum miners does not demonstrate very impressive figures. However, it could potentially signal rising confidence in the project since the network participants are actually holding ETH.
Geographic transition: A setback to Ethereum's mining space
It was not just Bitcoin miners that faced the brunt of the Chinese crackdown on mining activities. Ethereum miners were also at the receiving end of the country-wide offensive launched by the authorities as part of its climate reform.
As a result of these orders, the hash rate of Chinese mining pools as well as the Ethereum network itself took a sharp hit and fell to lows not seen in a very long time. After the mining exodus in the last week of June, Ethereum's hash rate dropped by almost 30% since its all-time high in mid-May, falling to a three-month low.
According to stats, the fall came into being just 40 days after the network's hash rate had established its peak. Hence, was the steepest fall ever in the history of the Ethereum network. The portion of miner income that come from transaction fees also declined to the lowest percentage in a year, thereby making the miners more dependent on the two ETH mining rewards.
Inventory dumping by ETH miners
The orders also resulted in the prices of graphic unit processors [GPUs] cooling down.  Further adding to the woes was the looming migration to Proof-of-stake [PoS] from Proof-of-Work [PoW] for Ethereum that only made things worse. Currently, the miners are dumping their devices and notebooks in the Chinese resale market. Here's why.
The massive and long-anticipated transition to Ethereum 2.0, which is slated for next year, will make it extremely hard to mine the cryptocurrency. The developers had revealed their plans to urge the miners to shift to Ethereum 2.0, and the London fork will delay this time bomb to make the transition to 2.0 seamless.
---
If you found this article interesting, here you can find more Ethereum News