In spite of Wednesday's biggest daily loss in over two months, the U.S. dollar managed to bounce back Wednesday. As the U.S. Federal Reserve battles to rein in surging inflation, Jerome Powell, the chief of the central bank, struck a more hawkish tone just a few days ago.
Any Correlation Here?
In the midst of raging inflation, Powell announced that the U.S. central bank would push up interest rates as high as necessary, even above neutral, to kill a second wave of inflation that he said threatened the fundamentals of the economy. As a consequence of neutrality, economic activity is neither simulated nor constrained based on the level of economic activity.
Jane Foley, head of F.X. at Rabobank, said:
"It's a strong reminder to the market that the Federal Reserve is going to be hiking interest rates, probably at a very accelerated pace, in order to regain their credibility on the inflation front. The hawkish Fed is the reason why sentiment this morning looks a little bit more fragile than it did yesterday."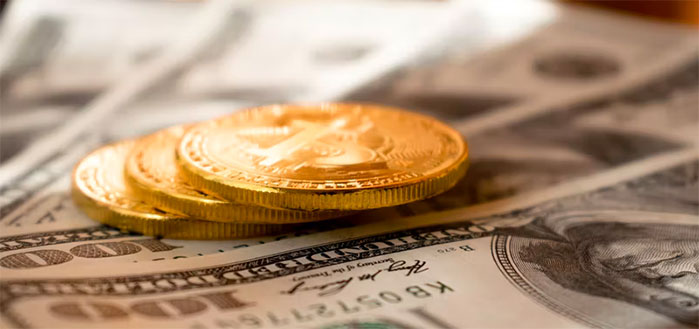 During the early hours of today's GMT, the U.S. dollar index was up 0.3% at 103.59, following Tuesday's 0.9% decline to a two-week low. In the wake of Eurozone policymaker Klaas Knot's comments that it was possible for a 50 basis point rate increase in July if inflation broadens, the euro fell 0.3% to $1.0516, reversing earlier gains to a one-week high.
Inflation data showing a 9% jump in the U.K. last month is likely to further increase pressure on policymakers to help households facing escalating price pressure. The British pound fell by 0.7% to $1.2406 amid data showing a rise in inflation to its highest level since 1982. The Australian dollar dropped 0.3% last quarter to $0.70075 after wages rose only by a fraction in the third quarter, and this led investors to relax their bets on more interest rate increases in the future.
In the wake of last week's turmoil in the crypto markets, the market was fairly quiet. There was a slight decline in Bitcoin, which was last a fraction below $30,000. Ethereum was trading just below $2,000 but still down by 2.9% from its recent high. It is possible that the recent changes in the fiat market may lead to positive changes in the cryptocurrency market, as well. Due to the fact that many investors are currently buying both fiat and crypto assets at the same time, green candles on any chart can have similar results in other charts.