Fantom [FTM] has held on to its bullish streak amidst a wider crypto market rout. The token is poised to hit a new high, but signs of pullback emerge. 
The total value across the cryptocurrency market stagnated. Fantom, on the other hand, hit a new high as the DeFi sector heated up. According to DeFiLlama, the leading layer 1 blockchain platform recorded a TVL of $7.09 billion on the 14th of January.
Interestingly, Fantom's transactional activity has also intensified and even managed to eclipse that of Avalanche's last week. The network witnessed over 1 million transactions processed on the 5th of January. The renewed interest can be attributed to the announcement made by prominent developers – Daniele Sestagalli and Andre Cronje about new project deployment on Fantom.
As a result, Fantom has gained $1.2 billion, roughly 20%, in TVL over the past week. Its utility token, FTM was also outperforming as most assets continue to recover from the downturn.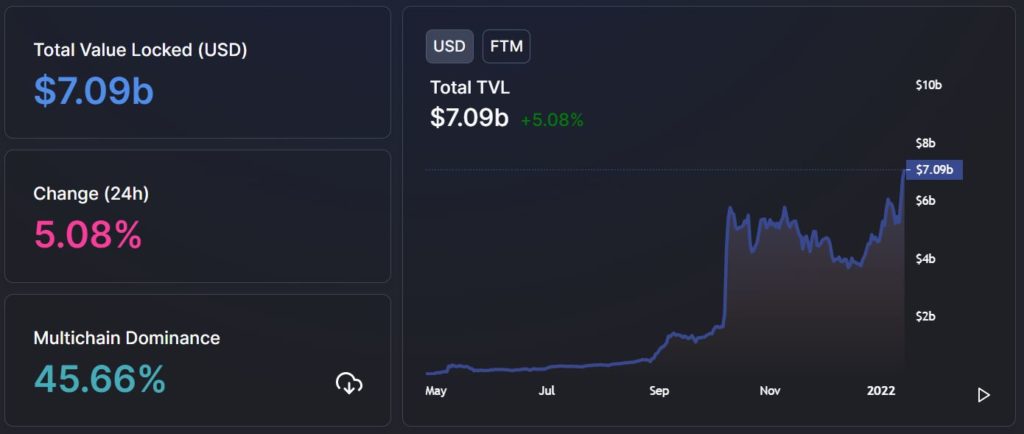 The crypto-analytic company, IntoTheBlock also mentioned
"FTM is approaching a multi-month high. As the Fantom ecosystem is quickly expanding, on-chain data for the FTM token is following the trend. Not only did the number of holders recently achieve a new high, but 84.14% of these addresses are experiencing unrealized profits."
Fantom [FTM] fetches gains
FTM posted weekly gains of 13.23%. It was currently trading at $3.02 after a fresh increase of 2.48% over the past day. At the time of writing, the token stood at a market cap of $7.66 billion and a 24-hour trading volume of $3.02 billion.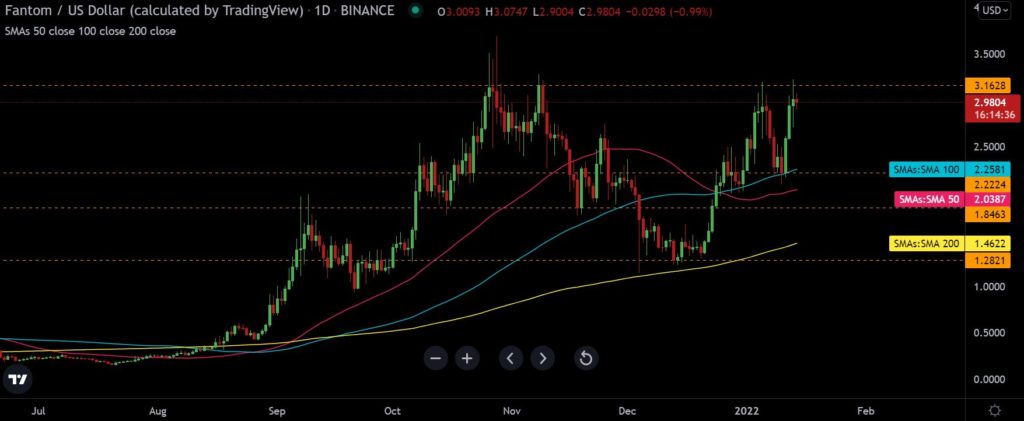 The FTM price candles bounced right off the 100 SMA [Blue] after it underwent a sharp reversal. The 50 SMA [Pink] and the 200 SMA [Yellow] hovered well below. The trading volume has been moderate cushioning the uptrend. However, volatility in the market noted a mild drop.
A correction?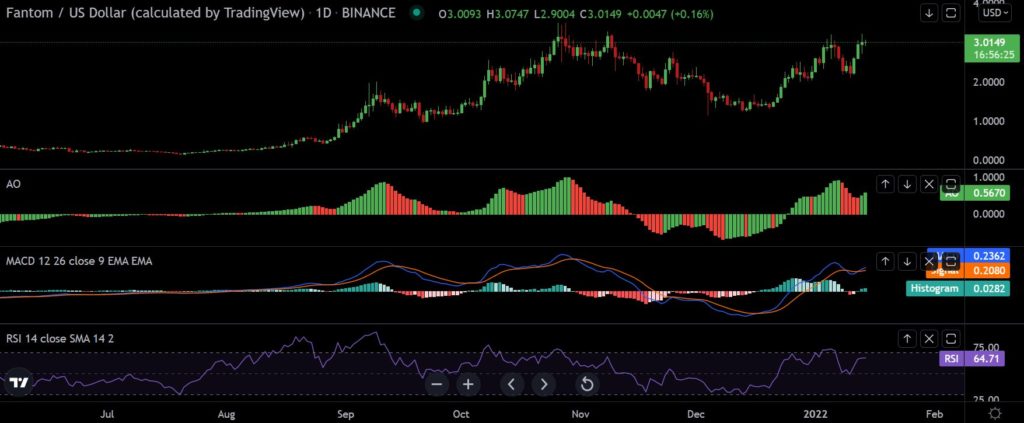 The overall momentum, as depicted by the green closing bars of Awesome Oscillator [AO], favored the bulls. The MACD also underwent a bullish crossover. The daily Relative Strength Index, on the other hand, was found advancing towards the overbought zone before hinting at a reversal that could depict a profit-taking phase.
A brief correction could pull FTM down to the immediate support level of $2.25. A damaging turn of events could trigger a drop to $1.86. FTM has crossed the resistance range of $2.55 to $2.74, hence a considerable retracement at this point is highly unlikely and a continuation of the current rally may lead to the formation of new highs.