Fantom's [FTM] formed an incredible u-shaped recovery as it flashed high volatility amidst a rather flat broader market movement. 
The global cryptocurrency market suffered a mild pullback and was corrected to $2.23 trillion. Fantom [FTM], on the other hand, remained resilient and poised for a major breakout.
Over the past 24-hours, FTM has advanced by almost 15% which drove its price to $2.87. It has also managed to fetch over 30% in weekly gains. At the time of writing, the crypto-asset stood at a market cap of $7.26 billion and a 24-hour trading volume of $1.98 billion.
The surge comes in the heels of increasing interest for layer 1 blockchains, more commonly known as – Ethereum alternatives. This is due to the fact that Ethereum has been plagued by its slow transaction times and extremely high fees that can climb as high as $100. As a result of the increased interest in alternatives including the Fantom blockchain, its native token FTM as well as the amount of value locked on decentralized finance [DeFi] applications have spurred significant gains.
Formation of a bullish setup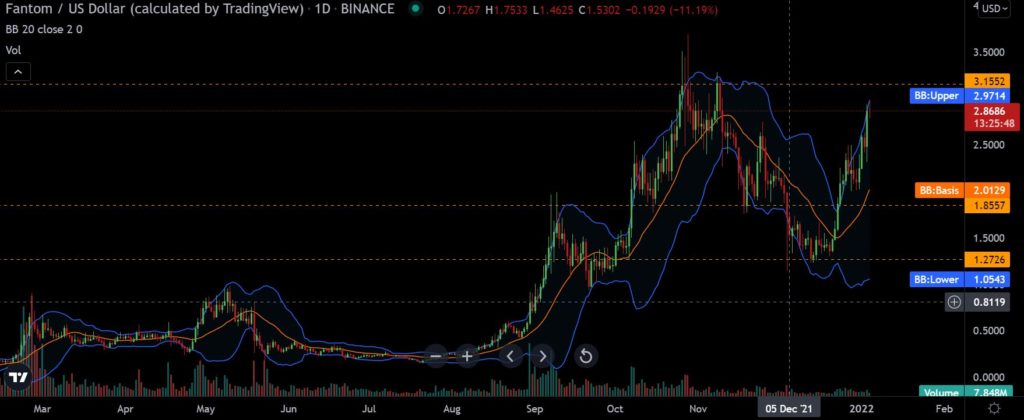 On the above daily chart, FTM formed a dubbed inverse head and shoulders, shaping three troughs below a "neckline resistance." The middle trough a.k.a the head appears to be deeper than the left and right shoulder. This isn't the first time, FTM's price followed an inverse head and shoulders pattern formation. IHS is typically a bullish pattern that results in an upward break.
Even as the volume laid low, the technicals are in favor of a potential leg up.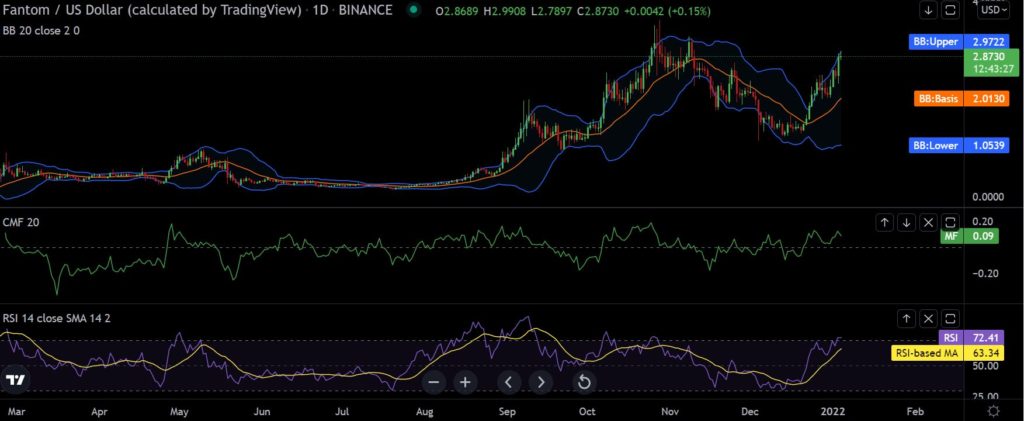 The diverging Bollinger Bands [BB] depicted increasing volatility. The Chaikin Money Flow [CMF] was above the zero-line suggesting capital inflow into the coin market. The Relative Strength Index [RSI] was eyeing for a break above the overbought zone as selling pressure took a massive plunge.
The overall structure appears to be strongly bullish. Hence, FTM pursuing an ATH beyond the $3.15-mark isn't surprising. It has already surpassed a crucial resistance range of $2.55-$2.74, thereby crossing a major hurdle.
Strong Fundamentals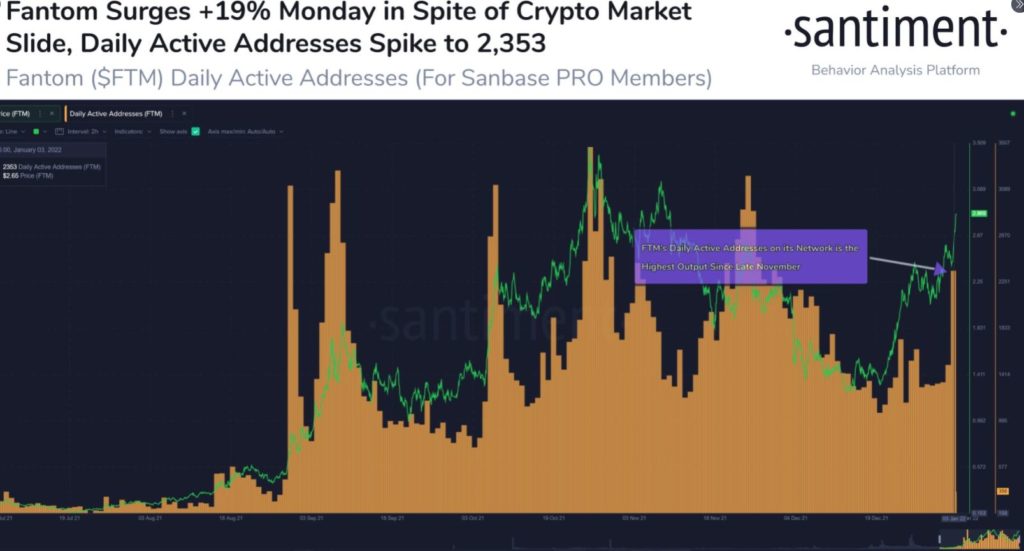 In addition to the technical aspects, Fantom's fundamentals have also supported the bullish setup. According to the crypto-analytic platform Santiment, the network's active addresses have observed a significant increase. Its tweet regarding the same read,
"The popular Fantom spiked +19% Monday despite crypto's mild slide. FTM's price has now surged +115% in just under two weeks, and Fantom's active addresses have spiked to levels not seen since late November. "