The blockchain division of social trading platform eToro finally launched the highly anticipated digital asset exchange eToroX on Tuesday, April 16th. The platform is designed majorly for professional traders and launches with support of cryptocurrencies and eight native stablecoins based on different fiat currencies.
In total, the new exchange will support as many as 37 trading pairs with more scheduled for addition at a later date. The new exchange has been registered in Gibraltar and therefore will be subject to regulations by the Gibraltar Financial Services Commission.
The exchange supports the following cryptocurrencies right off the gate: Bitcoin [BTC], Ethereum [ETH], Ripple's XRP, Litecoin [LTC], Bitcoin Cash [BCH] and Dash. As announced the company has also introduced eight stablecoins native to the eToroX platform which are all pegged to different fiat currencies. They include the New Zealand dollar (NZDX), Japanese yen (JPYX), Swiss franc (CHFX), United States dollar (USDEX), euro (EURX), U.K. sterling pound (GBPX), Australian dollar (AUDX), and the Canadian dollar (CADX). In addition to that traders will be able to convert the cryptocurrencies including the stablecoins into three fiat pairs for the dollar, euro and Swiss francs.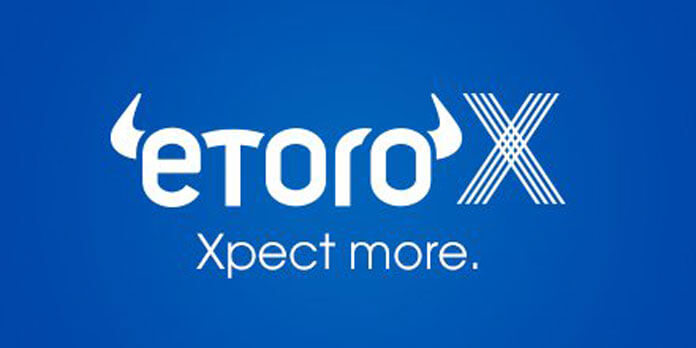 Speaking on stage during the Paris Blockchain Week Summit, eToro CEO and co-founder, Yoni Assia revealed that the exchange will "continuously innovate eToroX to add more features and more assets."
Conspicuously missing from the list of supported assets is embattled cryptocurrency Bitcoin SV. However, eToroX maintains that the decision not to support Bitcoin SV was not influenced by the ongoing social media campaign against the coin, instead, the exchange noted that the coin simply did not meet the volume threshold that the other assets listed already have.
Exchange fees for the new platform are reportedly at par with several other exchanges. Fees for makers will be tiered to as high as 0.1% while takers' will also be tiered to as low as 0.12%. Last month, eToro launched its services in North America with support for customers located in up to 32 US states. The new service and wallet would allow for purchasing and selling of 13 cryptocurrencies.