The Ethereum price, like Bitcoin's, is under pressure, falling from last week's highs. While investors and traders are positive, confident of another swing higher, the ETH/USD price is fragile. It could plunge towards key support zones in the coming sessions.
ETH Held in Reserve by Firms
Overly, Ethereum fundamentals are solid. Following Meitu, Heat Capital liquidated their cash reserves for ETH. It could be the trend of investors in the future considering what's in store for the cryptocurrency in the next few months. First off, the network is keen to migrate to Layer-2 to relieve the prohibitive Gas fees.
At the same time, there is on-going work to migrate to a staking network, effectively correcting PoW flaws while integrating scaling solutions while eliminating miners.
Therefore, in the long haul –and considering deflationary features in Eth2, ETH may turn out to be a better store of value than Bitcoin.
On the other hand, Bitcoin can replace physical gold, not fiat, due to its digital existence that gifts the coin superior features, better than gold.
Strategic Investment would Pay Off
Presently, over $6 billion of ETH are staked in Eth2, highlighting the level of investor confidence in the network and the future price of ETH. The true potential of Ethereum would especially pan out once Layer-2 solutions are live and widely adopted.
Accordingly, Meitu and Heat Capital's purchase may be strategic and part of a long-term play that would give the two edge in the network and capital gains from HODLing.
Ethereum Price Analysis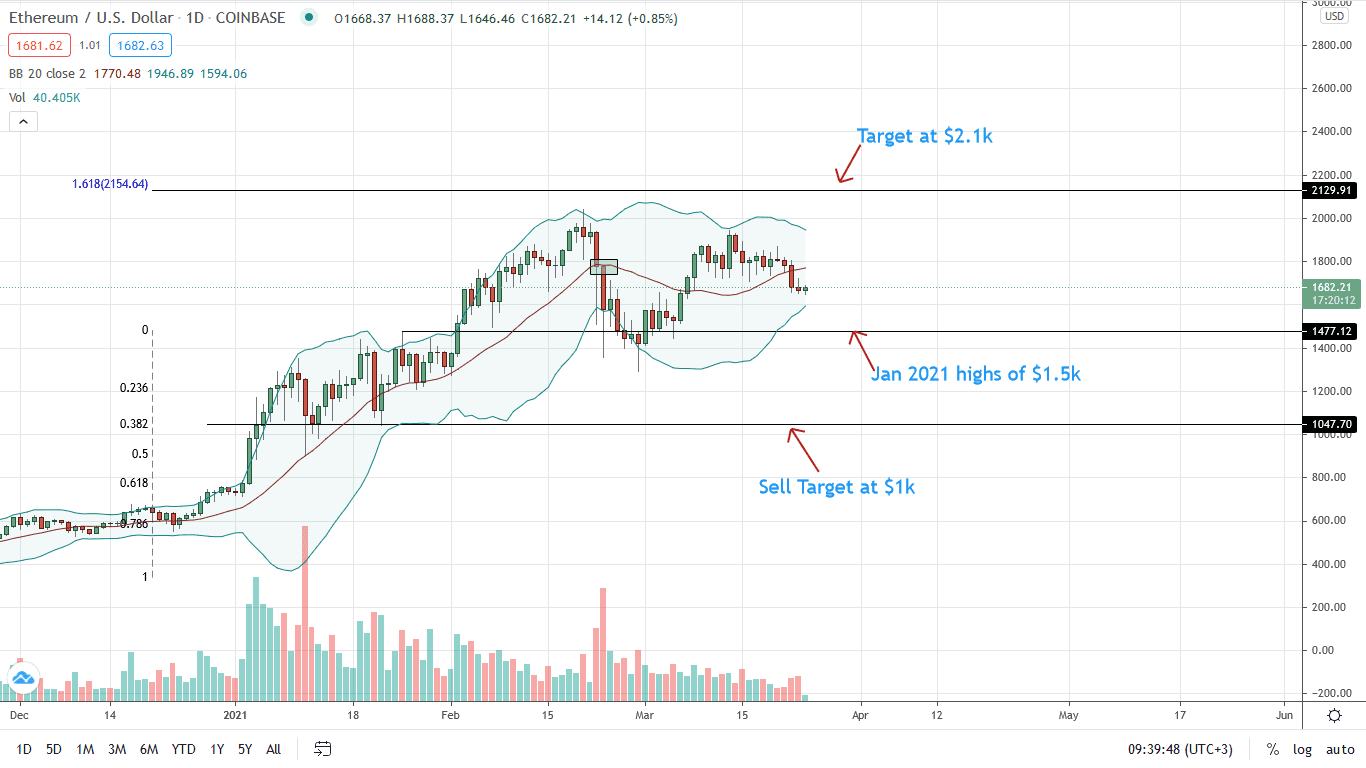 The Ethereum price is under pressure, falling six percent week-to-date and losing ground against BTC and the greenback.
From the daily chart, the ETH/USD price remains in consolidation. Immediate caps are at $2k—on the upper end and $1.5k—on the flipside. In a correction, ETH bears appear to be in control.
Notably, gains of Mar 13 have been reversed following Mar 22 sharp losses at the back of high trading volumes, pushing prices below the middle BB. Besides, ETH/USD prices are consolidating inside late Feb 2021 losses. Technically, this is bearish.
From this, every pullback higher may present an opportunity for traders to unload with targets at around $1.5k—or Jan 2021 highs, in a bear trend continuation pattern reflective of late Feb 2021 losses.
On the reverse side, a reprice above $1.9k would neutralize sellers, swinging bulls back in contention with the immediate target at $2k.
Chart Courtesy of Trading View
Disclosure: Opinions Expressed Are Not Investment Advice. Do Your Research.
---
If you found this article interesting, here you can find more Ethereum News