The Ethereum price ranges with caps at $1.7k on the lower end and $1.85k on the upper zone. Although bullish, the inability of prices to pull higher while Bitcoin gallops to a new all-time price of $50k could stem from several reasons.
Not surprisingly, one of them is the sky-high Gas fees hampering DeFi and other sub-sectors of the broader Ethereum ecosystem. The average Gas fee for moving a single transaction is, on average, $20.
The problem is that DeFi trades often involve multiple transactions that combine, leading to unreasonably high Gas fees. For this reason, the user experience is terrible, forcing users to search for alternatives.
To counter the migration, Ethereum developers are now looking to activate EIP-1559. The proposal by Eric Conner overhauls the current first auction-style for a refreshing auction system. Users will continue to bid as usual, but what they pay will be the lowest bid in every block.
The system also introduces a BASE FEE, which is burnt, reducing ETH in circulation without affecting network security. For their efforts, Ethereum miners receive block rewards as usual but also a tip from network users.
Although miners are understandably opposed to this new auctioning system, it is still under discussion. It may be adopted to bring more predictability in Gas fees.
Ethereum Price Prediction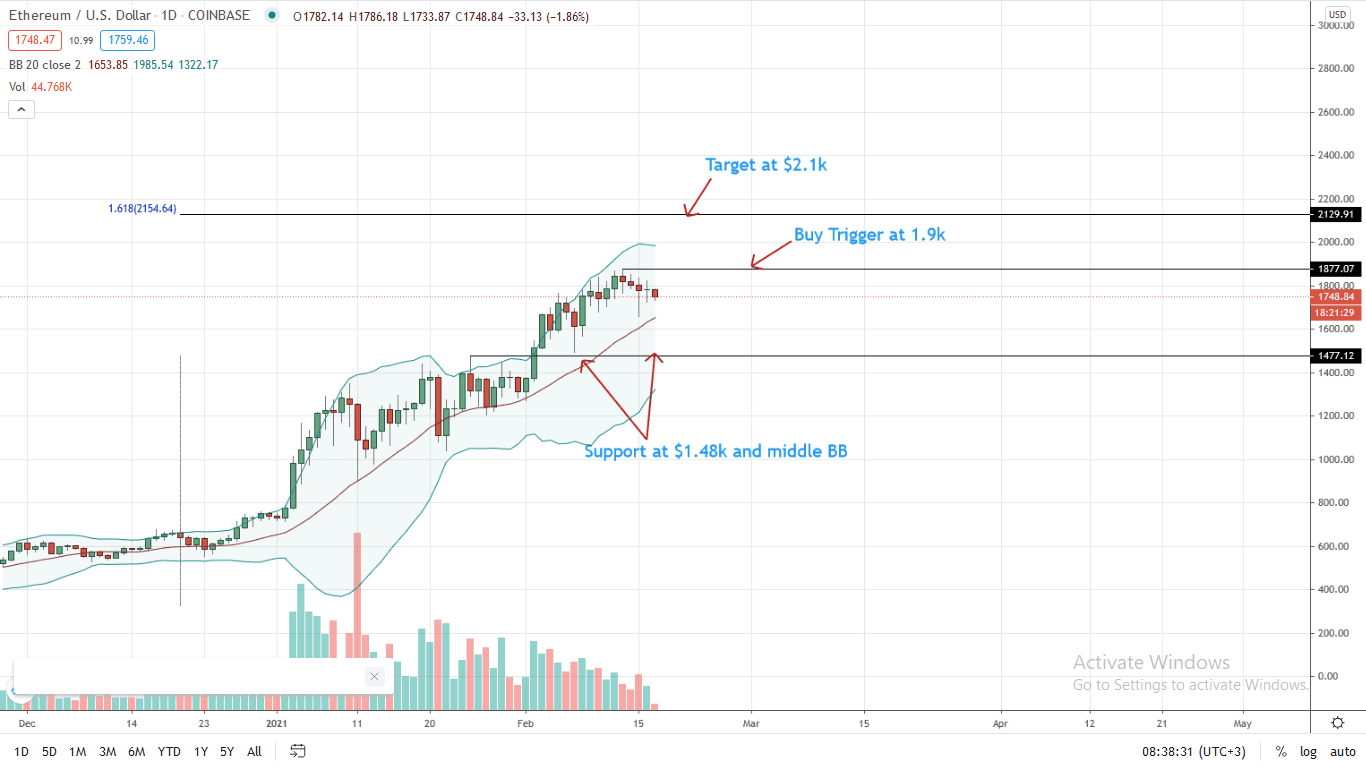 The Ethereum price remains in consolidation.
However, the uptrend is still firm. Notably, buyers have reversed losses early this week with hints of demand in lower time frames.
In the immediate term, the ETH/USD buyers should aim at $2.1k. Risk-averse swing traders can wait for a break above $1.9k—or last week's highs, before doubling down on the dips targeting $2.1k. It is the 1.618 Fibonacci extension level of the Dec 2020 and Jan 2021 trade range.
Still, the break above $2.1k must be with equally high trading volumes reflecting the level of participation of late January 2021. It will be enough to comfortably propel the ETH price above the $2k round number and to the immediate bull target.
On the flip side, if bears of late last week flow back, pushing prices below the middle BB, the first bear target will be $1.5k—or Jan 2021 highs, in a retest.
Chart Courtesy of Trading View
Disclosure: Opinions Expressed Are Not Investment Advice. Do Your Research.
---