The Ethereum price is one of the top-performing digital assets in the top 10, consistently pipping Bitcoin and other coins.
ETH/USD is remarkably stable above $4.2k, encouragingly confirming gains of last week as bulls flow back despite changes in Gas fees over the past ten days.
Ethereum Gas stands at over $64
Admittedly, Ethereum has a Gas fee problem.
As of May 11, the average transaction fee stood at over $64. It is at the highest level since the project's implementation.
But even as network users cry foul—with some projects threatening to shift camps, Ethereum miners are raking big from the inconvenience.
By May 10, the Ethereum network generated almost $89 million in transaction fees—which will find its way to miners, supplementing their revenue. Notably, this is beside their ordinary block rewards.
Considering that each new ETH is released every minute, miners are laughing all the way to the bank.
Interventions to Reduce Gas Fees
However, there are steps are arrest what some analysts now say is prohibitive and also "ridiculously" high Gas fees.
Last month, Ethereum miners agreed to raise the Block Gas Limit to around 15 million. This temporarily saw Gas drop to manageable levels—at approximately $10.
Nonetheless, it seems to be a pause before the swing higher.
What's more? Despite Block Gas Limit being high during these extraordinary times, the network utilization is equally higher—above 96 percent.
Analysts expect the implementation of EIP-1559 to stymie the unreasonably high Gas fees, further helping in pumping ETH/USD even higher.
ETH/USD Price Analysis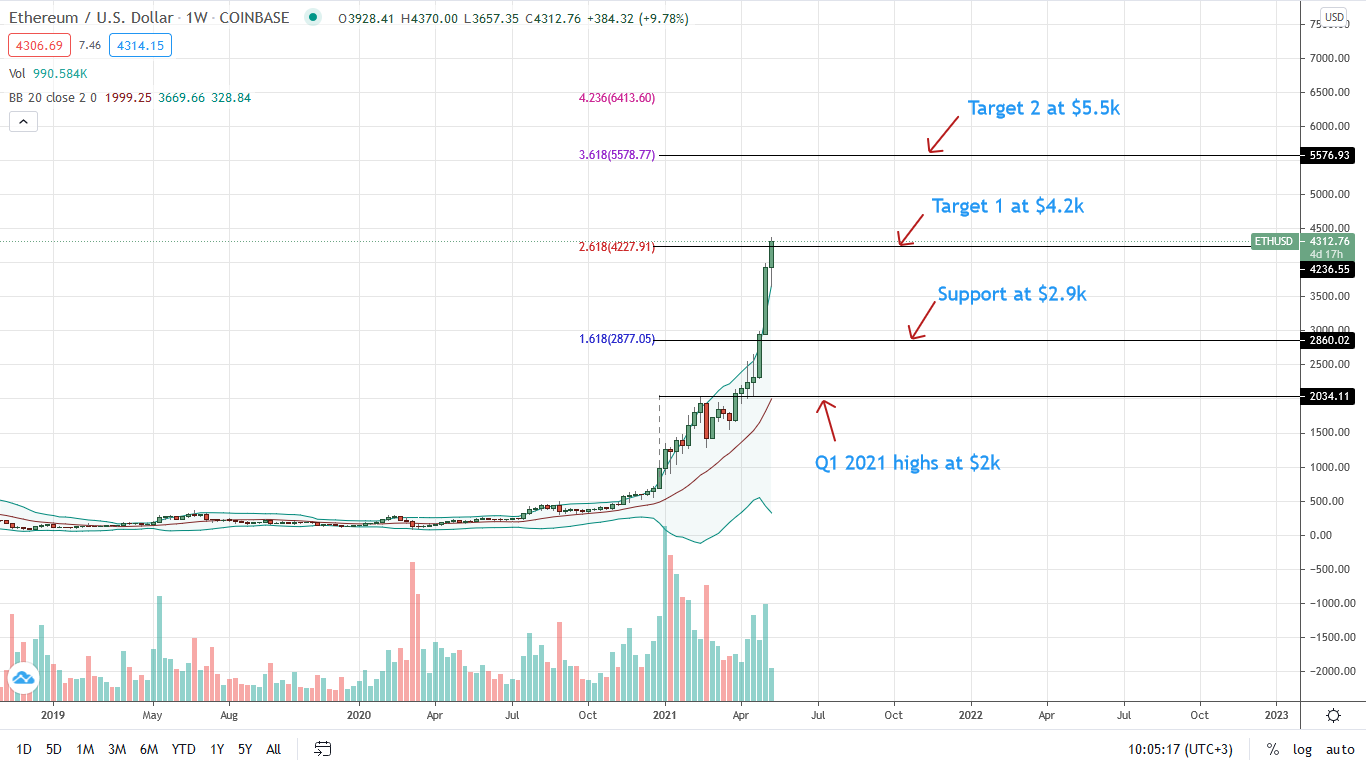 ETH/USD remains in an uptrend. Week-to-date, the coin is up double digits, adding 32 percent against the USD.
At the same time, trading volumes stand at $62 billion on the last day. It may be high—indicating deeper liquidity—but there has been a contraction.
Still, from the weekly chart, every low could potentially be a loading opportunity for aggressive traders.
After last week's surges, the immediate support is $2.9k. It is a level that will only be retested if there is a double bar bear reversal pattern–a bear engulfing formation wiping last week's gains and marking the end of the uptrend.
On the flip side, risk-averse traders may find more opportunities if ETH/USD bulls breach $4.2k—the 2.618 level—in a buy trend continuation pattern that may lift ETH to $5.5k.
Chart Courtesy of Trading View
Disclosure: Opinions Expressed Are Not Investment Advice. Do Your Research.
---
If you found this article interesting, here you can find more Ethereum News