The Ethereum price on Jan 19 topped Jan 2018 highs, blasting above $1.4k as bulls showed dominance.
Even at stop rates, analysts argue, the second most valuable coin has more upside potential than Bitcoin.
Additionally, some tips demonstrate that the ETH/USD price–at spot rates–exhibits the same characteristics that preceded Bitcoin's expulsion to its all-time high of over $40k.
Their view is that prices may consolidate at around spot levels before ripping higher in trend continuation.
Price Surge Accompanied with Volumes Expansion
Accompanying the surge to new all-time highs is record trading volumes and open interest.
Data from Skew points to record-level participation as traders buy the dips, adding to their longs, supporting buyers aiming at $2k.
Unlike Bitcoin that's propped by institutions who have been doubling down on the digital asset convinced the digital gold bear sufficient properties that make it a perfect hedge against inflation, ETH has not witnessed the same institutional FOMO level.
However, late last year, a Grayscale executive revealed that there were strings of investors who were only focusing on Ethereum.
ETH – Bitcoin Correlation is Positive; Extended Rally?
Overly, confidence in Ethereum stems from its positive correlation with Bitcoin.
In the last few months, the BTC price has rapidly expanded, outperforming altcoins, including Ethereum.
Still, the project's fundamentals like the expansion of DeFi and on-chain developments like the rollout of the early stages of Eth2 are bullish.
Combined with intermittent shapers like Layer-2 integration, brought to the fore by Synthetix launching Optimistic Rollups for their Staking, there could be more room for ETH prices to tear higher in the medium term.
Ethereum Price Prediction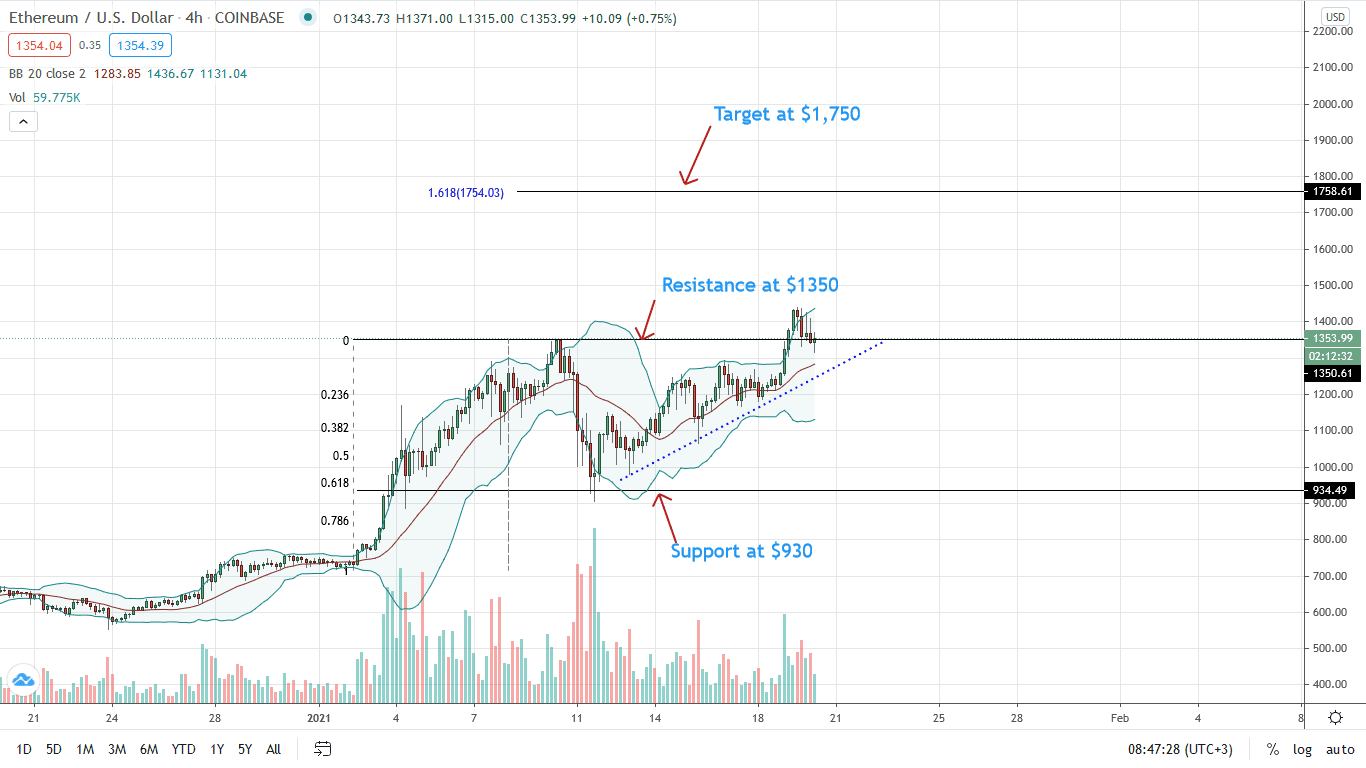 The Ethereum price maintains a bullish trend, racing to an all-time high on Jan 19.
As of writing, the ETH price is trading at $1.36k, adding four percent on the last day and 23 percent in the last week of trading versus the USD.
Overly, bulls are ecstatic, buying on dips as evidence from the 4-HR chart.
Notably, the close above $1.35k was with relatively high trading volumes supporting bulls aiming for new all-time highs.
As of writing, prices have retraced from yesterday's peaks, but participation remains recent in a retest of $1.35k.
With the breakout and ETH/USD trading at around new 2021 highs, every low may be an opportunity for traders to buy at dips. Pinned on the last three weeks' trade range, the first buy target is the 1.618 Fibonacci extension at $1.75k.
The immediate support is the middle BB (20-period moving average) and the trend line.
A sharp reversal below $1.25k pours cold water this rally.
Chart Courtesy of Trading View
Disclosure: Opinions Expressed Are Not Investment Advice. Do Your Research.
---
If you found this article interesting, here you can find more Ethereum News