The Ethereum price is underperforming Bitcoin but in range mode inside a $300 zone below $2k.
Technical candlestick arrangement suggests bulls and a possibility of another leg up, supportive of ETH/USD prices. However, how fast ETH prices will explode depends on many factors.
Scaling Efforts
One of them is the shift from Layer-1 to Layer-2 (off-chain solutions) that helps scale the base layer.
Thus far, developers are hard at work. The co-founder, Vitalik Buterin, spearheads efforts lest competing platforms like the Binance Smart Chain (BSC) take over.
The tech prodigy illustrated how bulletproof-style polynomial commitments work in a recent tweet, pointing out its relevance in Halo and future Ethereum upgrades.
This solution can be handy in scaling Ethereum, on-chain, without introducing vulnerabilities of which developers are cautious off in Layer-2 options like Optimistic Rollups—and its variants.
Outflows from Centralized Exchanges
On the other hand, on-chain statistics point to a massive outflow of ETH from centralized exchanges.
It could suggest improving investor confidence and possible influx to non-custodial wallets helpful in accessing DeFi protocols.
Analysts are optimistic that this may see ETH/USD prices improve in the days ahead. Accordingly, it could help build sufficient momentum for ETH bulls aiming to breach $2k and even propel prices towards $5k—or better, in line with permabulls' predictions.
Besides DeFi, more Ethereum believers are locking their coins in Eth2 staking wallets. From this, they are earning decent near-risk free rewards while offering security for the parallel Ethereum blockchain.
Ethereum Price Analysis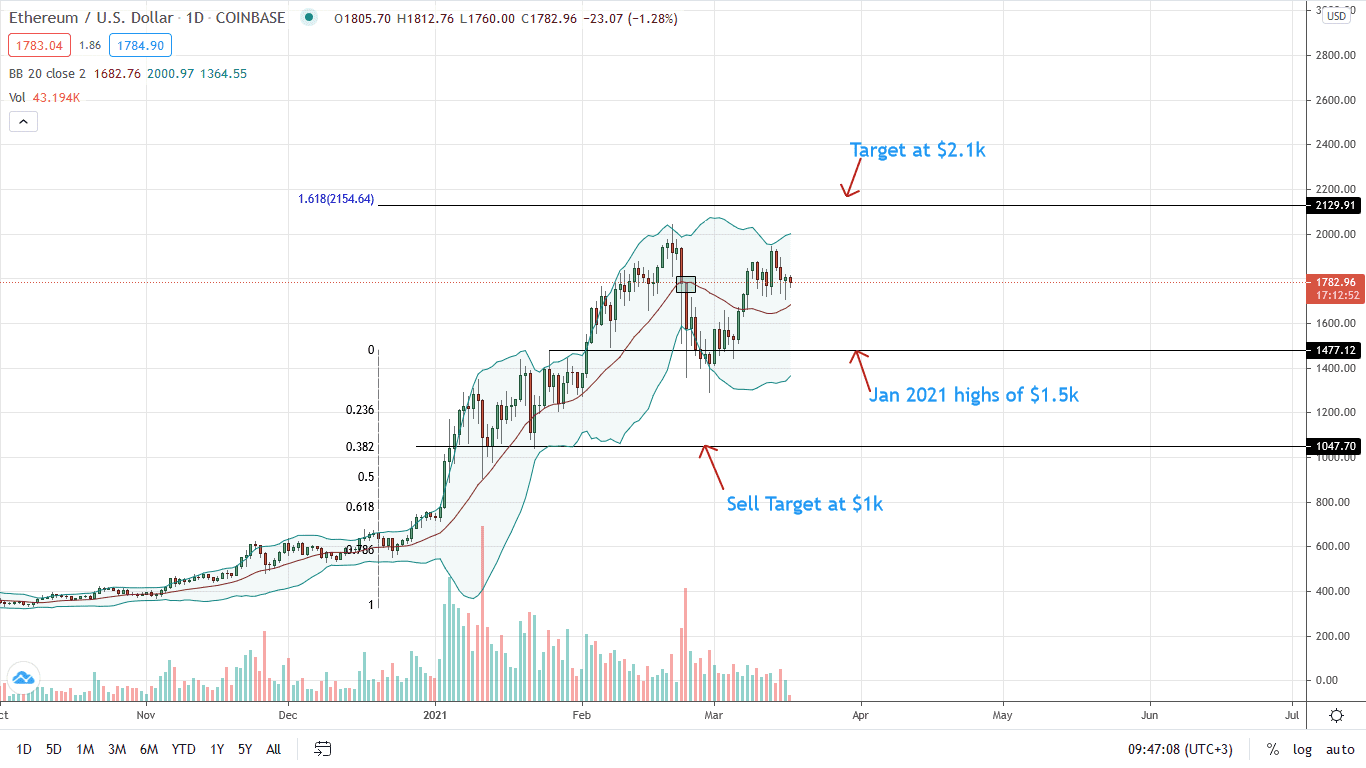 The Ethereum price is ranging at near its all-time high, pointing to strength albeit immediate hints of weakness.
Although ETH traders are confident, the zone between $1.7k on the lower end and $2k on the upside define ETH/USD price action.
Presently, ETH prices could drop if bulls fail to drive prices above $2k. This is because ETH is still in range inside late Feb 2021 price action. Gains above $2k will nonetheless drive ETH prices to new all-time highs. The first target is $2.1k and later $2.3k, the 1.618 and 2.618 Fibonacci extension levels of the Dec 2020 and Jan 2021 trade range.
Meanwhile, a retracement below Mar 13 bull bar at around $1.68k and the middle BB may force ETH/USD prices back to Jan 2021 highs of around $1.5k in a retest.
Chart Courtesy of Trading View
Disclosure: Opinions Expressed Are Not Investment Advice. Do Your Research.
---
If you found this article interesting, here you can find more Ethereum News