The decimation of crypto didn't spare Ethereum. As of writing, there has been a pullback from the plunge of the last two days. Nonetheless, the Ethereum price remains under pressure. As such, it may likely sink if there is no intervention from bulls.
Still, market participants are optimistic, expecting a snap back to trend in the next few weeks despite massive losses. Precisely, if there is a recovery, how prices react at $2k will determine the rapidity of the uptrend.
As of writing on Feb 24, the crypto scene is watching development around Layer-2 as a means of intervening against abnormally high Gas prices. By Feb 23, the average Gas fee in Ethereum stood at $31.
The unsustainably high fee, mostly caused by traders rushing for the exits amid free-falling prices, congested the network. Because of Ethereum's inability to scale due to its Proof-of-Work architecture, it was technically impossible for traders to transact. Withdrawals were expensive.
Accordingly, Binance—the firm behind the Binance Smart Chain (BSC), halted clients from withdrawing their coins.
Over the last few weeks, the BSC has been processing more transactions than Ethereum at a drastically lower fee rate. This has subsequently led to people comparing the usefulness of the two networks.
BSC supporters say their solution is more robust than Ethereum and would permanently eclipse the legacy network in the days ahead.
Ethereum Price Analysis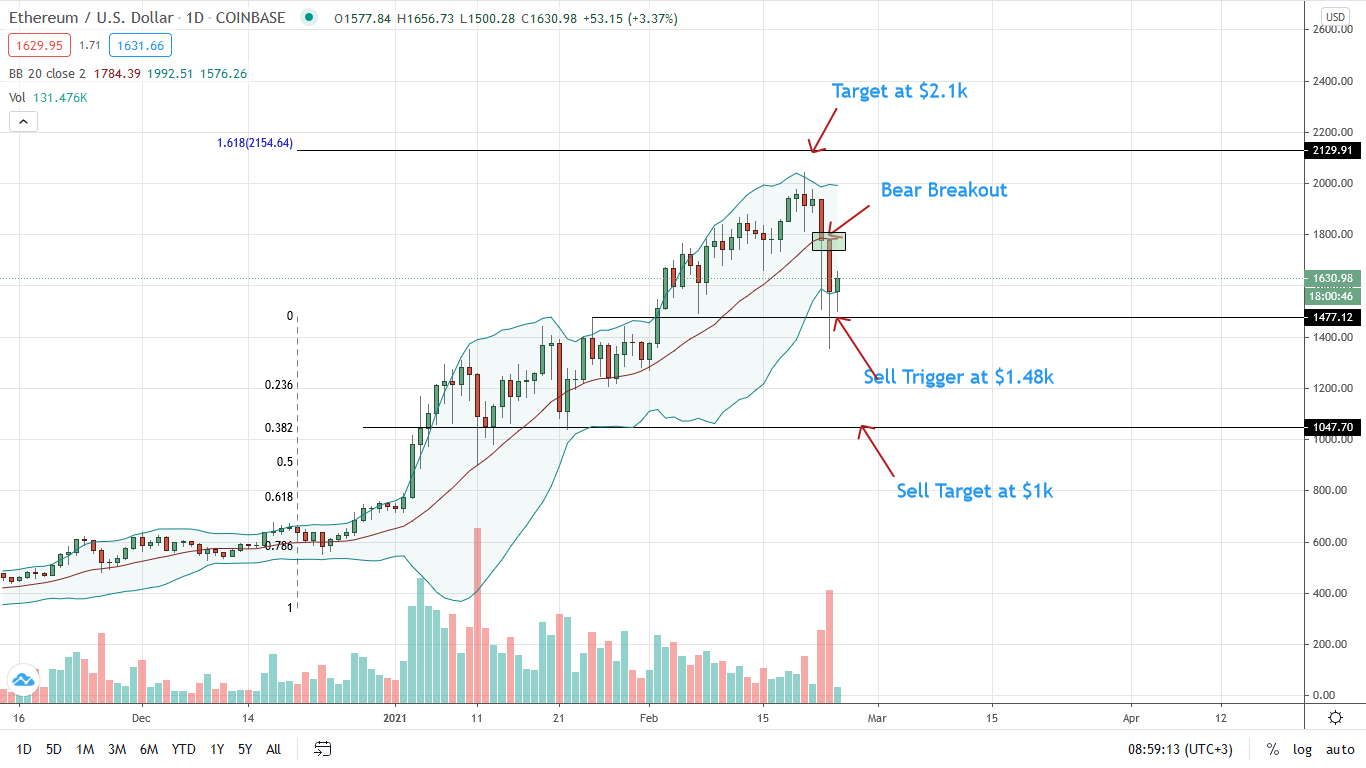 The Ethereum price prices are stable on the last day. Week-to-date, losses are magnified, shedding seven percent.
From the daily chart, the uptrend may hold. However, in the last two days, bears have been in the driving seat. Notably, following yesterday's sell-off, the bear break-out of Feb 21 was confirmed.
It is evident that prices are now trading below the 20-day moving average (the middle BB), for the first time in over nine weeks, in a bear break-out pattern. The level acts as an essential support level. With Feb 21 high level close below, sellers may be in control, poking holes onto the firmness bulls.
If there are confirmation of Feb 23 losses, the ETH/USD price may glide back to $1k—the 38.2 percent Fibonacci retracement level of the Dec 2020 and Jan 2021 trade range.
This depends on whether ETH bears will push prices below $1.5k—Jan 2021 highs, with relatively high trading volumes.
On the flip side, gains above Feb 23 gains with equally high trading volumes may cement bulls' convictions, building a case for a retest of $2k.
Chart Courtesy of Trading View
Disclosure: Opinions Expressed Are Not Investment Advice. Do Your Research.
---