Among investors who helped raise $65 million for ConsenSys–the leading software development company developing Ethereum, was UBS, MasterCard, and JPMorgan.
Preparing for the Future
According to ConsenSys, funds will be to decentralize their systems further and launch more applications.
A UBS executive said they are preparing for the future. This investment shows their commitment to working with Fintechs for their clients' benefit.
Meanwhile, Raj Dhamodharan, the executive VP of MasterCard, said Enterprise Ethereum is a critical infrastructure that would run future financial dApps.
DeFi and Ethereum
Interest in Ethereum continues to grow.
As of writing, ETH prices are at around all-time highs and could tear high, even reaching $10k in the next few years, according to Ethereum permabulls like Anthony Sassano.
The central drawer to Ethereum is its smart contracting ability. This has seen the flourishing of a wide range of dApps, solving different business needs already operating from the resilient and decentralized base layers.
Already, there is over $53 billion worth of digital assets locked in various DeFi protocols running on the network. Besides, other competing platforms, as they expand, are branching out to Ethereum.
Berlin Activation
The Ethereum network will also fork today through Berlin. This upgrade concludes the Metropolis Era and readies the platform for the final shift to Eth2 and staking.
Ethereum Price Analysis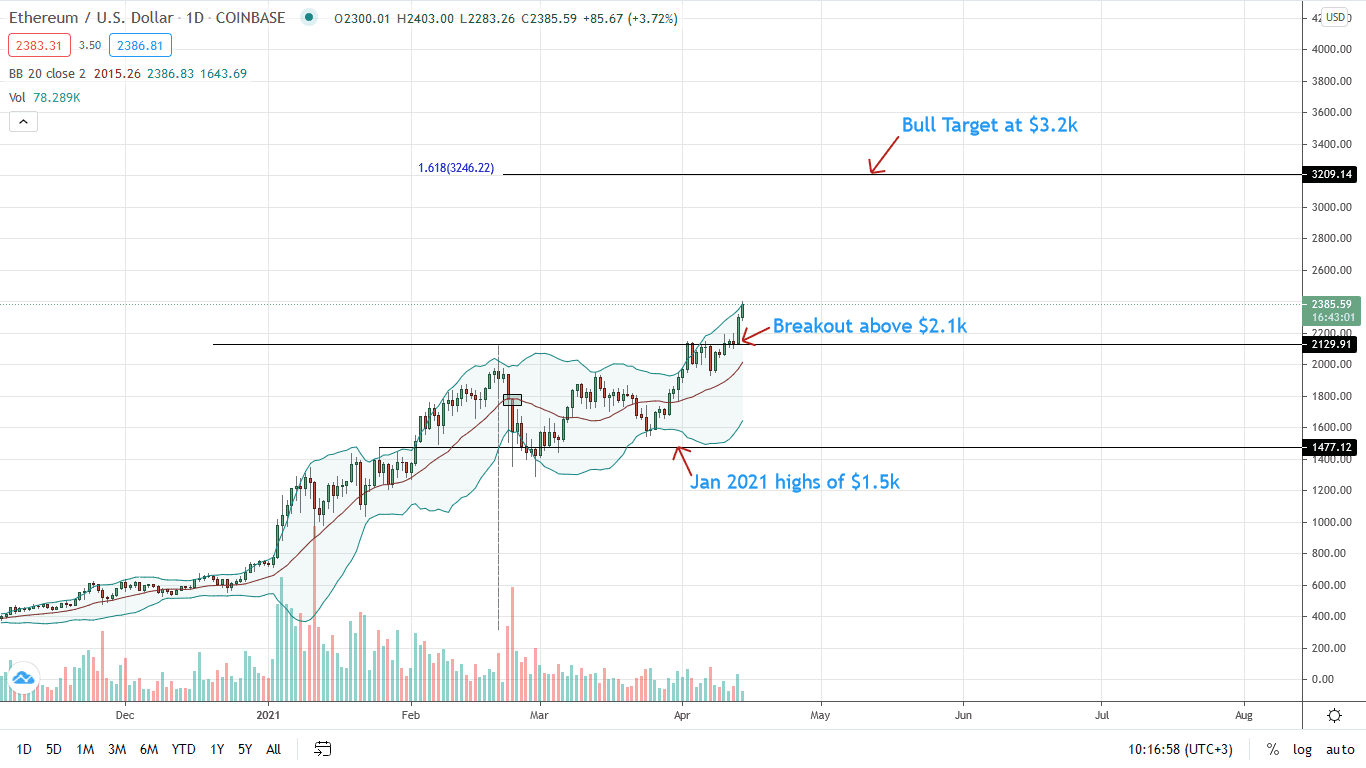 The ETH/USD price is trading within a bullish breakout pattern, surging to a new all-time high above $2.38k.
As of writing, the ETH price is up 12 percent week-to-date.
Technically, candlestick arrangements favor Ethereum bulls, as visible from the daily chart. Accordingly, every low is a loading opportunity for traders aiming at $3.2k, the 1.618 Fibonacci extension level of the Q1 2021 trade range.
Still, one cause of worry for upbeat ETH/USD bulls is the relatively low participation levels. Unlike the surge of early Feb, the close above $2.2k is with low trading volumes.
It could mean indecision and the hesitation from traders to load up on overvaluation fears.
However, if ETH closes higher today, it would be enough confirmation for prices to race towards $3.1k in a buy trend continuation set in motion in Q1 2021.
Chart Courtesy of Trading View
Disclosure: Opinions Expressed Are Not Investment Advice. Do Your Research.
---
If you found this article interesting, here you can find more Ethereum News