It could be a dead cat bounce. However, what's evident and perhaps contrarian is: Ethereum is firm with the backing of solid fundamentals.
ETH/USD Prices Stabilize
As of writing on May 26, Ethereum price is up eight percent versus the greenback on the last trading day and under immense pressure after sharp losses of last week.
Presently, ETH is down 15 percent week-to-date. However, volumes are down 26 percent to $88 billion on the last trading day.
Despite sharp losses, the uptrend is still valid, and last week's losses, for the optimists, could mark the end of protracted losses traced to mid-April 2021.
Gas Fee Reprieve
If buyers are back, then confidence should increase because the Ethereum network has reprieve both from the Gas perspective and activity level.
After peaking at $69—following the meme-coin-induced network clog, Gas is now at an affordable $11.
The good news is that transaction fees may tank lower in the days ahead due to the migration to Layer-2.
Spurring this is the value proposition of solutions such as Optimism—which plans to launch in the next few weeks–, ZK Rollups, and other alternatives.
Stablecoins Settled on Ethereum Exceeds the value of BTC settled in Bitcoin
Meanwhile, falling Gas rates have seen stablecoins settled on Ethereum usurp the value of BTC processed in the Bitcoin network for the first time.
It comes barely six months after Ethereum processed over $870 billion of stablecoins in the tail end of 2020, setting the ground that saw ETH prices rally to over $4.2k within the first five months of 2021.
Ethereum Price Analysis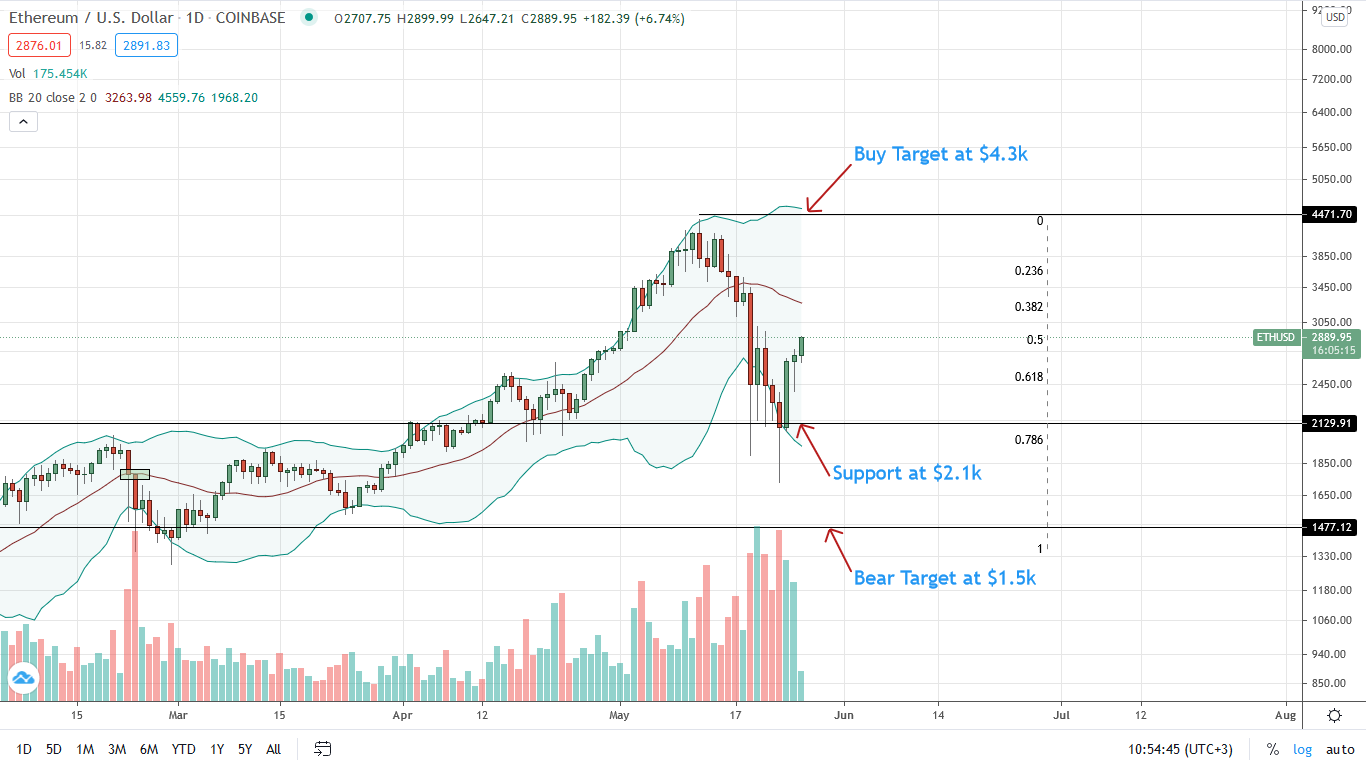 The ETH/USD price is down 15 percent week-to-date and up eight percent on the last day.
Following losses of last week, the ETH price has support at the 78.6 percent Fibonacci retracement level of the recent swing high and low.
From the daily chart, the ETH price has support at $2.1k. There is a double-bar bullish reversal pattern that isn't confirmed. However, trading volumes are rising, suggesting demand and possibly, buy trend continuation.
If ETH/USD slides below $2.1k, unwinding gains of May 24, prices may fall back to around $1.5k—or January 2021 highs.
On the reverse side, confirmation of the double-bar bullish reversal pattern of May 23 and 24 may see ETH prices rally back to May 2021 highs of around $4.3k.
Chart Courtesy of Trading View
Disclosure: Opinions Expressed Are Not Investment Advice. Do Your Research.
---
If you found this article interesting, here you can find more Ethereum News