Latest Ethereum News
Sometimes, the heavy handedness of regulators can have adverse effects on blockchain projects. Following last year's ICO mania, several startups were able to fund raise millions in a matter of hours. Some as EOSIO raised as much as $4 billion after pitching their idea for a whole year.
But, the boom is burst and with regulators as the US SEC clamping down and even prosecuting founders, the ICO sphere is apprehensive. The co-founder of Etherdelta was prosecuted and let go after heavy settlement. So were Floyd and DJ Khalid for what the SEC said was for promoting securities.
However, for synchrony, the SEC said they shall publish a guide shedding light and listing scenarios of when a coin might be a considered a security. That's not all, there is reprieve following the SEC's Senior Adviser for Digital Assets and Innovation Valerie Szczepanik comments that in "some circumstances" ICOs may after all avoid registration.
While speaking at the Wall Street Blockchain Alliance, she said certain projects that accomplishes and syncs well with their investor protection stipulations will receive "no-action letters". This she says is an "exceptive relief and a way which the SEC says we can recommend no enforcement action".
Despite their mandate execution, the SEC came under fire early Sep 2018 when a group led by Caitlin Long—a former Morgan Stanley MD and Bryan Bishop–Bitcoin core developer, with support from industry leaders wrote to the SEC accusing them of stifling the sector by issuing punitive orders while not armed with sufficient working knowledge.
ETH/USD Price Analysis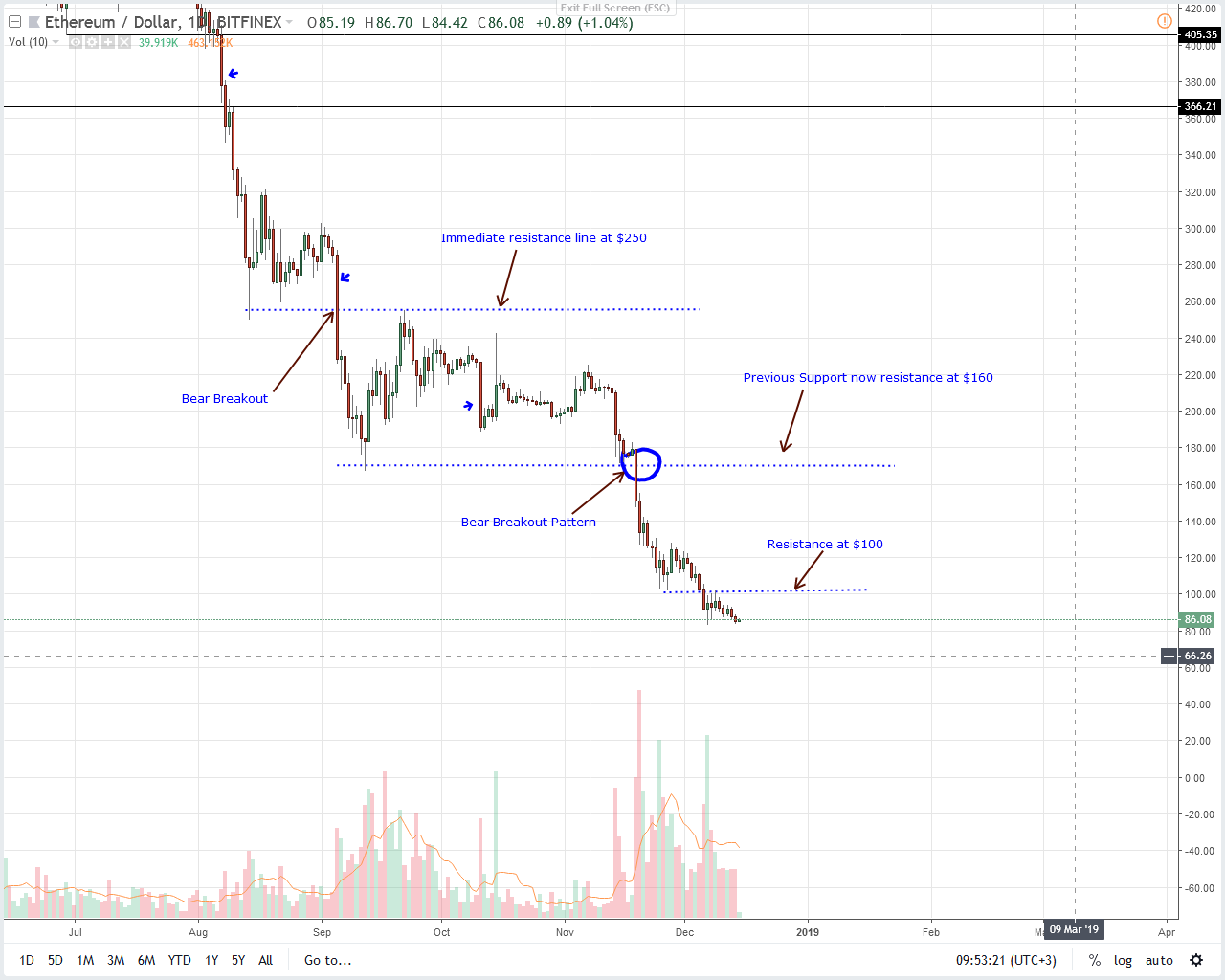 At spot prices, ETH is changing hands at $85. From candlestick arrangement, it could get worse for ETH holders. It's down two percent in the last 24 hours and a massive nine percent in the last week. Like in previous ETH/USD trade plans, price action is trending within a bear breakout pattern and while the market is optimistic of recoveries, it's basically a tall order for bulls.
To reiterate our previous layouts: bulls will only be in charge if they close above $100 at the back of strong market participation. Ideally, we would like to see expansions above $130.
That could open up more demand and these upsides may propel prices above $160 nullifying the bear breakout pattern which ETH is stuck in.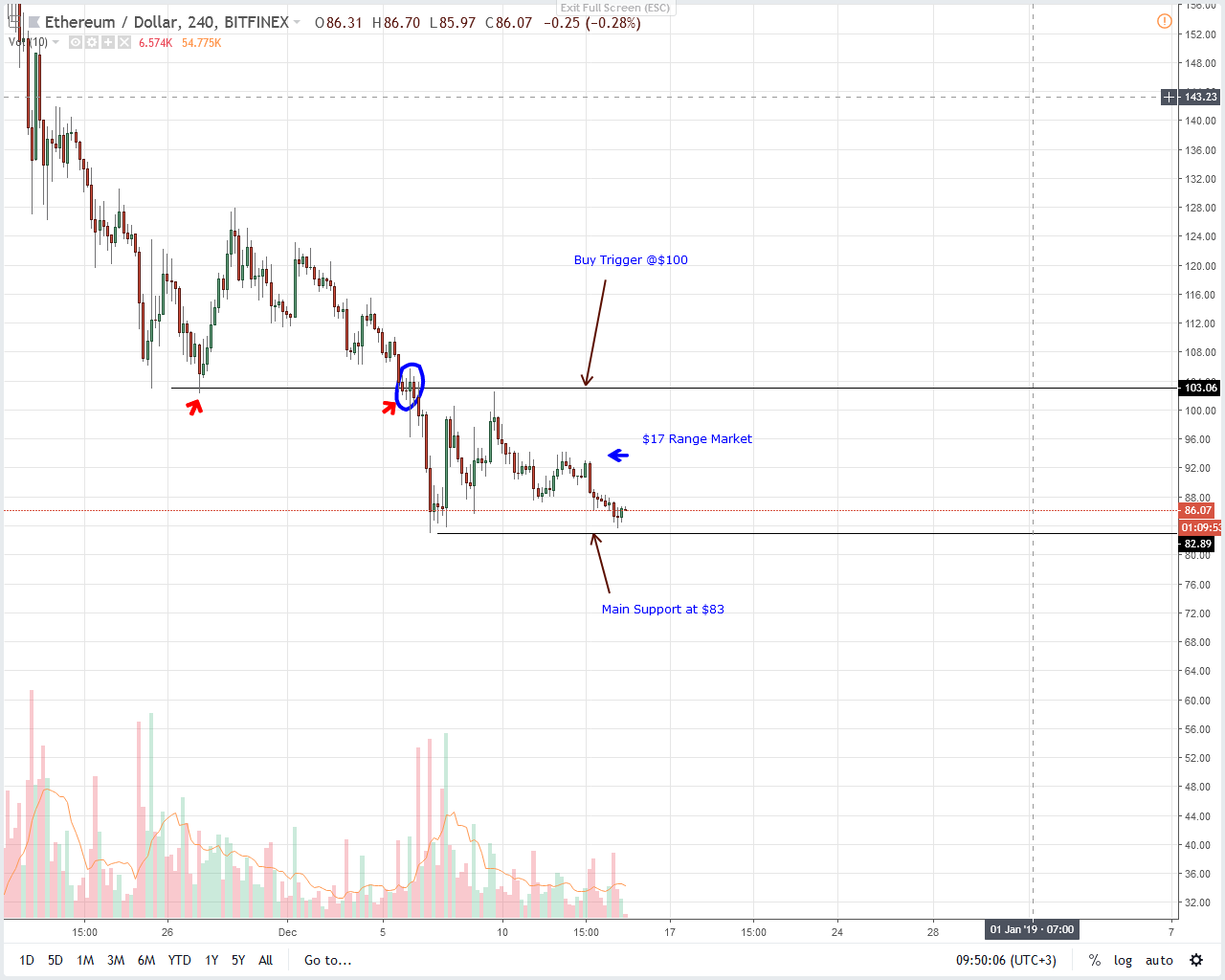 In lower time frames, ETH is less than $2 away from our main support and sell trigger at $83. It marks Dec 7 lows and though the day ended up bullish, dips below $83 could see ETH print new lows confirming bears of Dec 6.
If sellers overcome buy pressure today and close below $83, then we might see further draw down towards $50. On the reverse side, gains above Dec 9 highs at $100 and ETH may retest $130.
Here's our ETH/USD trade plan:
Buy: $100
Stop: $90
Targets: $130, $150
All Charts Courtesy of Trading View
Disclaimer: Views and opinions expressed are those of the author and aren't investment advice. Trading of any form involves risk and so do your due diligence before making a trading decision.