The Ethereum price is solid above $2k with hints that bulls will sustain prices above this psychological level in the medium term.
As of writing on Apr 7, the Ethereum price is up 13 percent week-to-date, adding an impressive 11X in the last year of trading.
Buoying Ethereum bulls are an array of several fundamentals, including increasing adoption levels, development around NFTs and DeFi, and migration to Eth2.
Miami Opts for Ethereum
For instance, in a recent podcast by the Block, Francis Suarez—the Mayor of Miami and a crypto advocate, has—together with Vitalik Buterin, revealed their collaboration to explore and adopt the Ethereum chain for running city services.
"We're trying to come up with a project that goes through the foundation and directly with Ethereum that we can do with the city. We want the city directly involved in a way that demonstrates the applicability of the software so that we can continue to provide better services for our residents."
The Mayor explained that the city's main priority is to adopt a decentralized information system, especially with looming security concerns like the Hurricane season that might disrupt service provision.
Ethereum will Flip Bitcoin as a Store-of-Value
Meanwhile, the Ethereum price rose above $2.15k on Apr 6, posting a new all-time high. At the same time, the number of non-zero ETH addresses also grew to record levels above 56.7 million, data from GlassNode reveals.
In the battle for supremacy between Bitcoin and Ethereum, Anthony Scaramucci thinks ETH will eventually be the store-of-value once Eth2 is live.
ETH/BTC Price Analysis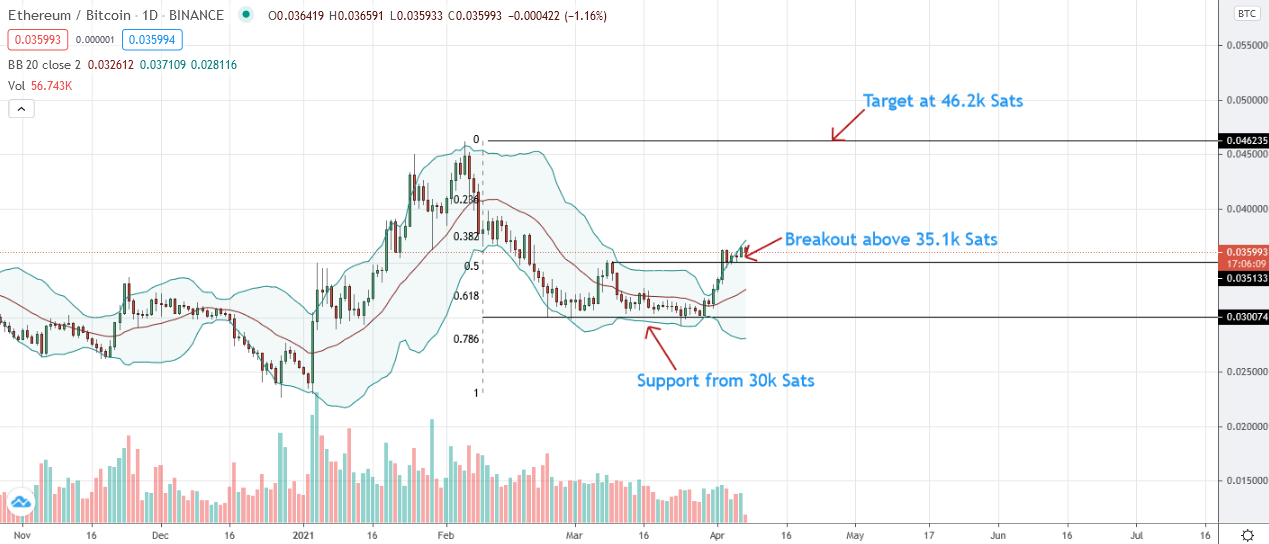 The Ethereum price is up an impressive 13 percent against BTC in the past week of trading.
From candlestick arrangements, the ETH/BTC price appears to be bottoming up. Notably, after weeks of lower lows, the ETH price recently broke above Mar 2021 highs. There has been a follow-through, but trading volumes are relatively low.
However, this is the building block for a possible rally towards 4.6k Sats or Q1 2021 highs in a repricing that would place ETH bulls ahead of BTC. In the weekly chart, there is a clear high-volume double-bar bullish reversal pattern.
Accordingly, aggressive traders can load the dips now that momentum is building up in the daily chart. Bull bars are banding along the upper BB—suggesting demand in lower time frames.
The first bull target is 46.2k—Q1 2021 highs.
Chart Courtesy of Trading View
Disclosure: Opinions Expressed Are Not Investment Advice. Do Your Research.
---
If you found this article interesting, here you can find more Ethereum News