The Ethereum price is firmer than Bitcoin if gains of the last few weeks guide. While BTC struggles below $60k, the ETH/USD price is charting new highs, printing above $3.5k this week before contracting to spot levels.
---
As a result, the token has outperformed most top-10 digital assets when investors are now fixing their eyes on the cryptocurrency.
The Spike in ETH Trading Activity
Perched at second, ETH proponents argue that the coin is undervalued, especially if fundamentals in the next few months are anything to go by.
Reflecting their influx and confidence is the level of punting on ETH prices, as data from Deribit reveals.
For the first time on May 4, there were more ETH Options volumes than BTC–a record $1.4 billion of Ethereum Options notional value were placed on the derivatives platform.
Accompanying the flip were skyrocketing premium, a move which some commentators said was good for Bitcoin.
Only 1% of ETH Addresses interact with DeFi
The spike in trading activity is less than a week after JP Morgan said Ethereum underpins the crypto network and its economic activity because of smart contracting.
Through this innovation, the platform now powers DeFi. The burgeoning NFTs industry is highly reliant on the trustlessness offered by smart contracts.
Coincidentally, there could be more room for DeFi and ETH prices to expand, considering that a mere one percent of ETH addresses have interacted with DeFi.
In combination with staking capability, there appears to be more headroom for ETH in the coming weeks.
Ethereum Price Analysis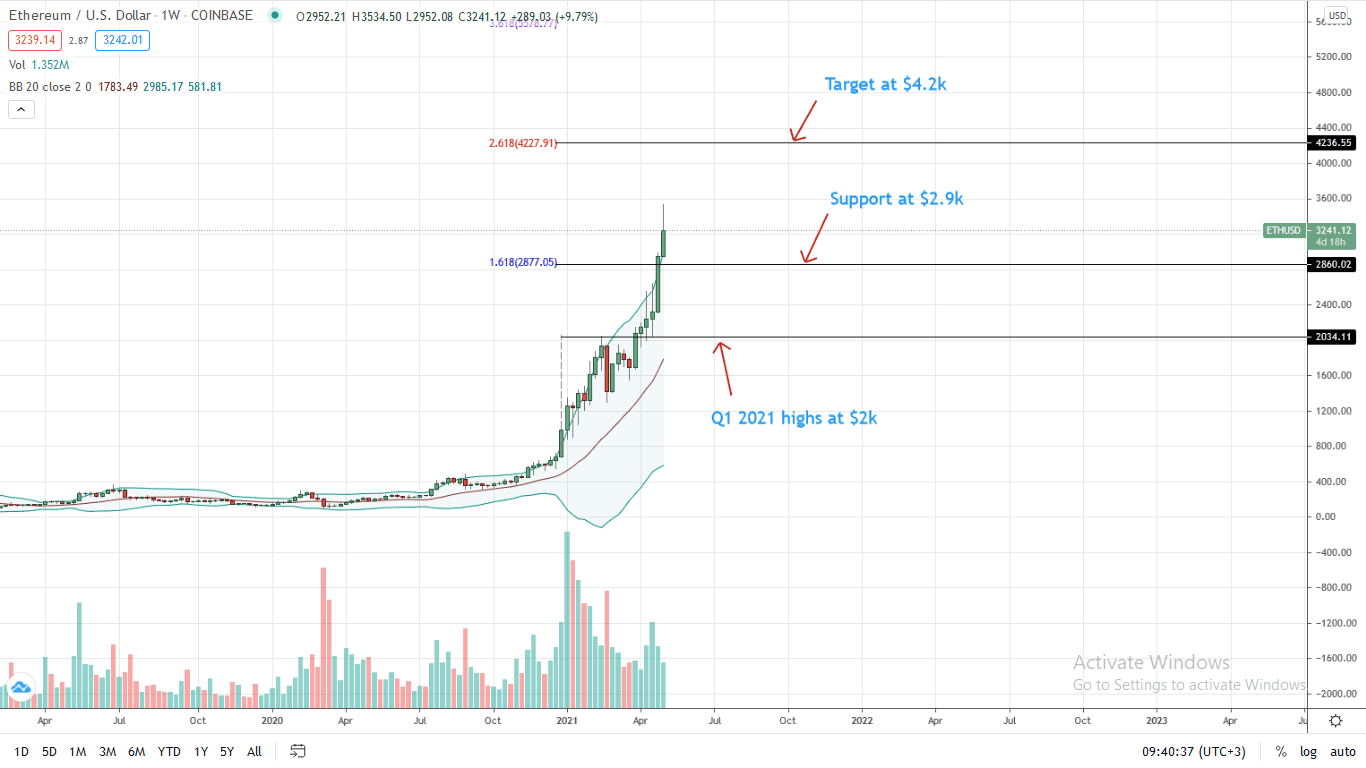 The ETH/USD is trading within a bullish breakout pattern, as the candlestick arrangement in the weekly chart reveals.
The coin is up 22 percent week-to-date, outperforming both the USD and BTC.
In a bullish breakout pattern—visible in the daily chart, every low may be a loading opportunity for aggressive traders.
Based on the ETH/USD price action in the weekly chart, $2.9k—the 1.618 Fibonacci extension level of the Q1 2021 trade range, is the first region of support.
With increasing momentum, the immediate buy target is $4.2k—the 2.618 Fibonacci extension level of the same range.
Sharp losses below $2.9k may see the ETH/USD price cratering back to $2k—or Q1 2021 highs.
Chart Courtesy of Trading View
Disclosure: Opinions Expressed Are Not Investment Advice. Do Your Research.
---
If you found this article interesting, here you can find more Ethereum News