For Ethereum traders, it has been a terrible five days. After the rout of last weekend, sell pressure continues to mount despite what the future holds.
It might be bright but given market conditions, the crypto weather is quite gloomy, and a hang of dark clouds makes traders scamper.
Will History Favor ETH Bulls?
Regardless, Ethereum traders, especially bulls, need not fret. Fundamentals are firm, and this is not forgetting that it is Q2 2021.
Historically, crypto prices tend to surge before collapsing in Q3 and rebounding back strongly in Q4.
Still, price action can only sync with the past.
Trading veterans observe that even with the contraction of ETH prices, there are many bidders. It solidifies the uptrend and comes when open interest is only tracking higher, moving in tandem with ETH/USD bulls.
John Kramer, a trader with GSR Capital, told Forbes that there is semblance with events that preceded the BTC/USD rally from the end of Q4 2020 to mid-March 2021.
Concerns about Proof-of-Work
There might be concerns around the energy efficiency of Proof-of-Work networks, of which Ethereum is prominent after Bitcoin. However, the transition to Proof-of-Stake means the platform could attract more "green" investors, a net positive for ETH.
It is especially noteworthy because Ethereum is struggling with high transaction fees.
This problem is attributed to Proof-of-Work miners who continue to bid higher to confirm transactions, negatively impacting user experience.
Ethereum Price Analysis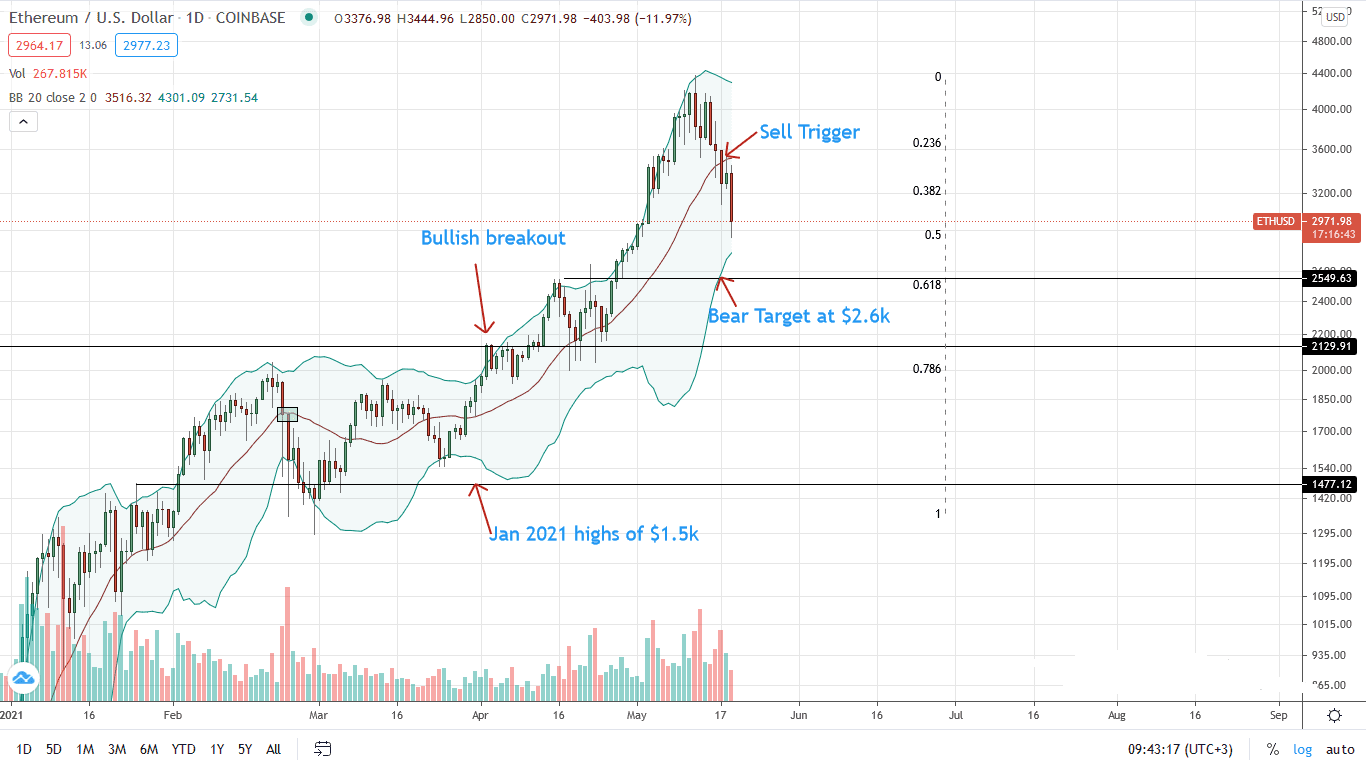 The ETH/USD is under pressure, bearish judging from price action in the daily chart.
Technically, every pullback could be an unloading opportunity for traders. Notably, ETH/USD prices are now trading below the 20-day moving average—(the middle BB) for the first time since late March 2021.
Although the uptrend is valid, a confirmation of May 17 losses and the failure of ETH bulls to close above $3.6k may see ETH/USD crater in the days ahead.
For this, the immediate bear target is $2.6k—the 61.8 percent Fibonacci retracement level of the March to April 2021 trade range.
Being optimistic, price gains above $4.3k may trigger demand. In that case, Ethereum could easily reach $5k in the medium term.
Chart Courtesy of Trading View
Disclosure: Opinions Expressed Are Not Investment Advice. Do Your Research.
---
If you found this article interesting, here you can find more Ethereum News