The tide is changing for Ethereum. After scares in the past few weeks, ETH/USD prices stabilized above $2k—a psychological mark—as many traders expect a fundamentally-driven trend continuation pattern in July.
ETH/USD support at $1.75k
At spot rates, ETH/USD is inching higher, confirming bias from traders. If anything, this may continue.
However, the pace of recovery depends on whether ETH/USD prices will close above $2.1k as buyers flow, pumping demand.
Should that be the case, ETH prices stand to gain in the days ahead, pumping ETH bulls who expect EIP-1559 to be a catalyst for demand.
EIP-1559 Makes ETH a Deflationary Asset
EIP-1559 effectively makes ETH a deflationary asset. In this new arrangement, the Ethereum network, not miners, will set transaction fees.
Instead of distributing fees to miners, the BASE FEE will be burnt. As a result, the miner will only receive a tip from senders who would like to fast-track the confirmation of their transaction. In the recent past weeks, Gas fees have, nonetheless, been low and affordable.
Analysts are pinning this on Ethereum transaction count taper, an increase of Block Gas limit, and the increasing use of Flashbots.
Jim Cramer: Bullish on Ethereum
Meanwhile, Jim Cramer thinks ETH is sound money that's better than Bitcoin—finding widespread use and remaining resilient above $30k.
Accordingly, he revealed that he sold his BTC for ETH and is bullish.
Ethereum Technical Analysis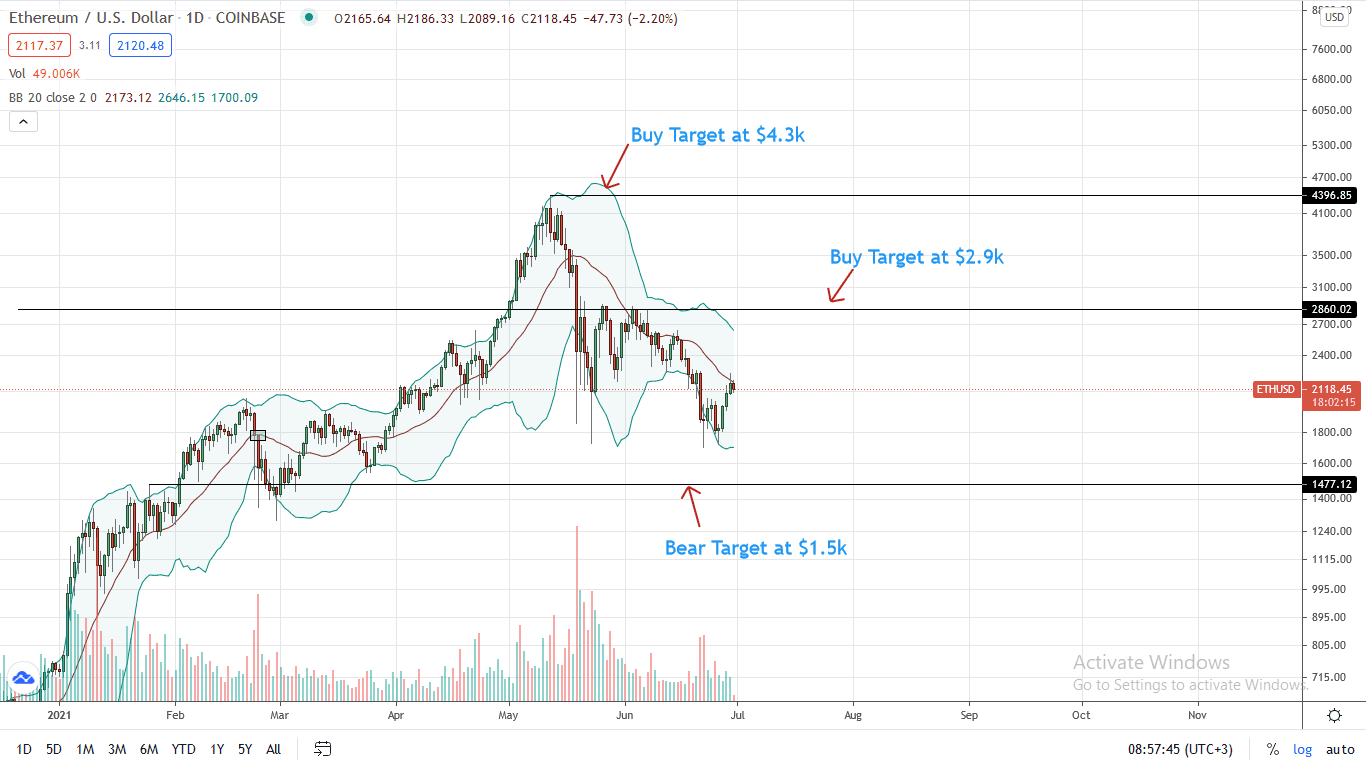 The ETH/USD price is bottoming up, reading from events in the daily chart.
The coin may have been under pressure, but move up is now defined. Of note, there has been confirmation of gains posted over the weekend.
Moreover, Ethereum bulls are likely to close above the middle BB—a flexible resistance line. This possibility might spark demand for the next leg up.
Accordingly, risk-on traders might find loading opportunities in lower time frames, targeting $2.9k in the immediate term.
On the other hand, conservative traders could wait for a conclusive reversal of June 21 before committing. In any case, targets remain at $2.9k.
Unexpected dips below $1.8k—last week's lows—invalidates the uptrend, allowing ETH/USD bears to crumble towards $1.5k.
Chart Courtesy of Trading View
Disclosure: Opinions Expressed Are Not Investment Advice. Do Your Research.
---
If you found this article interesting, here you can find more Ethereum News