The Ethereum price is, for the lack of a better word, "all over the place." At the time of writing, the second most valuable coin was firm above, $3k, true.
However, ETH prices oscillated within a tight $200 to $350 zone with identifiable caps at $3k on the lower end and $3.35k on the upper end, reading from price action in the daily chart.
Ethereum Bulls have support above $3k
Despite the wavy price action, Ethereum bulls are still in control, provided prices hold above $2.9k in the medium term.
Technical candlestick arrangement remains supportive of Ethereum buyers and should be the case in the medium term.
Even so, ETH/USD prices must first clear the immediate resistance level of $3.4k if $4.2k is to be reclaimed in a buy trend continuation pattern.
Crypto Market Cap expanded above $2 Trillion
Primers for this ideal prediction pin ETH's value expansion on the increasing popularity of smart contracts-powered innovations like DeFi and NFTs.
Additionally, there is general optimism on the crypto market, with supporters expecting more tailwinds in the month ahead.
For example, pumped by positive price developments over the weekend, the crypto market's valuation soared above $2 trillion for the first time since $May 2021.
Spearheading this was the sharp price expansion of Ethereum-based tokens in DeFi and some top-10 crypto assets.
At the same time, ETH is gradually evolving into a deflationary asset.
On average, 72 ETH are destroyed every five minutes, a development that's helping buttress prices, a net positive for optimistic Ethereans.
Ethereum Price Analysis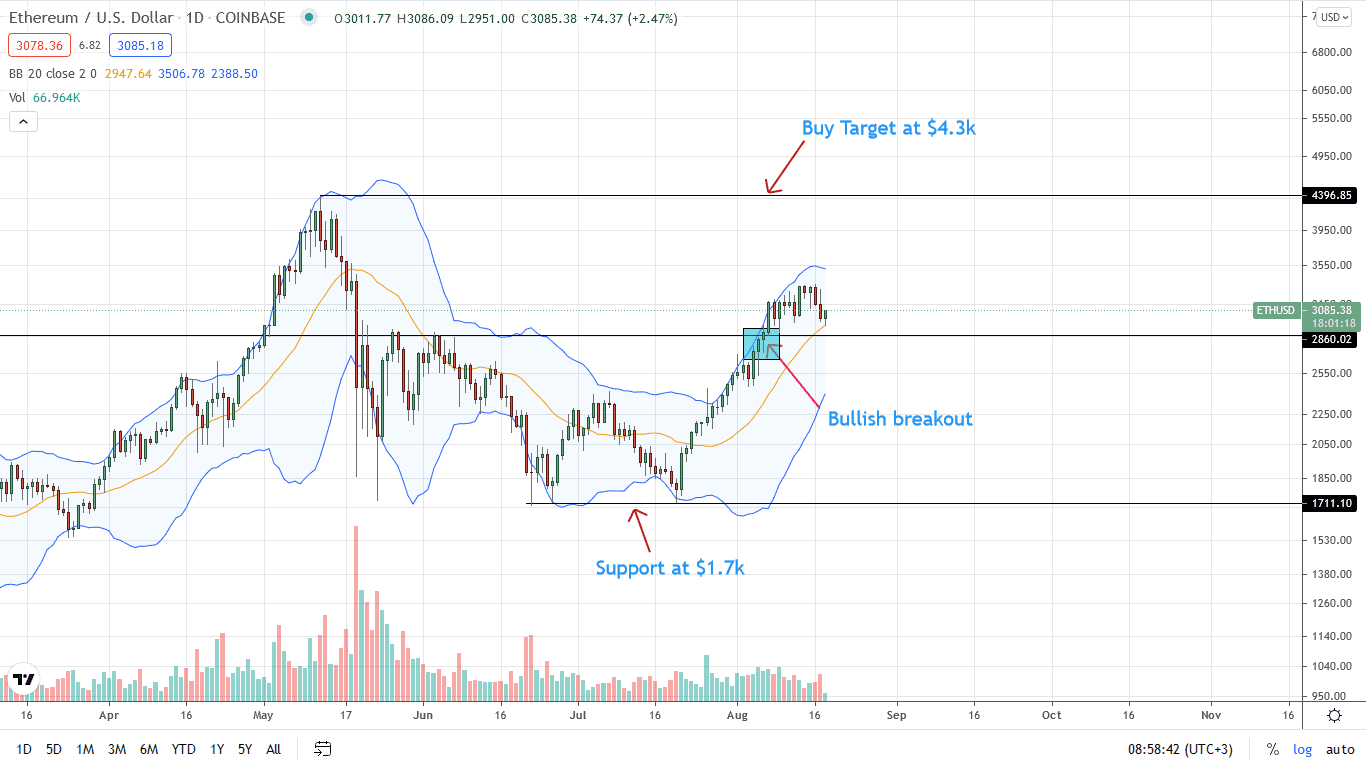 The ETH price is stable on the last trading day and week.
Overly, the path of least resistance is northwards despite the contraction. This is provided ETH/USD prices trend above $3k, rejecting selling pressure of the first half of the week.
As we advance, aggressive traders may find entries in smaller time frames, banking on ETH/USD bulls to drive prices above $3.35k—this week's highs.
In that eventually, ETH prices could tear higher towards $4.2k in a buy trend continuation pattern.
However, the path towards this ideal condition is slowed down by lower lows versus the upper BB, which is an indicator of waning momentum.
Therefore, if ETH prices sink below the $2.9k and $3k support zone, bears might take charge, forcing prices back to $2.4k.
Technical charts courtesy of Trading View
Disclaimer: Opinions expressed are not investment advice. Do your research.
---
If you found this article interesting, here you can find more Ethereum News