The hammering of Ethereum and other crypto assets has been chilling.
Drilling bears, crashing ETH/USD prices below critical support levels, scaring HODLers have, indeed, been a test even for the devoted platform supporter.
ETH Holders drawing Inspiration from the 2018 Crypto Winter
Yet, amid the despair, there were flashes of strength on June 22 which spilt over to today. After sustained pummeling on June 21, ETH/USD prices snapped back during the New York on Tuesday.
It is unclear whether those gains will extend, building a base for further gains through this week. However, what's irrefutably clear is the level of commitment amongst supporters.
Ethereum represents an evolution, they argue, and giving up on it due to fluctuating market prices isn't considered.
Those with the so-called "diamond hands" can draw inspiration from the crypto winter. At peaks, ETH/USD had reached $1.4k only to fall flat-face, plunging to as low as $78 at the depth of the crypto bear market of 2018.
Indeed, it was gut-wrenching as the level of disbelieving among traders partly contributed to the free-fall.
Projects stalled, and even some of the most accomplished contributors of Ethereum Classis ran out of cash, slowing down development.
Ethereum Ecosystem is Project-Dense
Ethereum and the crypto ecosystem have since matured.
There is DeFi, NFTs, and even more enhancement on the way.
EIP-1559 might be the immediate trigger, introducing ETH burning. However, other innovations such as flashbots are helping lower Gas fees, making the space more attractive to fee-sensitive users.
It is only fitting, unlike sprouting competitors, Ethereum's ecosystem is more developed, activity dense with a robust infrastructure.
Ethereum Technical Analysis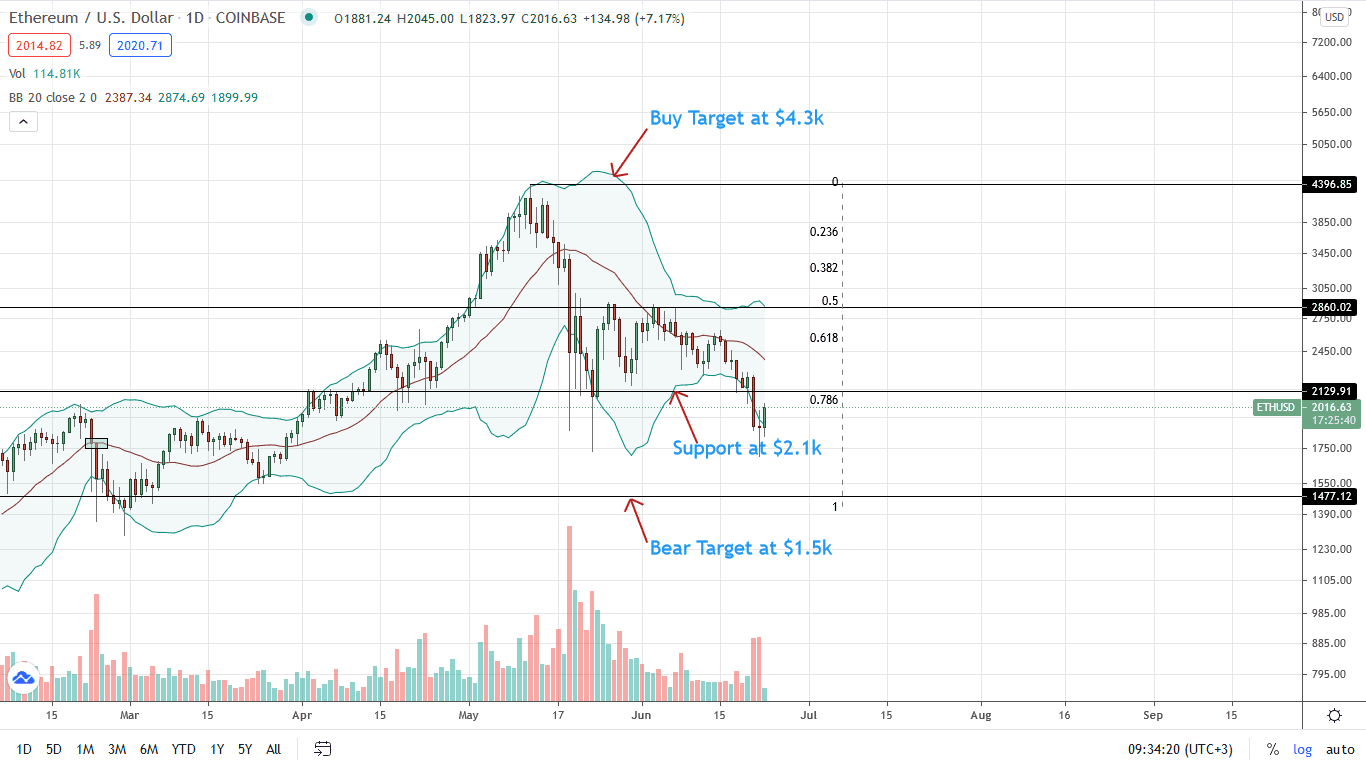 The ETH price is down 15 percent week-to-date, trending above $2k, adding five percent on the last trading day.
There were gains on June 22 as ETH/USD prices closed as a Doji bar. However, this is doesn't mean the bear trend is over.
Notably, from the daily chart, ETH/USD prices are trending along the lower BB—signaling selling pressure.
Risk-averse traders can wait for gains above $2k and the complete reversal of June 21 at $2.1k before committing.
On the other hand, aggressive traders can buy the dips as long as prices trend above June 22 lows of around $1.75k.
Any unexpected loss below this mark extinguishes demand, paving the way for ETH bears targeting $1.5k.
Chart Courtesy of Trading View
Disclosure: Opinions Expressed Are Not Investment Advice. Do Your Research.
---
If you found this article interesting, here you can find more Ethereum News