The Ethereum price remains stable but under pressure above $3k at the time of writing. Overly, traders are confident of the project's prospects.
In their analysis, the coin appears undervalued at spot rates and on the path of soaring above $4.4k to print a new all-time high.
Gas Remains a Problem
One pressing concern is on Gas fees and how Ethereum developers would best address this problem.
Despite efforts—such as block Gas limit increment to around 15 million—and the rollout of various high-impact Layer-2 solutions, network users still have to shell over $30 to transact on-chain.
This might be resolved by allowing the space to adopt present solutions now that intensive dApps such as Uniswap have shown their commitment to bridge to layer-2– Optimism and Arbitrum.
EIP-1559 Burns $930 Million of ETH
For now, Ethereum holders are bullish and confident of ETH becoming ultrasound money. With the activation of EIP-1559 during the London Upgrade, over $930 million of ETH have been burned, deviated away from miners.
A further $60 billion is locked in various DeFi smart contracts and the over $30 billion locked in Eth2 address set to secure the Proof-of-Stake Beacon chain once active in a year or so.
Interestingly, the main drivers of Ethereum demand contributing a big chunk of burned ETH is OpenSea (thus NFTs) and stablecoins.
Uniswap, given its anchor role as a go-to DEX in Ethereum, is also a significant driver of ETH demand.
However, the role of OpenSea—and by extension NFTs—in making ETH ultrasound money cannot be understated—in an industry that's just getting started.
Ethereum Price Analysis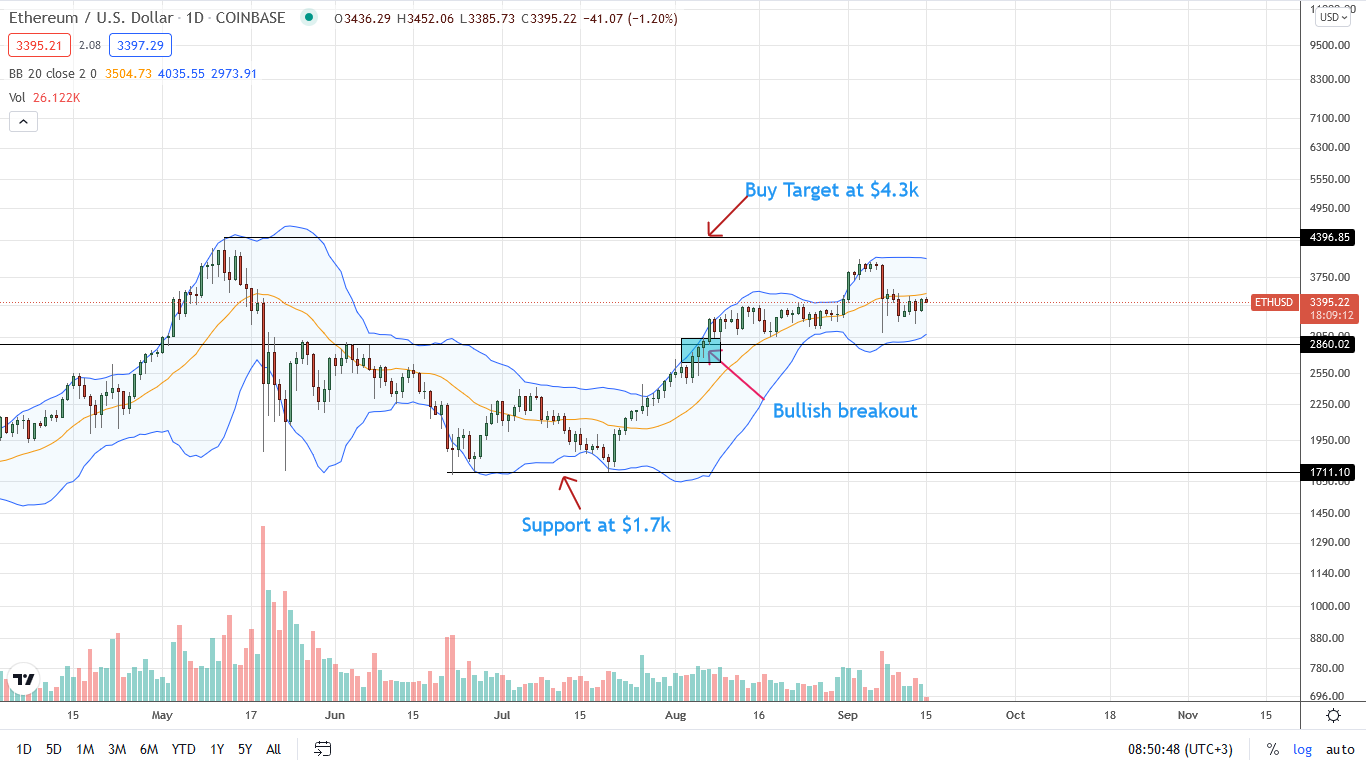 The Ethereum price is under pressure week-to-date.
At the time of writing, ETH is above $3k but under the shadow of the September 7 bear bar. Technically, from an Effort-versus-Results perspective, sellers are in control and may see the coin dump down towards $2.4k in subsequent sessions.
Accordingly, every pullback towards September highs may offer an opportunity for aggressive traders to dump, targeting $3k and later $2.4k in the medium term.
Note that the sideways movement also has lighter trading volumes pointing to general apprehension in the crypto market.
For August 2021 trend continuation, bulls must reverse September 7 lows and breach $4k. This would be the impetus for ETH bulls targeting $4.4k and new all-time highs.
Technical charts courtesy of Trading View
Disclaimer: Opinions expressed are not investment advice. Do your research.
---
If you found this article interesting, here you can find more Ethereum News