The Ethereum price recently flirted with its all-time high, re-testing the level but failing to comprehensive edge past the sell wall despite confident traders.
Writing on Jan 27, Ethereans are upbeat, expecting prices to slice past $1.4k to new all-time highs, even $2k in the next few weeks even when the ETH price is down nine percent in the last week of trading.
Behind their optimism are several fundamentals that cement the dominance of Ethereum as a smart contracting platform and an asset that's being eyed by institutional investors. One of them is the inevitability of Ethereum eventually flipping Bitcoin.
While BTC maximalists maintain that it is the original DeFi, the exponential growth rate of open finance protocols in the pioneer smart contracting network can cause worry for Bitcoin supporters.
In the last few months, not only has on-chain transaction fees been growing at a faster rate despite Ethereum's throughput being twice that of Bitcoin, but increasingly more BTC is being tokenized.
Gas as a Gauge of Activity
As of Jan 26, the average Gas fee in Ethereum stood at $9.5, almost twice that of Bitcoin, pushing the Gas fees earned by miners to over $8.8 billion, more than 4X Bitcoin's.
Notably, this is primarily due to DeFi that, as of writing, commands over $26 billion but could expand to new highs if the ETH price breach the $1.4k sell wall.
Also, the transition away from PoW to a staking system will mean low ETH emissions, potentially pushing inflation to negative territory. This will be lower than Bitcoin; a network billed as digital gold due to its fixed supply and low inflation rates.
Ethereum Price Prediction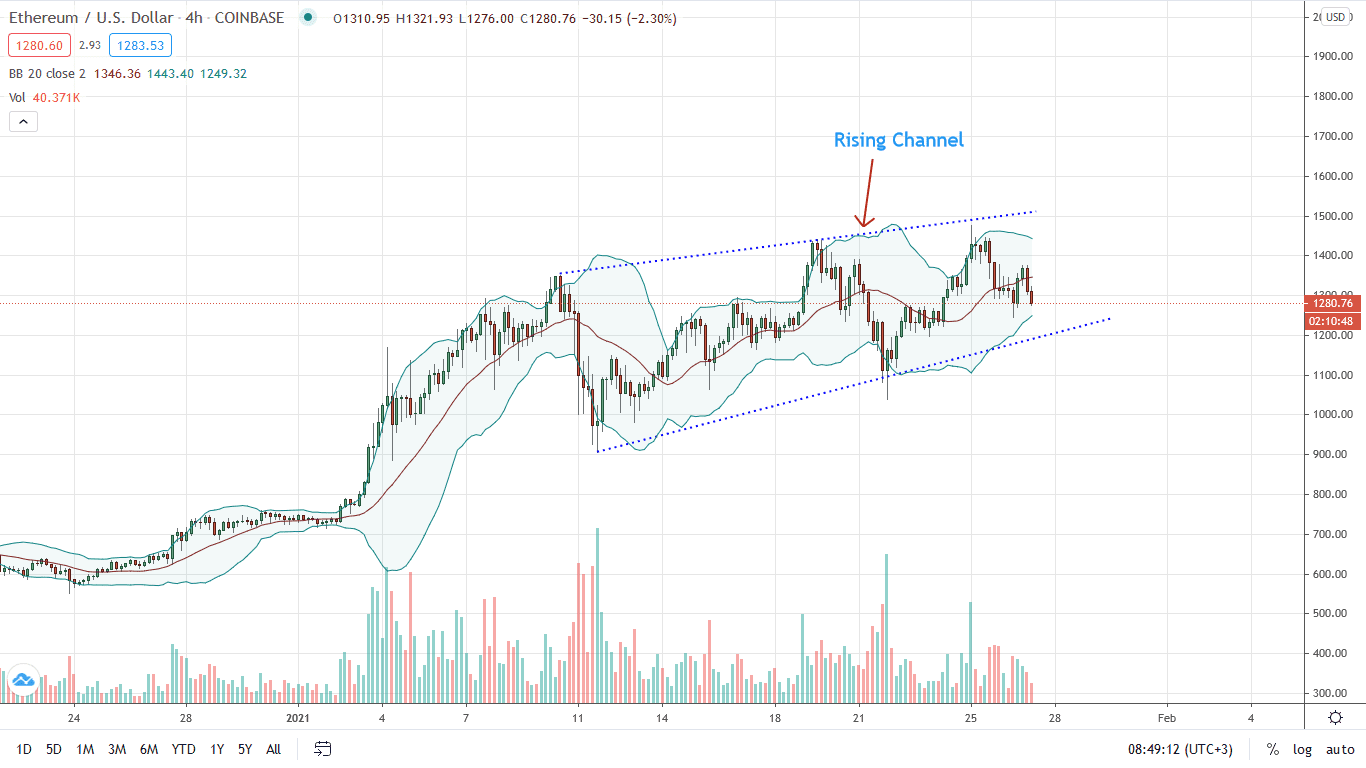 The Ethereum price is stable versus the greenback as of writing, dropping two percent on the last trading day.
From the 4HR chart, the ETH/USD price is moving inside a rising channel. Despite gains of Jan 25, the absence of a follow-through throws buyers into disarray. Ideally, a break above $1.45k and the upper trend line beyond the channel will likely trigger FOMO, further thrusting prices towards $1.75k and $2k.
However, this isn't the case judging from price action. At least for now, sellers are in command with comparatively low trading volumes inside Jan 25 trade range, a net positive.
Losses below $1.2k unwind gains of Jan 25 and may build a case for $900, especially if the breakout is comprehensive.
On the flip side, gains above $1.45k confirming Jan 25 with higher trading volumes will see the ETH/USD soar to new all-time highs in a bull trend continuation that gained momentum from December 2020.
Chart Courtesy of Trading View
Disclosure: Opinions Expressed Are Not Investment Advice. Do Your Research.
---
If you found this article interesting, here you can find more Ethereum News