Ethereum developers strive to scale the network. It is imperative that this also be speedy. Given the "bad" track record Ethereum has especially in realizing and implementing scalability options, the shift to Ethereum 2.0 will either make or break the platform as a smart contracting network.
Already, early stages of this six-phase implementation is active and the co-founder–the face of the network, Vitalik Buterin, is confident that the project's roadmap is on course.
This will usher in a Proof of Stake consensus algorithm, setting the ball rolling for developers to experiment through TestNets, several scalability proposals as Sharding which will split consensus into small bits for fast transaction confirmation times or Optimistic Rollup.
It is an option which Vitalik says can scale Ethereum—even in the current set up enabling it to process 1,000 TPS. Still, time will tell and if the transition is seamless, the community's confidence will be bolstered and that may permeate to price.
On the flip side, the network failure to move to ETH 2.0 and issuance of excuses not to shift will dent bulls' confidence and through doubt into the whole process despite awareness that ETH 2.0 is complex but nonetheless an essential upgrade that will cement Vitalik's platform as a king of smart contracting and destination for DeFi dapps.
ETH/USD Price Analysis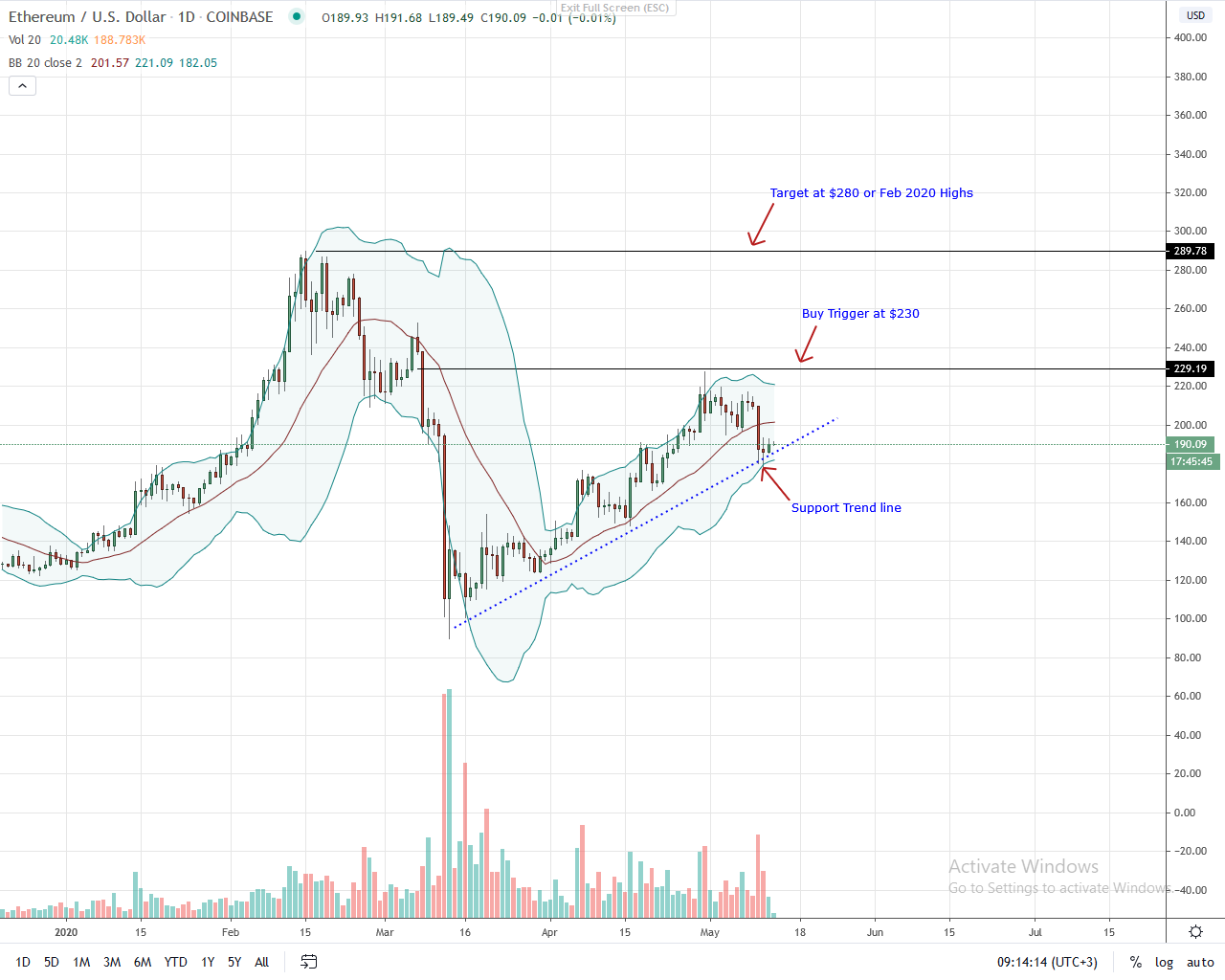 A day after Bitcoin halved their miner rewards, ETH bulls are back, rejecting further price degradation following May 10's price collapse.
Week-to-date, the coin is down six percent but there are hints of price revivals in lower time frames. Yesterday's bull bar, for example, confirmed attempts by buyers to reject sell pressure but before a clear signal prints, traders must be patient.
First, a close above the 20-day moving average and preferably May 10 high could present an opportunity for aggressive traders to sync with the existing buy trend. However, it is a break above $230 that will signal the entry of buyers and even a rally to $250 and later $280.
On the reverse side, losses below the support trend line and $160 will be inviting for bears aiming for $150 and even $130 in the medium term.
Disclaimer: This is not investment advice. Opinions expressed here are those of the author and not the view of the publication.
---
If you found this article interesting, here you can find more Ethereum News