The Ethereum price is facing resistance and bullish momentum is quickly fizzling after months of higher highs and almost zero obstacles to the upside.
Still, the depreciation is viewed as a necessary correction, a move that is considered another opportunity for traders to add to their longs in anticipation of a buy trend continuation.
Even so, amid the election and doubts of whether Ethereum developers are in sync and will agree to launch the first phase of Eth2, the Beacon Chain and prospects of ETH staking is a net positive for buyers.
In the immediate term, the focus is around the alignment of traders towards Eth2. Statistics from GlassNode reveals that the number of ETH addresses controlling over 32 ETH rose to an all-time high in the last week of October. The number is the minimum allowed for one to be a network validator in Eth2 and a qualification for rewards projected to be at around 10 percent.
However, that ETH will be locked for at-least 15 months before Phase 1.5 when the Proof-of-Work machine will be switched off may be a deterrent.
For now, the action of Ethereum supporters will rightly determine the short-term trajectory of price as focus is on the success of Eth2 even as DeFi—the main catalyzer of ETH demand in the last couple of months, is fizzling out.
At the time of writing, the amount of ETH under management by open finance protocols is down 20 percent to around $11.3 billion. The more the ETH price slides, the more investors will unwind their DeFi position, fueling sellers.
Ethereum Price Analysis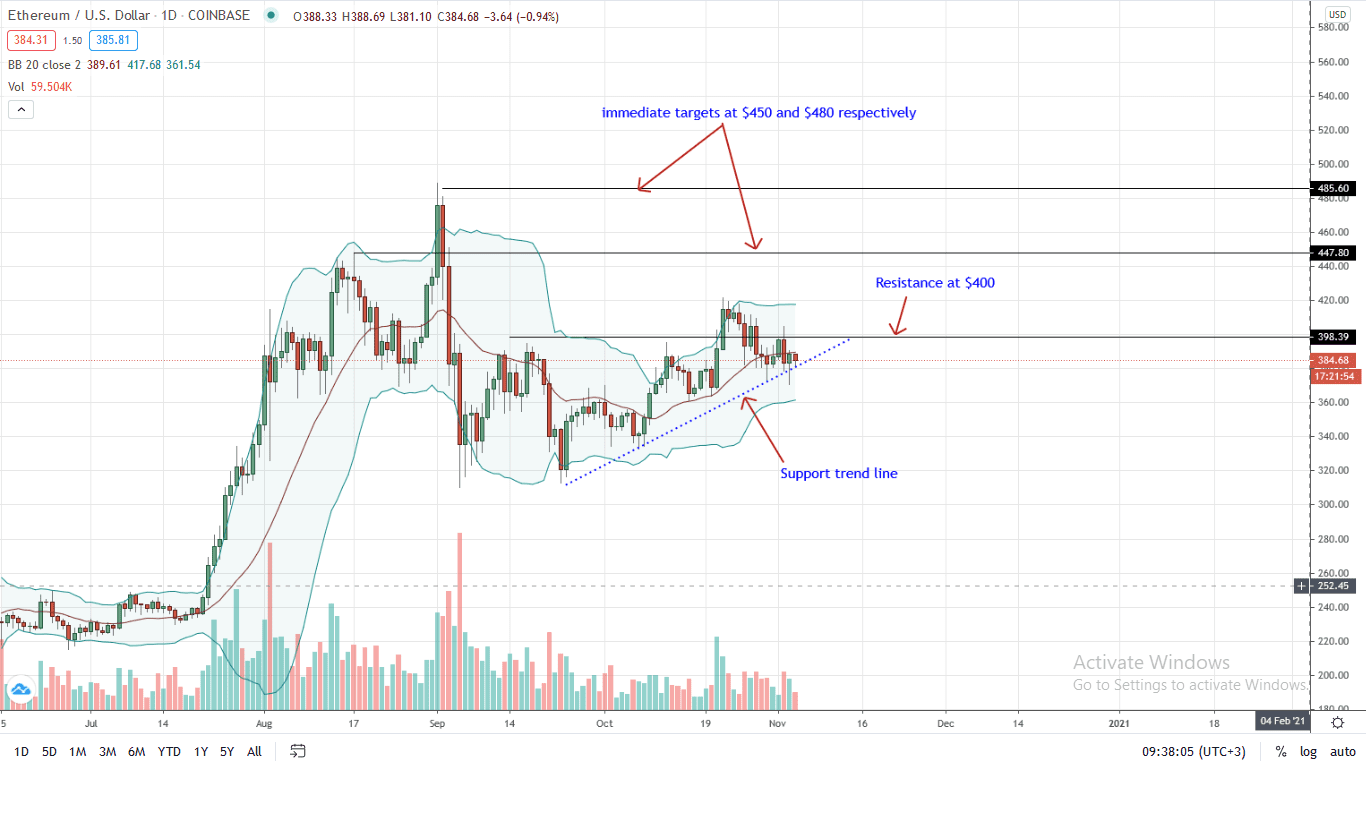 At the time of writing, the Ethereum price is down three percent and further stretched against BTC. From the daily chart, prices are steady and even though sellers were incessant in the last few days, yesterday's long wick bar hinted of demand in lower time frames.
As long as prices steady above the main support trend line in the daily chart, every low should be a buying opportunity with medium-term targets at $400 and later Aug 2020 highs. However, this largely depends on the level of participation and most importantly, whether bulls will close above last week's highs of around $420.
A firm close above this nullifies the bear flag and sellers of early September 2020. If not—and prices break below $360, there will be little support and the ETH price may dump to $320 or worse in a correction.
Chart courtesy of Trading View
Disclaimer: Views and opinions expressed are those of the author. This is not investment advice. Do your research.
---
If you found this article interesting, here you can find more Ethereum News