Ethereum price remains buoyant as the Medalla Testnet goes live, printing its first blocks. The dev test network has been a success. Its preparation meticulous. The test network is the last hurdle, the final step before the Ethereum network finally transits and launches the base of Eth2.
Medalla Test network is Live
Most importantly–and why this test network matters is because it includes many of Eth2's true working environment. As such, if Medalla proves stable, the Beacon Chain mainnet will also be stable and free to launch perhaps in the course of the year.
Danny Ryan, an Ethereum developer notes:
"The launch of Medalla is a huge milestone in the development of eth2 – if Medalla proves stable, mainnet launch is next – and represents years of hard work by countless engineers, researchers, and community members."
The Beacon Chain mainnet sets the course for a Proof-of-Stake (POS) consensus algorithm and eventually, energy efficiency. And it is vital that this transition is smooth. With a seamless execution of Phase 0, the Ethereum development team will find it easy to shift to Phase 1 and finally Phase 2.
Of Decentralization and Energy Efficiency
The final execution of Phase 2 is the implementation of Serenity where Ethereum will purge its scalability challenges while being decentralized with enough validators confirming and literally powering the new Ethereum network where the Ethereum price matters.
Perhaps highlighting how decentralized the Eth2 will be, the Medalla test network passed the minimum threshold as gauged by the number of validators required for its activation.
Aside from the over 20,000 validators, Medalla was ran by five clients: Teku, Prysm, Nimbus, Lodestar and Lighthouse.
Ethereum Price Analysis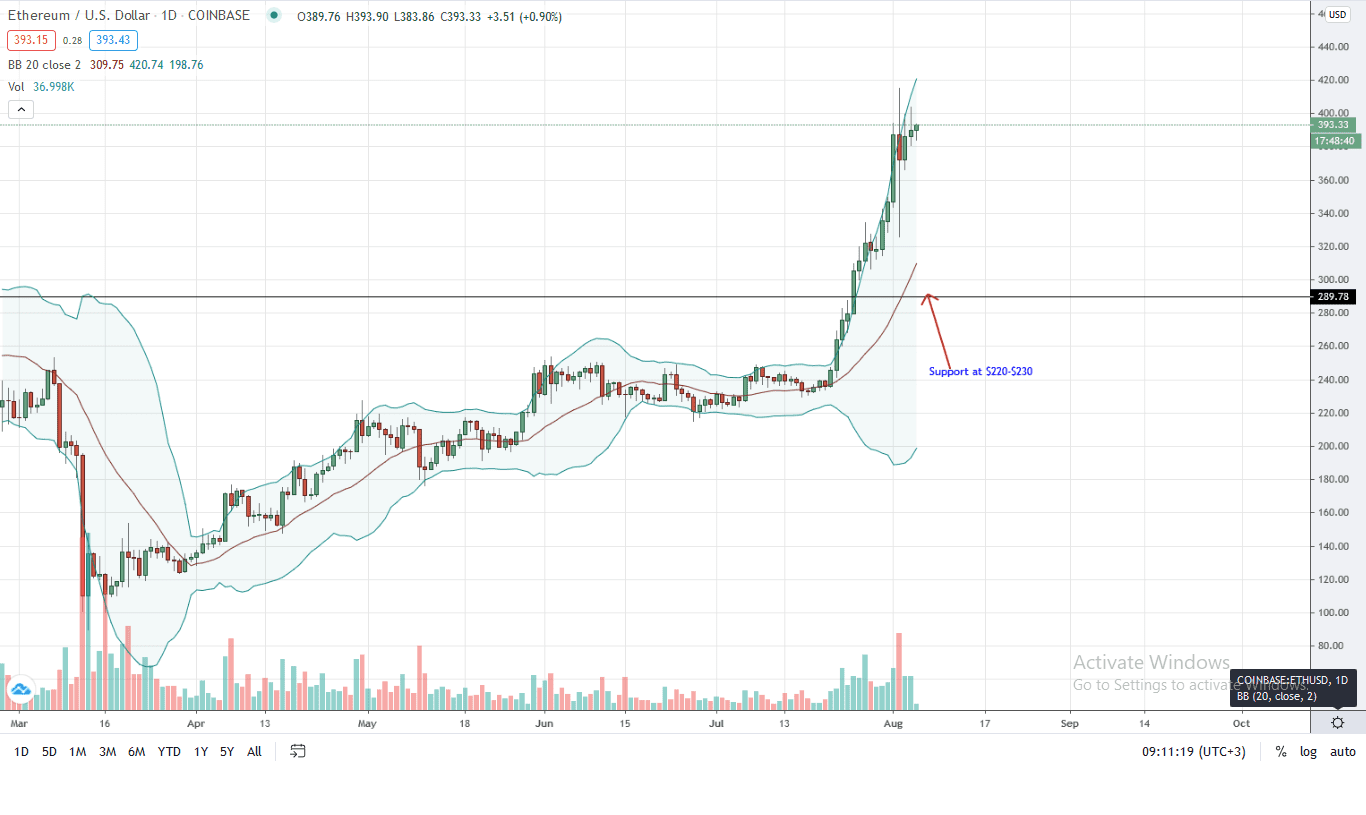 At the time of press, the Ethereum price is stable and slightly down after flirting with $400. Changing hands at $392, ETH is up 24 percent against the greenback, and 20 percent within the same period against the BTC.
From candlestick arrangement, ETH bulls are still firm. Notice that prices are now trending inside Aug 2 high volume range. Also, volumes are depressed.
While buyers may remain optimistic expecting higher highs and even a close above $400, there is risk of prices sliding. This is because participation levels have declined—pointing to a possible exhaustion, and two days later, bulls are trending inside the bear bar.
From an effort versus results perspective, this is bearish. For this to be reversed, the Ethereum price must close above $415 with high trading volumes.
If prices drop below $350 as volumes increase, odds of the Ethereum price falling to $325 and even $280 will be heightened.
Chart courtesy of Trading View
Disclaimer: Views and opinions expressed are those of the author. This is not investment advice. Do your research.
---
If you found this article interesting, here you can find more Ethereum News