While the Ethereum price disappointedly fails to breach $250, DeFi continues to rise and hog attention. There are millions of dollars already locked in several protocols—broadly classified as open finance.
Obviously, the growth of trustless lending and borrowing platforms dominate discourse but interestingly, it is the rapid development of DeFi as an alternative that will directly benefit Ethereum (ETH) is what excites investors.
But the focus shouldn't be on DeFi alone since there are other interesting developments proving Ethereum is more than a money but gradually a store of value.
Observers remain confident that ETH will eclipse Bitcoin—and even gold, due to its dual functions, and the increasing calls for freedom and better rates. These calls coincide with central banks slashing interest rates to spark development in the face of the economy-ravaging COVID-19 pandemic.
Top 5 Ethereum Tokens more valuable than ETH
In the last week, it has been noted that the total value of the top 5 Ethereum tokens—ERC-20 and its derivatives, surpass the total market cap of Ethereum (ETH).
The rapid blossoming of Ethereum tokens go against the fat protocol thesis forwarded in 2016 which states that the value of ETH will grow at the faster rate than the value of tokens launched from the platform.
This was expected because largely these tokens accrue value for their respective protocols and not ETH directly (as widely expected)—and hence can be confidently classified as parasitic.
Going forward, whether the value of the protocol will decrease as the value of assets launched on it increase will surely spark more debate especially on the security of the network.
Ethereum Price Analysis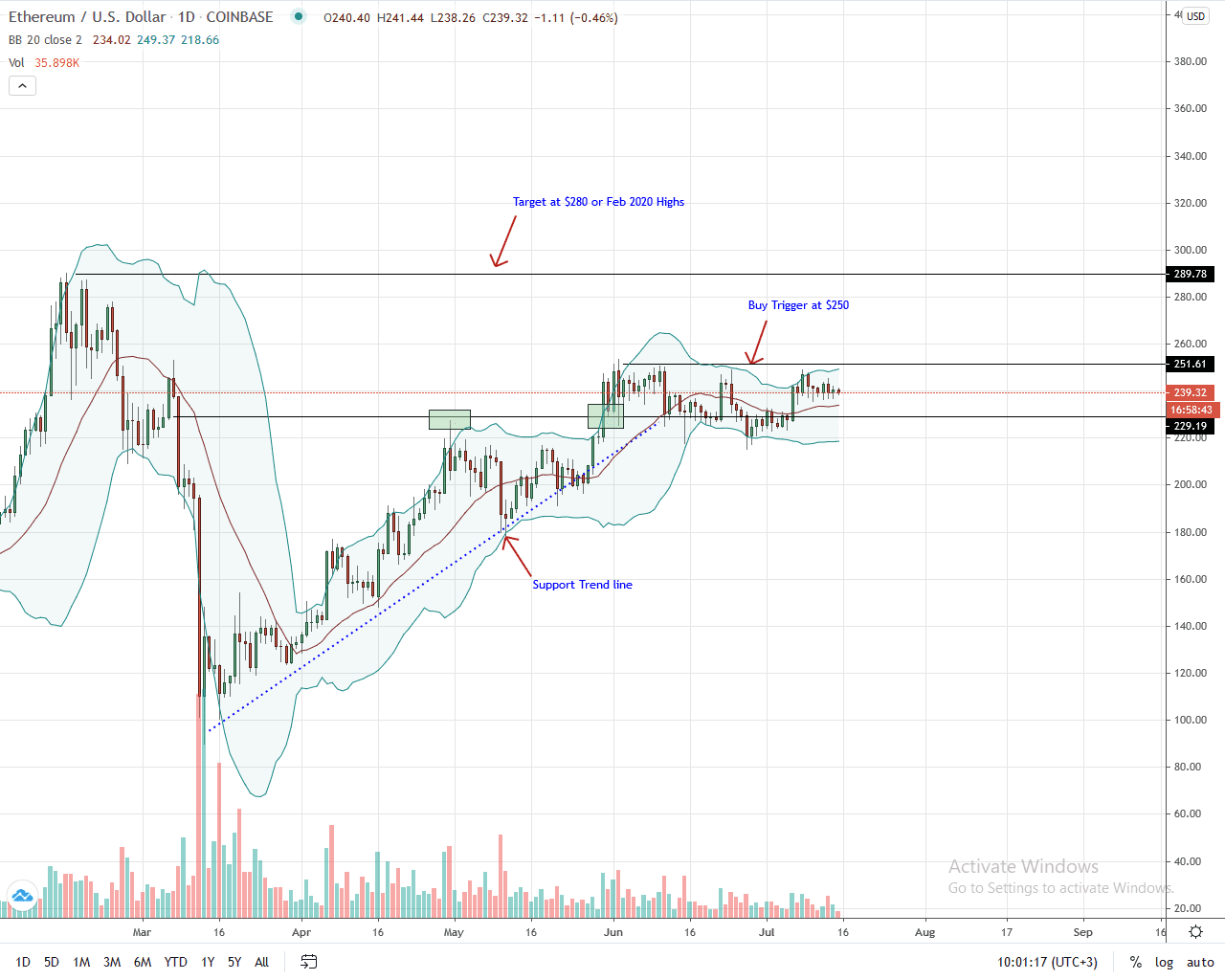 The Ethereum price is stable, barely unmoved in the last trading week against both the USD and BTC. Ranging within a $20 zone with caps at $250 and floors at around $230, buyers seem to be in charge. Hints stem from the lack of bears to close below $230 and the continued oscillation of prices inside july6-8, 2020, high low.
From an effort versus results point of view, bulls have a chance for edging higher. However, for them to have absolute control, it is subject to prices closing above $250 at the back of high trading volumes.
Going forward, candlestick arrangement call for patience. Still, a close above $250 could spur bulls into action subsequently pushing ETH prices to $280 or better.
On the flip side, steep losses below $230 may see ETH prices slide to $200 or worse.
Technical Chart courtesy of Trading View.
Disclaimer: This is not investment advice. Opinions expressed here are those of the author and not the view of the publication.
---
If you found this article interesting, here you can find more Ethereum News