The crypto world is fast-paced and so is Ethereum. The platform is multi-faceted and is composed of many moving parts that sometimes relegate price and value to the periphery.
Still, the performance of Ethereum price matters for speculators and traders at large whose end game is to make money regardless of the system's state.
The KuCoin Hack
Hogging news has been KuCoin. It is projected that losses will be much more than what the exchange projected.
Estimates place them at over $200 million, not $150 million as earlier stated. Amid this, is the wave of intervention that asks more questions with few answers.
Admittedly, third-party intervention, can at times be welcomed considering how deflating hacks can be.
Secondly, it is not like KuCoin—though one of the largest centralized exchanges have $150 million—or higher, lying around to compensate victims.
Ethereum Tokens Mutability
Therefore, that some projects including Tether Limited intervened by freezing a combined $22 million of USDT tokens across Ethereum, Tron, and the Omni Network may be a reprieve for the exchange but bad news to censorship resistance and immutability, a trait praised by blockchain projects and one of crypto's main value proposition.
Questions are: Are most blockchain projects truly decentralized and immutable to allow the "code is law" mantra takes it course? Was it not for the hack, will Ethereum-based token projects reverse or freeze transactions because of a typo error?
It may be a one-time event but by Sep 28, over 65 percent of the over $200 million lot had been rendered worthless through blacklists, hard forks, or freezing, saving some of the affected tokens developing economies.
Ethereum Price Analysis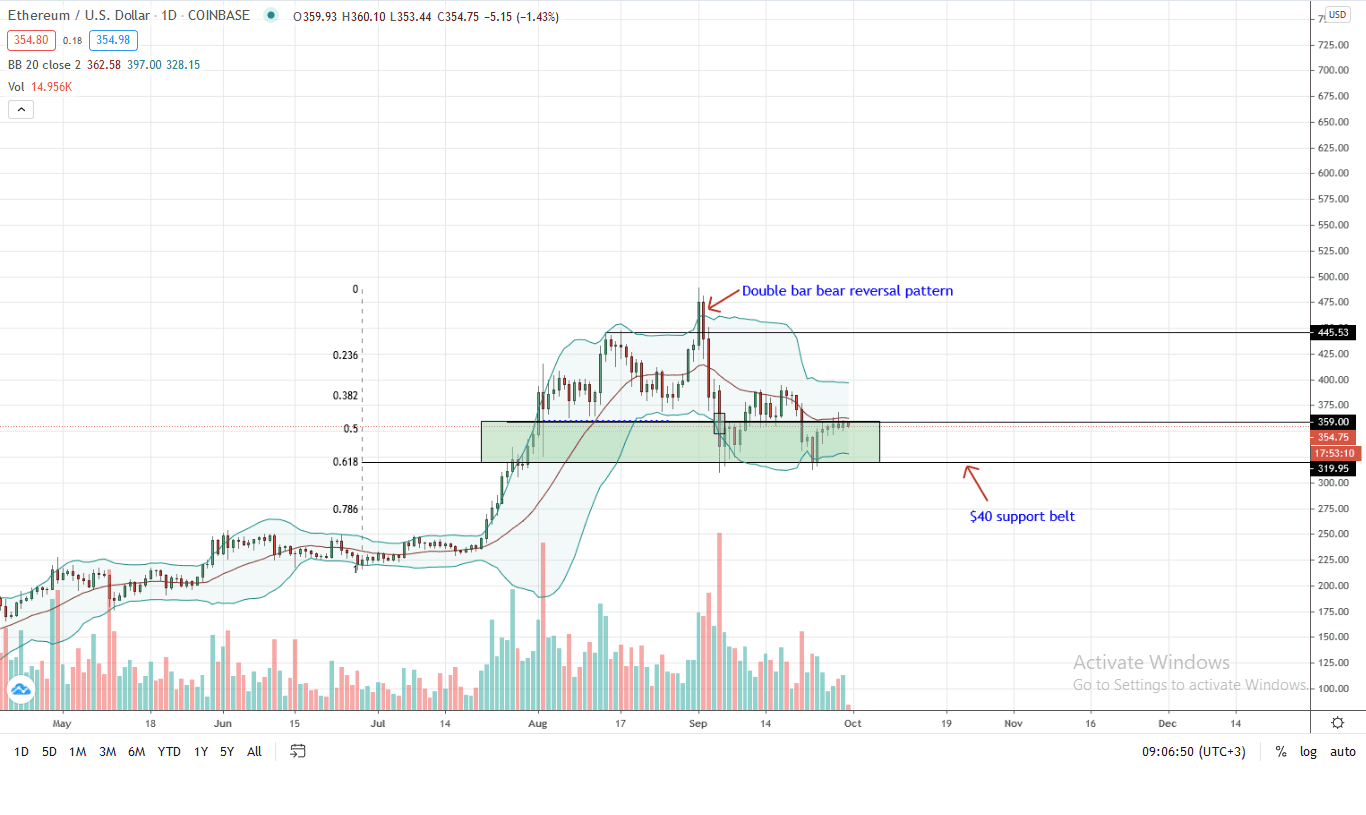 The Ethereum price is still all-over the place, held in a consolidation within a tight $40 belt with caps at $400 and support at $360 or so.
In the past week of trading, the Ethereum price is paring losses with the USD and has gained versus Bitcoin—adding roughly two percent.
From the daily chart, ETH prices are consolidating and notably still trending inside Sep 27 high low with markedly low trading volumes. Because of the last few days oscillation, Bollinger Bands are beginning to squeeze suggesting low volatility and possibly, accumulation ahead of Eth2 launch.
However, the immediate trajectory depends on how ETH bulls react at the middle BB and around $370 to $390.
A break above $400 will unshackle bulls, depressing bears and trigger participation which may subsequently push ETH prices to Sep 2020 highs.
Conversely, sharp losses below $320 could see ETH sink back to $250 in a retest.
Chart courtesy of Trading View
Disclaimer: Views and opinions expressed are those of the author. This is not investment advice. Do your research.
---
If you found this article interesting, here you can find more Ethereum News