It keeps getting more interesting for Ethereum. From the development angle, there is progress. Positive progress if there is clarification to be made. However, what's intriguing is the race for block space and the resulting spike in transaction count and fees.
Ethereum has been more active than Bitcoin
Not only has the number of transactions soared above the one million mark—exceeding those registered in January 2018, but it is more expensive to lease space in Ethereum than in Bitcoin.
For two straight weeks, Ethereum users paid more to secure block space than they did at Bitcoin. The curve has been rising steadily in the last five weeks or so while those Bitcoin continues to taper after halving—that is May 11, 2020.
DeFi dApps and Proof of Stake will draw more demand for ETH
As mentioned before, fees is a mark of demand. Ordinarily, miners will confirm a posted transaction if the sender pays above average Gas. The higher the Gas, the faster the confirmation speed. The opposite is true.
While this has sparked a discussion within Ethereum circles as developers look to controversially increase the mainnet Gas limit to 12.5 million, the rise of DeFi and stablecoin issuance is bullish for ETH ahead of the Beacon Chain mainnet.
If more coins are locked in DeFi applications, the race to secure the network through staking as Ethereum transit and eventually switch off the Proof-of-Work algorithm for validators could see ETH prices spike assuming the transition is seamless.
Ethereum price analysis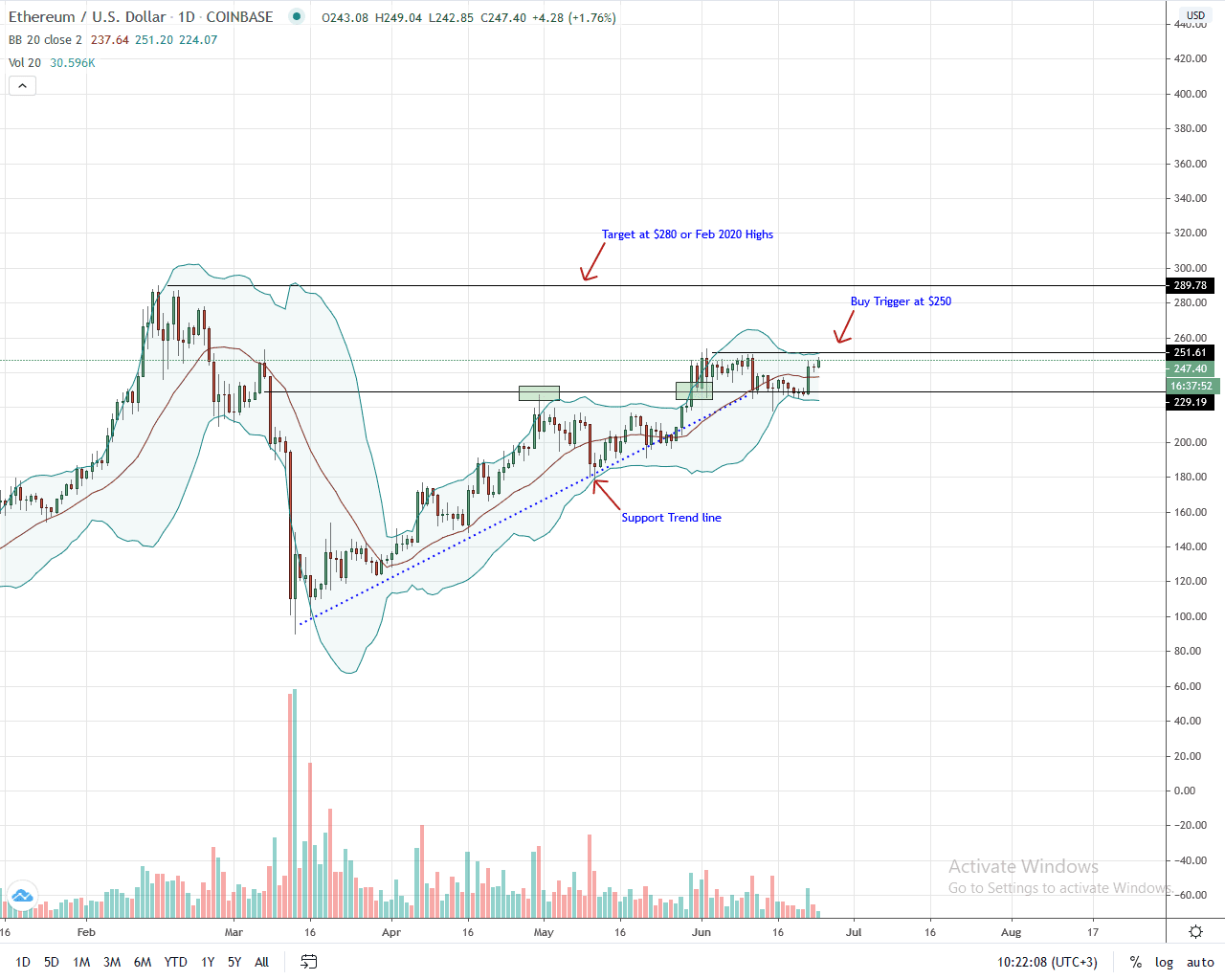 At the time of press, ETH is stable against the greenback in the last trading day and up six percent in the past week.
Technically bullish, ETH is trading at $247 and building on strong gains of June 22. As visible from the chart, not only did ETH reverse strongly from around June 11, 2020 lows, but the accompanying spike in price was at the back of decent trading volumes.
In the daily chart, a double bar bullish reversal pattern has printed as bulls reversed losses of June 11, 2020, subsequently invalidating the bear bar reversal pattern of June 10-11, 2020. Notably, ETH price is trending above the middle BB as buyers snap back to trend.
Because of this confluence, there are suggestions to indicate that the ETH price may soar to $250. Any break above this immediate resistance level will pave way for risk-averse traders angling for $300 or better in days ahead.
Any flash crash below June 22, 2020, lows of $230 invalidates this trade plan.
Disclaimer: This is not investment advice. Opinions expressed here are those of the author and not the view of the publication.
---
If you found this article interesting, here you can find more Ethereum News