The Ethereum price is weak and bears are beginning to press. A correction is highly likely and this may cool DeFi and yield farmers, a sub-sector that has been behind the ETH price pump to spot levels.
DeFi a sweet pain for Ethereum?
Admittedly, the pin set to pop the bubbly DeFi space revolves around the thorny issue of high transaction fees. Primarily, this stems from Ethereum's source code which requires a hard fork to fix if Layer-2 scaling solutions don't get the desired traction.
Eth2 may be the solution in the immediate term but with USDT, USDC, DAI, and other stablecoins playing a key role in DeFi, drawing demand, and further helping drive ETH prices to new 2020 highs ahead of a decisive hard fork that may make or break Ethereum scheduled later this year or early next year, the immediate solution in the short term is to embrace a proven Layer-2 solution.
Optimistic Rollups
Being floated is the Optimistic Rollups, an option and one of the many that nonetheless introduces trust in a trustless environment while using game theory to batch transaction before posting them to a smart contract on the base layer.
Vitalik has urged the community to post heavy transactions to any of the proposed and implemented off-chain option to ease the pressure on the main chain, and drive gas prices lower.
ConsenSys to maintain Quorum Codebase
In other news, ConsenSys has acquired J.P. Morgan and Chase's Quorum to advance Enterprise blockchain adoption.
Quorum which is forked from Ethereum's source code and remains open source, will now be maintained by ConsenSys and made compatible with other enterprise products as per a press release on Aug 25.
Ethereum Price Analysis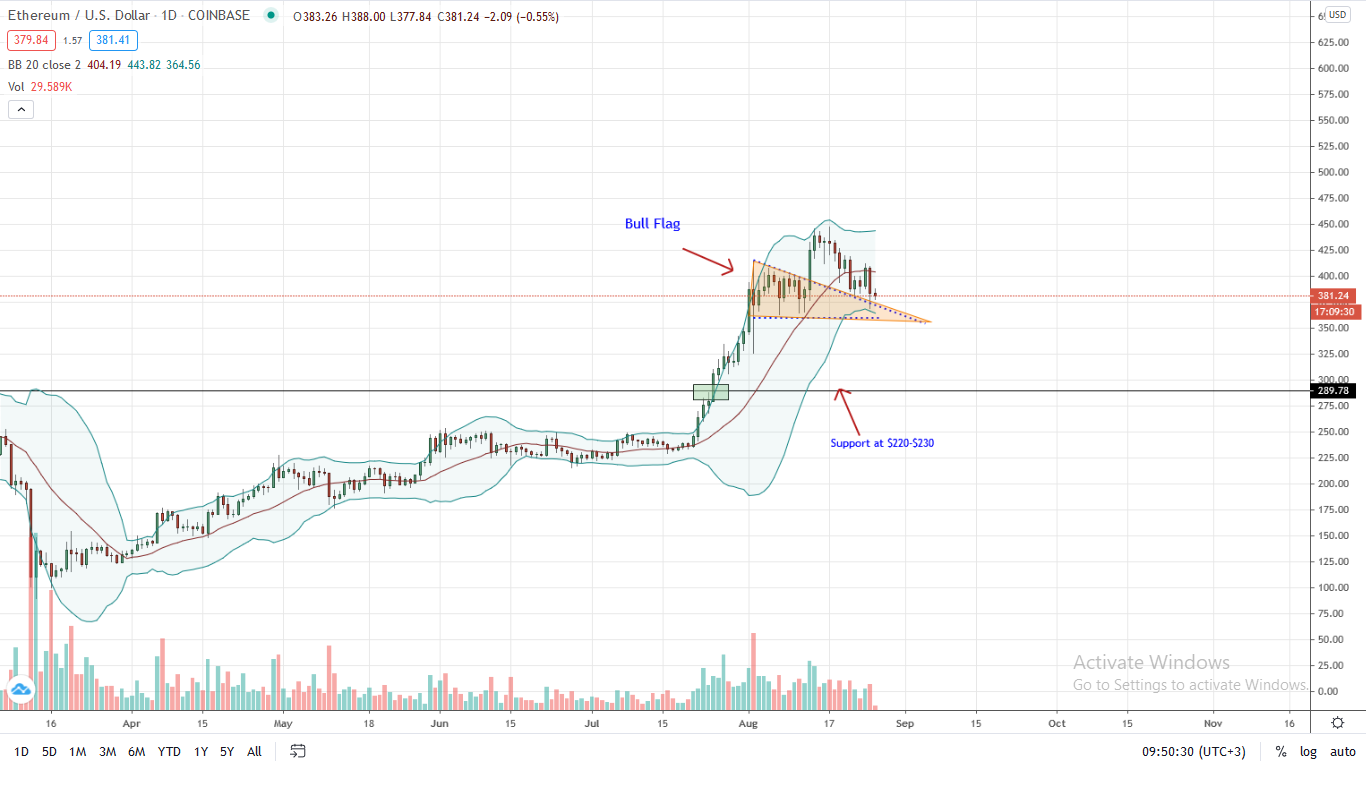 At the time of writing, the Ethereum price is shaky, exhibiting weakness against the greenback. Week-to-date, the coin is down 10 percent against the USD while also underperforming BTC.
From the daily chart, bears continue to press. Trading at $381 a pop, ETH bulls have failed to close above the 20-day moving average, the middle BB, and are back to the former resistance now support trend line of the bull flag in a retest. Despite the uptrend being firm, it is likely that ETH prices will correct lower as long as prices trend below the flexible resistance line.
Besides, analyzing price action from an Effort-versus-Results perspective, bears have now completely reversed gains of Aug 13. Even so, trading volumes are below average which is supportive of bulls.
However, if today's close is below $380, odds are ETH may fall back to $280-$300 support zone before a steady recovering in the last quarter of the year before the Beacon Chain mainnet.
Chart courtesy of Trading View
Disclaimer: Views and opinions expressed are those of the author. This is not investment advice. Do your research.
---
If you found this article interesting, here you can find more Ethereum News