The Ethereum price is one of the top performers in the last week or so. There is so much to be positive on ETH prospects.
Of note, the network is admittedly dominant and the so-called "ethereum killers" simply can't catch up. That's not to mention their problems especially around token centralization and the lack of vibrant community.
In the next two weeks, the Ethereum network will upgrade. It seriously needs to. There are troubles around scalability and from this there are network fee problems. In the last few weeks, fees fell as the DeFi scene cooled down after months of higher highs.
For perspective, in nine months, the amount of ETH locked in various protocols rose from $1 billion to a record $12 billion before falling slightly.
However, there seems to be a recovery as investors flow back to DeFi searching for better returns on their investments. Advising their entry is expectations of better prices once Phase 0 of Eth2 is active in the next three weeks or so.
Trudging on, how ETH prices will perform is largely dependent on how smooth the Beacon Chain launch will be. At the heart is whether investors trust the process and are ready to lock up their 32 ETH and become validators.
The opportunity cost from the dilemma of either locking up funds for over a year for yields between 10 to 22 percent, or participating in DeFi and earning the same yields—or better, may force some to take a wait-and-see approach.
Ethereum Price Analysis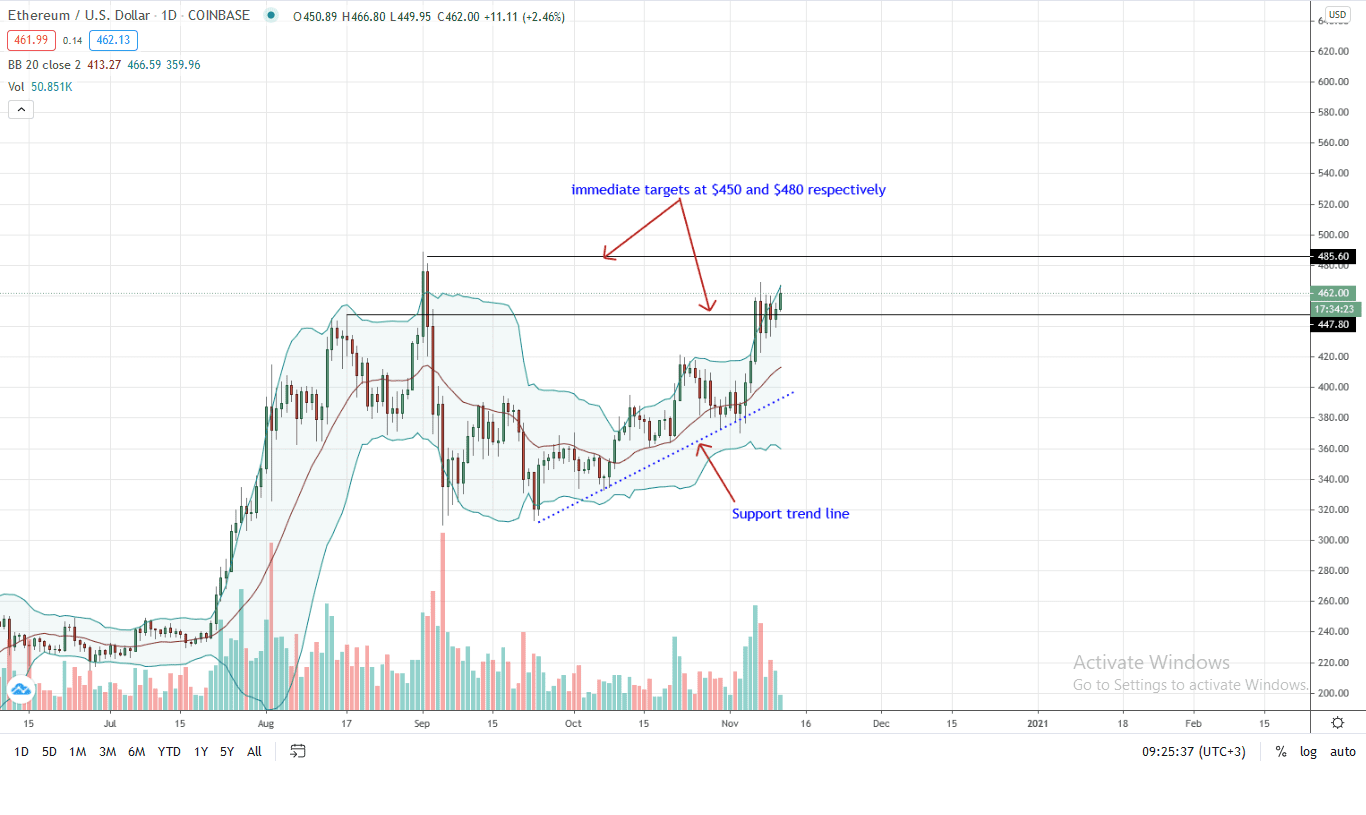 At the time of writing, the Ethereum price was up 20 percent in the last week of trading versus the greenback. It is also outperforming BTC, adding seven percent within the same period.
From the daily chart, the path of least resistance is clear. Bulls are in control. Even though prices have been consolidating in the past five days or so, every low is technically a buying opportunity.
Advising this are bull bars propped by high participation levels. In the secondary chart, it is clear that investors have been pouring in. Even if prices are stalled, the above-average trading volumes and the rejection of lower lows after the Nov 7 bar printed is an indication of support in lower time frames.
Immediate support, therefore, is the middle BB and October 2020 highs of around $420. A sharp close above $470 will trigger further demand, an impetus for a rally above Aug 2020 highs of $495 as the ETH price prints a new 2020 high.
Chart courtesy of Trading View
Disclaimer: Views and opinions expressed are those of the author. This is not investment advice. Do your research.
---
If you found this article interesting, here you can find more Ethereum News