The goal of blockchain is to distribute and decentralize. This gives its application an edge against, say, censorship and other attempts to muzzle distribution or broadcast.
Ethereum and Bitcoin are two certified networks that have been endorsed by the US SEC officials as satisfactorily decentralized and therefore its tokens, BTC and ETH, respectively, can be held without filings as they are labeled as utilities.
The Decentralization Question
There are pending questions as to whether XRP, LTC, or other large cap digital assets are utilities. Traders and investors can only speculate.
Still, Ethereum–as it heads towards a decentralized and energy-efficient future, continues to hog the attention of investors and traders. Not only has the price of its token expanded in recent days, but the interest amongst supporters is overwhelming.
The Beacon Chain Mainnet and ETH Distribution
The Beacon Chain mainnet will be announced and launched in H2 2020 (it was supposed to be in July 2020) but it remains tentative. What's interesting, however, has been the spike in the number of addresses that hold over 32 ETH needed for one to be a validator in Ethereum's Proof-of-Stake consensus algorithm.
According to a research finding by Arcane Research, the number of unique ETH addresses with over 32 ETH is almost 120,000, up 13 percent in the last year of trading per another parallel finding by Nansen AI, an analytics company.  And only less than 1,000 addresses with over 32 ETH are held by exchanges.
A level deeper, this is some good news for ETH and the Ethereum ecosystem as it represents total decentralization.
ETH/USD Price Analysis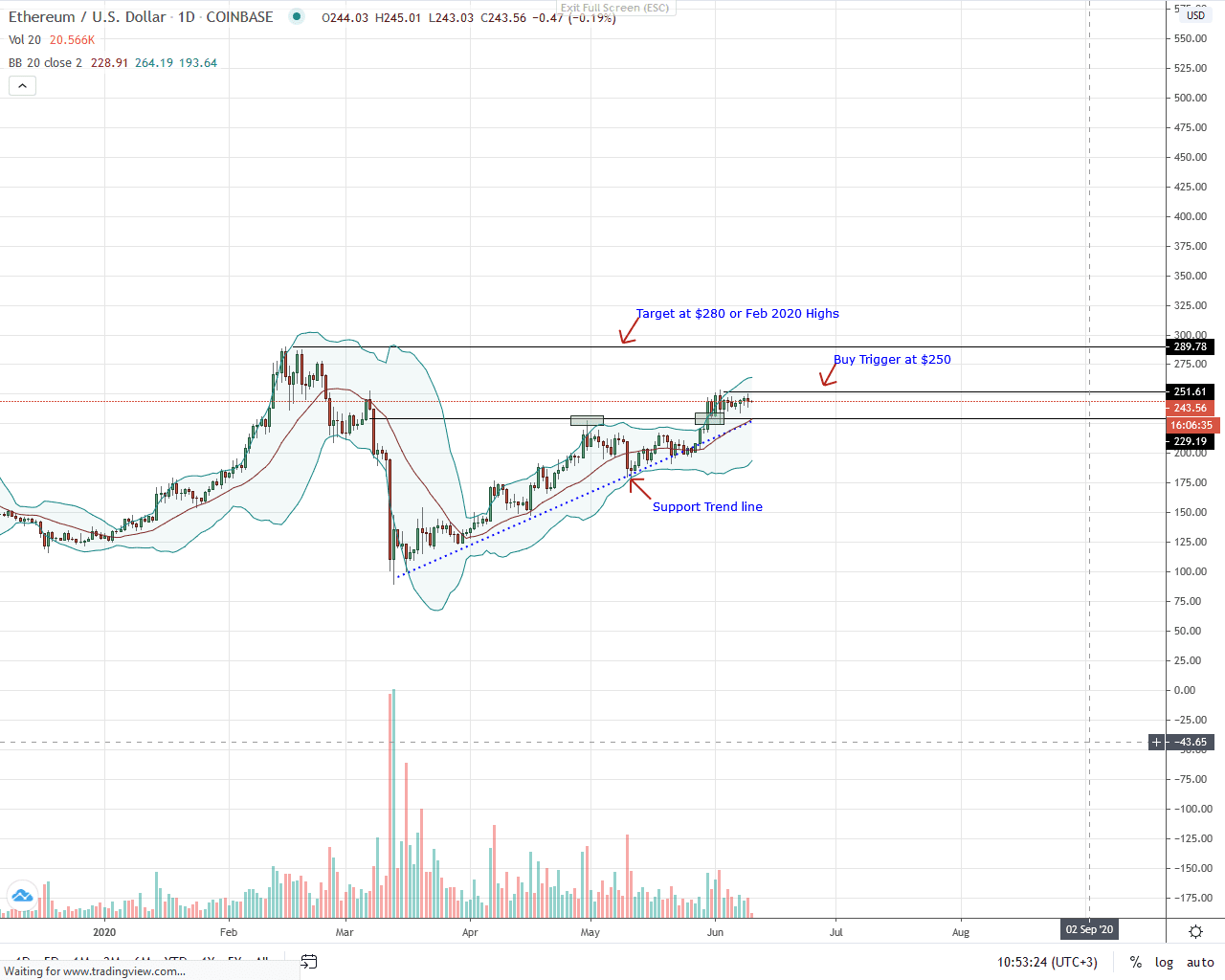 Week-to-date, ETH prices are stable against the USD. Up roughly three percent in the last week, ETH prices are stuck in a $20 consolidation with caps at $250 and $230 as resistance and supports, respectively.
From price charts, ETH is technically bullish. Nonetheless, for buyers to step up their campaigns, there must be a clear break and close above the $250 level. This is the recent high and accompanying this close above must be high trading volumes. A close above $250 could see ETH rally towards $285 and $300.
In the meantime, support is offered by the middle BB (the 20-day moving average), the two-month support trend line, and $230. As it is, there is a double bar bear reversal pattern following the sell candlestick of June 2, 2020.
Since prices are oscillating within its price range, sellers have an upper hand and prices may fall should ETH drop below $240 or June 2, 2020, spurring a sell off. A drop below $230 and ETH may easily slide to $200 or lower.
Disclaimer: This is not investment advice. Opinions expressed here are those of the author and not the view of the publication.
---
If you found this article interesting, here you can find more Ethereum News