At this point in time, there is no doubt of Ethereum's capability and where resulting demand will drive its price to. The Ethereum price is quite literally off the charts, blasting through major resistance zones as buyers target $500. This was Q4 2020 target but it seem the lift off was stronger than expected.
Path to $1,000?
Encouragingly, analysts predict even loftier price targets. $1,000, a few months, looked untenable. However, the tide is turning and bulls are going for the big prize. At $1,000, however, there will be too much activity on Ethereum which will in turn gas fees to unstainable regions.
Presently, Uniswap may be attractive given its incentive and what's there for yield farmers. Still, sophisticated robots lurking in the Mempool are relentlessly searching for exploits as detailed by security experts.
Over and above everything, it is prohibitively expensive to transact in Uniswap and Ethereum in general. Gas fees are a major impediment at the moment.
Binance Smart Chain, Polkadot may help scale Ethereum
During this time of FOMO, other supplementing but yet critical wings of Ethereum heavily reliant on low fees to thrive are seriously considering their options. Good news is that EVM-compatible smart contracting platforms like Polkadot could offer support.
The recently launched Binance Smart Chain is also smart contract capable but is distinctive because of its high throughput. Whether these independent and competing chains will prove attractive for gaming or gambling sites operating from Ethereum will only be determined by time.
Ethereum Price Analysis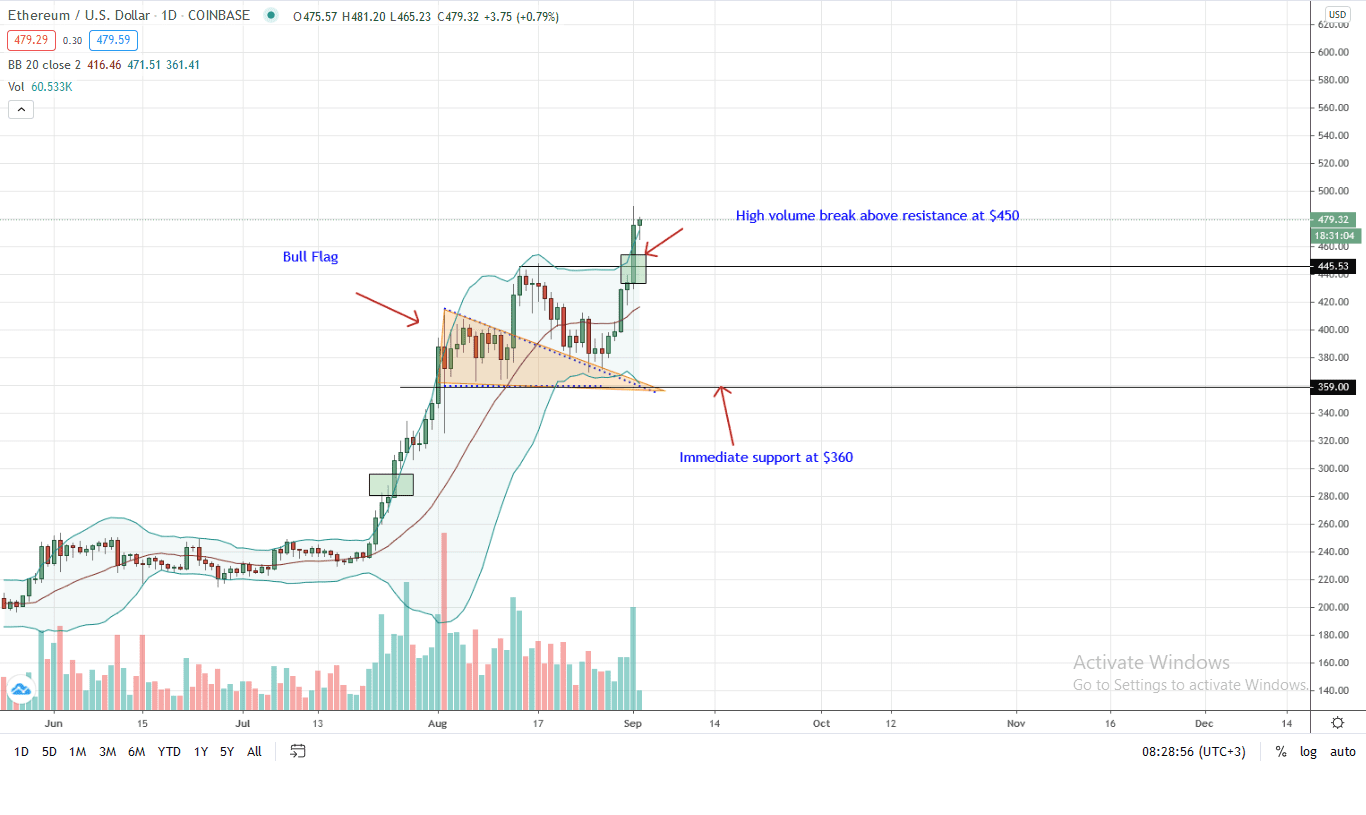 The Ethereum price is firmly bullish. Literally cruising and outperforming the USD and BTC, the path of least resistance is to the upside. In the last trading week, the ETH price added 28 percent and 21 percent respectively against the greenback and BTC.
In the daily chart, candlestick arrangements suggest bulls. Not only was the snap back from support firm but accompanying the recovery were decent trading volumes suggesting participation. Besides, yesterday's bar is now banding along the upper BB signaling increasing moment.
Overly, this is net positive, a reason supportive of bulls' attempt to retest $500 and print a new two-year high. Notably, the Ethereum price is trending above Aug 2020 highs as price action swing back to an uptrend.
Considering these exciting developments, every low in lower timeframes should technically be a loading opportunity for risk-averse and aggressive traders. As aforementioned, the first target will be $500 with fitting stops below Aug 2020 highs—previous support now resistance.
Chart courtesy of Trading View
Disclaimer: Views and opinions expressed are those of the author. This is not investment advice. Do your research.
---
If you found this article interesting, here you can find more Ethereum News