The future of Ethereum looks bright, but at present, ETH/USD prices are not a source of joy.
Traders are in despair, wondering what could happen to their fortunes if the trend continues as it is.
At the time of writing, ETH is down seven percent, sliding gradually towards $1.75k.
Meanwhile, there is a contraction in participation, suggesting caution from traders some of whom are scampering for the exits.
Eth2 Node Count Rise
As aforementioned, there are some bright lights—the hopes of the London Upgrade, which makes ETH a deflationary asset, is welcomed.
Upon activation in early august, thousands of coins will be destroyed every quarter, increasing scarcity and fortifying the uptrend.
Concurrently, there is a surge in the number of Eth 2 validators. To operate these nodes, users must lock 32 ETH.
Thus far, over $11.9 billion of ETH secure the parallel Proof-of-Stake Beacon Chain. These coins will be locked for at least one year before developers switch off the Proof-of-Work machine in a shift to better energy efficiency.
The Migration to Competing Platforms
It is directly because of scaling that fees remain high.
Layer-2 is touted as a solution, but users want to secure their assets from the base. Therefore, while novel and expected to relieve on Gas, some analysts are skeptical of its efficacy.
For this, some projects, like Power Ledger, are shifting to competing platforms that are scalable and cheap for end users.
Ethereum Price Analysis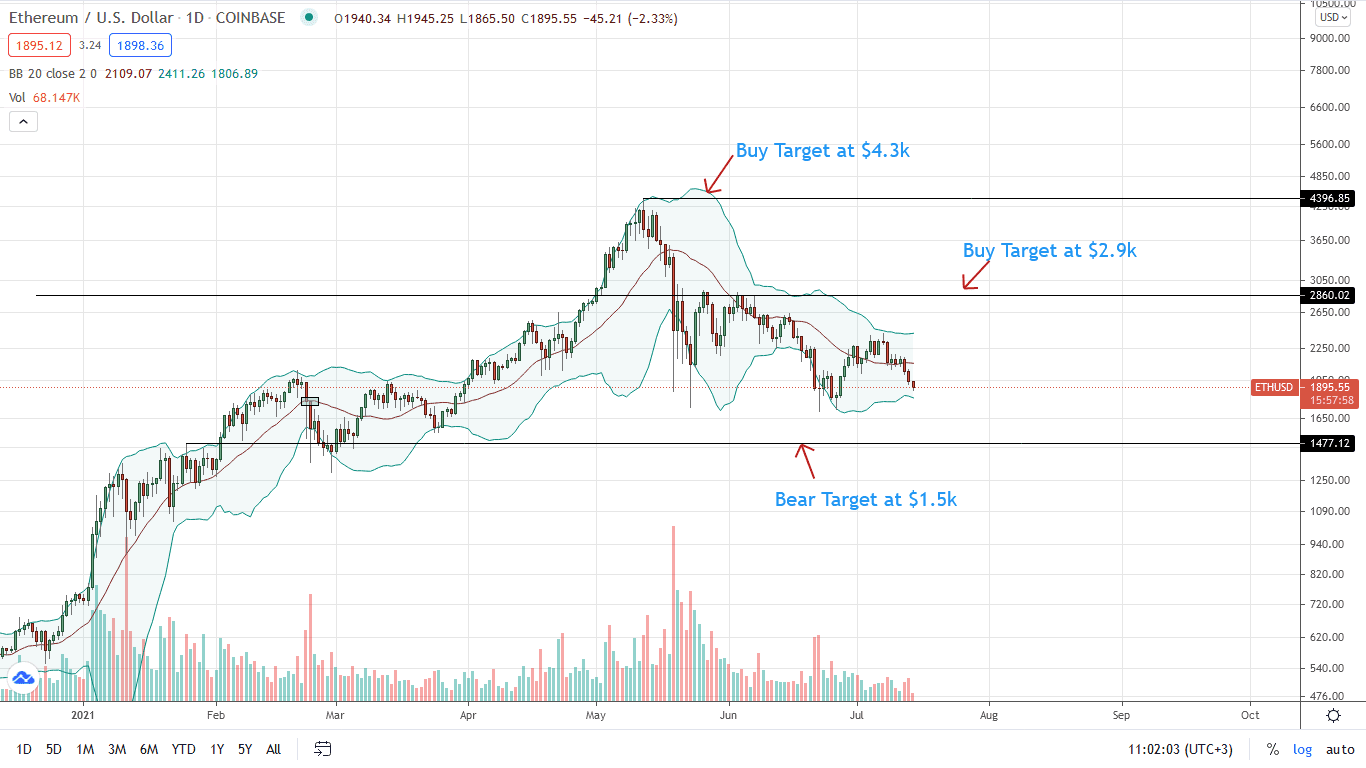 From the daily chart, ETH prices are sliding, dropping seven percent on the last trading day.
At the same time, trading volumes are comparatively low. Although ETH/USD bulls expect recovery, bears are in the driving seat.
The contraction from the middle BB and series of lower lows yanks momentum back to sellers. In that case, there might be an opportunity for aggressive ETH sellers to unload on pullbacks, targeting May and June 2021 lows of around $1.75k.
An unexpected uptick in demand, lifting ETH prices above last week's highs of around $2.4k, would be the launching pad for ETH bulls targeting $2.9k and $3k in the medium term.
Nonetheless, risk-averse traders can stay on the sideline, listening keenly on crypto market heartbeats for a breakout above $2.4k or $1.75k before committing.
Technical charts courtesy of Trading View
Disclaimer: Opinions expressed are not investment advice. Do your research.
---
If you found this article interesting, here you can find more Ethereum News