The Ethereum price appears to be bottoming up roughly a week after closing above the middle BB.
Technical candlestick arrangement now favors buyers, a move that's highly welcomed following the rough tides of the better part of the last six weeks.
As of writing, ETH is one of the top performers in the top-10, only trailing UNI—which is lifting off on account of Ethereum's revival.
Eth2 Staking and Whales Accumulating
Fundamentals are also aligning well with Ethereum bulls.
For instance, Santiment data shows shifting sentiment and accumulation, especially by whales.
Thus far, their data reveals that more than 70 percent of ETH in circulation is under whales. This is a significant percentage indicating confidence in ETH prospects.
The combination of whales holding and Eth2 accelerated staking ahead of the scheduled migration to a staking network cements ETH bulls' conviction.
It partly explains the stability of ETH prices above $2k with hopes of even more gains in the days and weeks ahead.
Ahead of London Hard Fork
At the same time, Ethereum developers are at an advanced stage in implementing EIP-1559 via the London hard fork to mark the end of the Metropolis Era.
EIP-1559 is closely watched by Ethereum enthusiasts since, first, it makes ETH deflationary through the burning of BASE FEE.
EIP-1559 also introduces predictability in Gas from a network activity perspective since fees will be automatically determined by the network—not miners.
Ethereum Price Analysis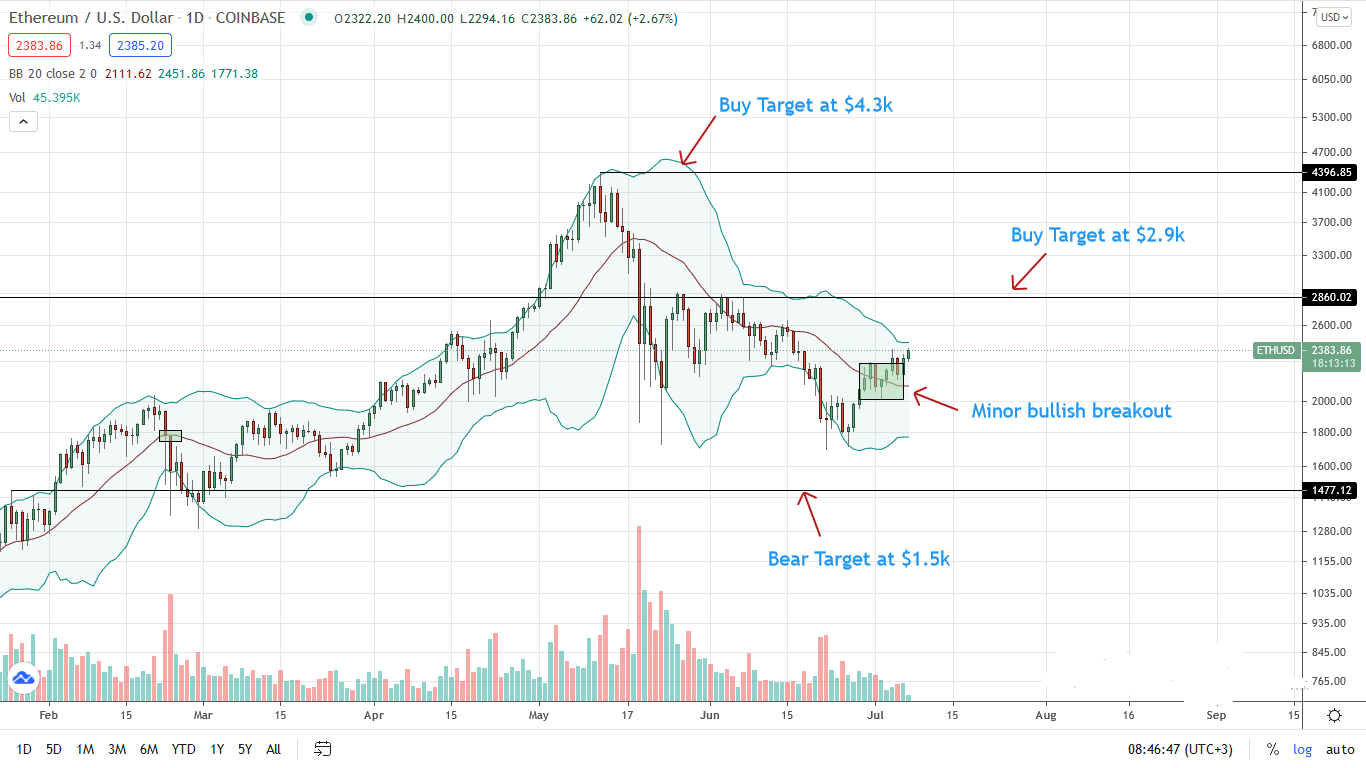 ETH is up 12 percent week-to-date at the time of writing, backed by above-average participation levels.
Technical candlestick arrangement points to buyers. ETH/USD is already trading above the middle BB for five consecutive days for the first time in over six weeks.
Although ETH/USD prices are in a tight range, every low could technically be a loading opportunity provided prices are firm above $2k. The immediate target, in that case, is $3k.
From an Effort-versus-Results perspective, the close above $2.5k and reversal of June 21 and 22 bears would serve to catalyze demand. A three-bar bullish pattern prints out as mapped out from the tail end of June to encouraging price action in early July.
On the reverse side, if ETH prices free-fall below $2k and the middle BB rendering this week's breakout as a bear trap, odds of bear trend continuation back to $1.5k will be high.
Chart Courtesy of Trading View
Disclosure: Opinions Expressed Are Not Investment Advice. Do Your Research.
---
If you found this article interesting, here you can find more Ethereum News