The crypto market rallied over the last 24 hours as Federal Reserve Chair Jerome Powell's positive remarks bumped investor confidence. Bitcoin (BTC), Ethereum (ETH) along with major cryptos traded in green after Powell expressed, "disinflationary process has started."
Bitcoin Takes Off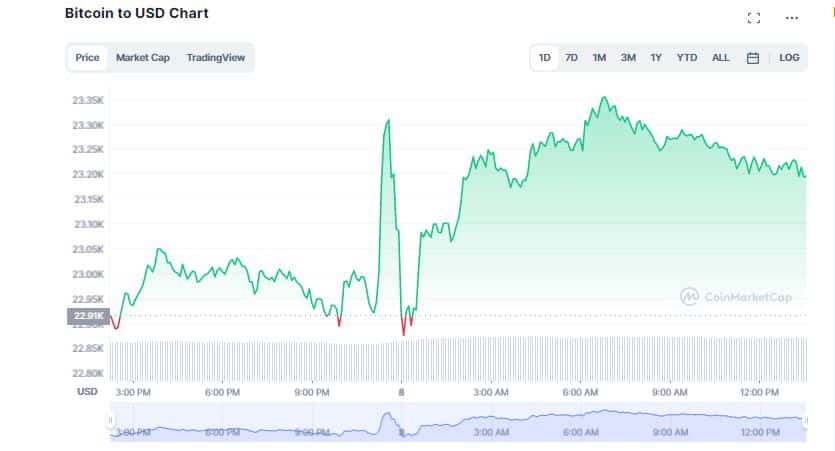 According to CoinMarketCap, Bitcoin (BTC) witnessed a sharp upswing as the flagship token pushed above the $23K level. BTC gained nearly 1.30% in the last 24 hours to trade at $23,224. The largest cryptocurrency is up 0.48% over the past seven days. Although Bitcoin (BTC) took a small dip, it remained within its recent trading range and close to its new year high.
Experts believe there is a potential for BTC price moving upside, if $23,400 is broken. Following a brutal downtrend, the bellwether token has experienced a substantial surge since the onset of the New Year. Not just crypto, Powell's recent comments propelled U.S. stocks to rally higher. The Fed Chair emphasized that 2023 should be a year of "significant declines in inflation."
Decline in Inflation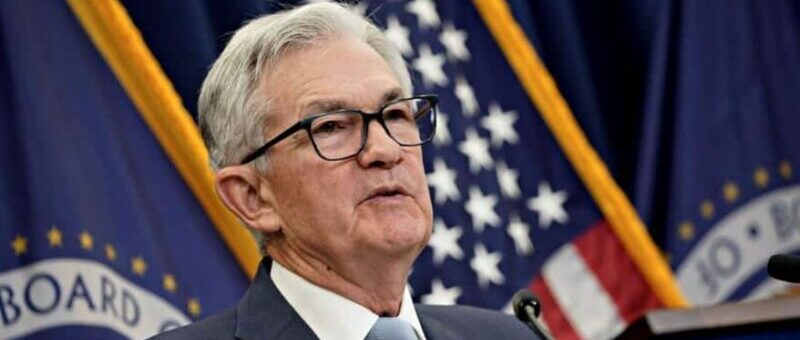 After Powell's comments, financial giant, Morgan Stanley said it added 25 basis point to its forecast for the May policy meeting, but continued to expect the first 25 basis point rate cut for December, 2023. However, Powell also highlighted more rate hikes will be necessary to be able to declare victory in its fight against rising price levels.
Several market analysts expressed optimism citing it may take more time to quell inflation but things have started to show a positive pathway. Shawn Cruz, head trading strategist at TD Ameritrade explained the central bank will not be cutting rates anytime soon, but that there is a good path, adding, "that they're accomplishing what they need to accomplish".
Furthermore, the news that Digital Currency Group and Genesis have reached a preliminary deal with their key creditors has been regarded as another important element that has strengthened the market confidence and contributed to Bitcoin's rise.
Ethereum Signals Positive Momentum
Meanwhile, Ethereum (ETH) increased 2.56% in the past 24 hours to $1,675. The second largest cryptocurrency rose more than 6% over the past seven days. As per crypto experts, Ether is showing strong signs to hit $1,800 mark in the coming days. Of late, Ethereum network has witnessed much healthier on-chain activity with improved interest in non-fungible-tokens (NFT) led by the launch of a mini-game by Yuga Labs.
#Ethereum started a fresh increase and
retested $1,700 against the US #Dollar. #ETH
is showing #positive signs and might #rise
further to the $1,800 zone.
Ethereum #gained pace and was clear the $1,660 #resistance zone. #BTC/USD could rise further if#clear move #above $1,700. pic.twitter.com/N3kerY19yQ

— RJF_crypto_academy (@growithcrypto) February 8, 2023
Since the start of 2023, the daily fees on the Ethereum blockchain have more than doubled from around $2 million to $4 million-$6 million. However, the upcoming "Shanghai Upgrade" remains to be the next big thing for Ethereum (ETH). Follwing the Fed Chair's recent comment, the global cryptocurrency market cap shot past 1.76% in the last 24 hours to $1.09 trillion. The total crypto market volume over the last 24 hours increased 23.24% to $60.97 billion.
Altcoins Bounce Back
At the same time, major altcoins also flashed green with XRP, Cardano (ADA) and Solana (SOL) trading with gains in the range between 1.65% and 3.56%. Polygon (MATIC) surged more than 5% in the last 24 hours to hover at $1.28%. The digital token jumped a whopping 17% over the past seven days as activity soars on the Polygon network.
Recently, Bloomberg senior macro strategist Mike McGlone noted Polygon (MATIC) is Ethereum's most effective solution as DeFi platforms such as Aave and Uniswap are migrating to Polygon. On the other hand, Popular memecoins such as Dogecoin (DOGE) and Shiba Inu (SHIB) increased 1.17% and 1.65%, respectively.