About two months ago, the crypto exchange company, Coinbase, announces support for the Circle-issued stable coin with the aim of allowing its customers from different regions to be able to buy, sell, send and receive the USD stablecoin.
Today, the company is offering support for the U.S. dollar stablecoin, allowing customers in the 'supported jurisdiction' to buy, sell, send and receive USDC. This follows an announcement on the company's new platform, 12 Days of Coinbase, stating that the stablecoin ($USDC), is Coinbase's first stablecoin.
12 Days of Coinbase
12 days of Coinbase is a now 7 days old series that was started on December 10th by the company in the spirit of Christmas. The platform makes one big announcement a day for 12 days till the 21st of December.
On the first day, for instance, the company announced that customers in the United States could now spend their crypto balanced on WeGift e-gift cards. Customers are now enjoying fees and bonuses of up to 10% on specific vendors. This has greatly eased the use of crypto coins for daily purchases of goods.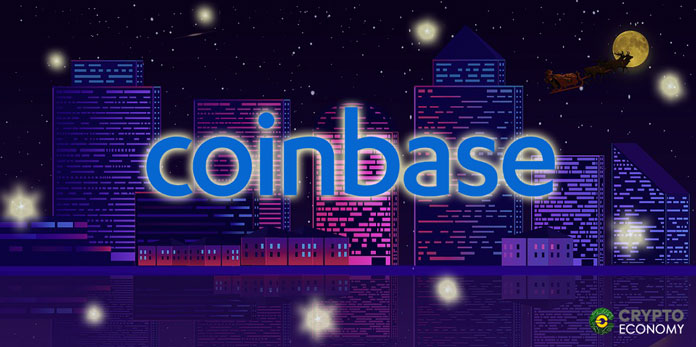 On the 6th day, the company donated $10,000 Bitcoin (BTC) to support underserved Syrian refugees in Greece. The early Christmas gift allows GiveCrypto.org to significantly expand on the model that has already allowed them to support other families Syrian families. The support provides a basic income to over 150 Syrian refugees in Greece. This help comes after donating also $ 10,000 in Zcash for more than 100 Venezuelan families.
The USDC
The 7th announcement, explains what's more special about the USDC, showcasing all the benefits of cryptocurrencies at a stable price. The team defines the USD Coin as a type of cryptocurrency that is referred to as a stablecoin. The coins can always be redeemed at a price of $1.00 for 1 USD Coin, hence giving it a stable price.
This means that each USDC is backed by one US dollar, which is held in a bank account. The USDC is an Ethereum token and can therefore be stored in Ethereum-compatible wallets, such as the Coinbase Wallet.