Cardano has made significant strides after the much-anticipated Alonzo upgrade went live on its network. In the latest development, the Cardano blockchain is all set to facilitate the issuance of the crypto-backed dUSD stablecoin and decentralized trading on their Danaswap DEX AMM platform. Here's how:
According to the official announcement, the stablecoin hub Ardana aims to build decentralized finance [DeFi] infrastructure for the Cardano blockchain as part of its long-term collaboration plan. Under the deal, Ardana seeks to position EGLD as one of the first non-native assets on the Cardano network that can be used as collateral for dUSD minting.
This will bedone by moving EGLD tokens between the Elrond Network and Cardano blockchains with the help of a two-way bridge that will be jointly built by Ardana and Elrond.
Before diving deeper, it is important to understand that the latest development comes after a slew of announcements of Cardano at its state-of-the-art hybrid crypto event last month. Crypto-Economy had earlier reported about some of Cardano's most high-profile partnerships and integrations including Chainlink, Oasis Pro Market, Rival, Dish Network.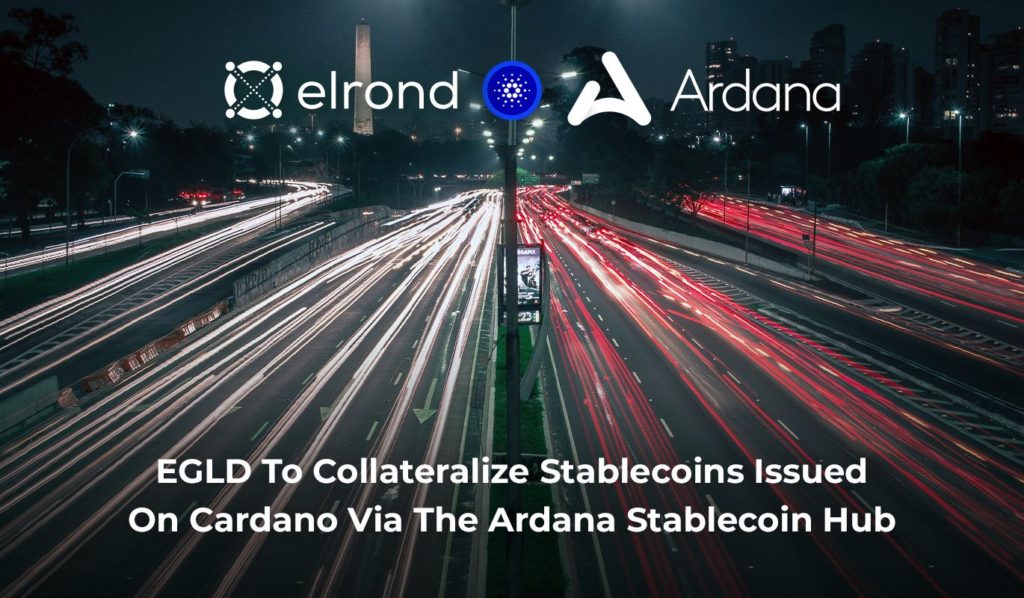 The Trio- Cardano, Elrond, Ardano
For the uninitiated, Elrond happens to be a blockchain architecture platform and its native token is EGLD. Focussed on DeFi, IoT, and fintech, Elrond has garnered significant traction due to its scalablity, and low fees. It also touts itself as a carbon-negative [Proof of Stake algorithm], layer one blockchain network that can handle more than 100,000 TPS, 5 seconds latency, at $0.001 transaction cost.
By closing the gap between Cardano and Elrond, Ardana plans to enable project creation on both the smart contract platforms, thereby allowing transfers of tokens between the compatible chains, followed by a cross-chain smart contract utility.
The collaboration also aims to preserve their value even after enabling seamless movement of assets from Cardano to Elrond. This feature is made possible by allowing high-speed and low fees transfers. Soon after this, EGLD will be available as an asset on the Cardano blockchain and will discover functionality as collateral to mint stablecoins on Ardana.
Great news, #Ardanians! 💙

📌 We're partnering w/ @ElrondNetwork to build the first-ever bridge between #Cardano ecosystem and #ElrondNetwork.

🤝 We're also excited to welcome $EGLD as cross-chain collateral for our #stablecoins!

Learn more 🔽 https://t.co/0g7pTY6tve

— Ardana – DeFi Hub of Cardano (@ArdanaProject) October 7, 2021
For Beniamin Mincu, Elrond Network CEO, the integration reflects a creative exploration of collateralizing a stablecoin on one chain with the native coin of another. According to the exec, the move may prove to be a crucial beginning for interoperability between "two progressive global ecosystems."
Following the development, Ryan Matovu, who happens to be Ardana CEO and Founder commented,
"eGold is a scarce asset with capped supply that is very in demand right now. We're excited to take on the challenge of making it available to the Ardana users and offer them more options to issue dUSD that is underpinned by strong assets that imply lower overcollateralization."