Cardano's Alonzo update was a big milestone. But the much-awaited advanced virtual summit, which is being touted as the blockchain event of the year, has attracted viewers from all over the world. The Zurich-based non-profit organization, Cardano Foundation partnered with prominent esports and gaming platform, Rival.
According to the official announcement, the main aim is to develop agnostic non-fungible token [NFT] marketplaces, fan rewards, among others for Rival and their partners. With the latest partnership, Cardano will see the functionality to create and distribute NFTs, the redemption of NFTs for physical goods, as well as marketplace-based royalties within the Rival ecosystem.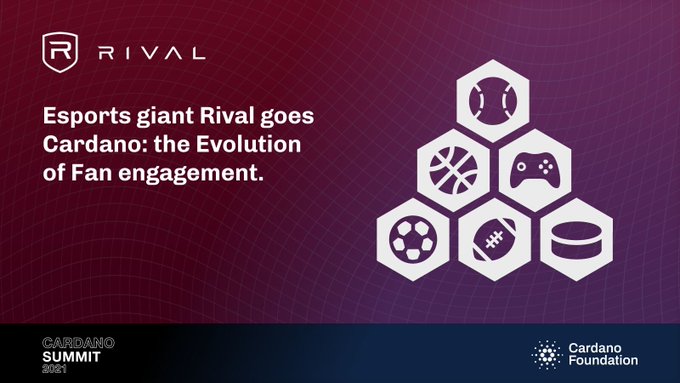 Meanwhile, the gaming platform boasts high-profile clientele, some of which include, National Football League's [NFL] Seattle Seahawks, National Basketball Association's [NBA] Detroit Pistons, and Aston Villa and Watford of the English Premier League [EPL].
Following the news, Matt Virtue, who happens to be the CEO of Rival platform stated,
"Our partnership with Cardano marks Rival's entry into blockchain and is a significant step in our evolution as an enterprise platform solution to unlock the unlimited potential in gaming and esports. Rival's integration with Cardano will help us maximize and personalize the entire Rival experience – for both gamers and partners."
Earlier, Crypto-economy had reported about the organization minting the world's first non-fungible tokens of appreciation [NFTAs] on the Cardano blockchain. The foundation came up with a unique idea to celebrate the launch of the brand-new developer portal.
Cardano and decentralized finance identity solutions
Charles Hoskinson, the co-founder of IOG, has been vocal about empowering the masses by shattering the centralized norms and culture. At the summit, Hoskinson had mentioned that "Cardano is about liberating anything it touches."
In line with this, Cardano also revealed extending support for a decentralized finance identity solution and announced joining forces with blockchain-powered AID:Tech. The latter is involved in offering identity-based solutions for finance, payments, and insurance with the help of blockchain.
With the latest collaboration, Cardano will deliver technical guidance to the AID:Tech team for the development of "verifiable credentials for trusted identity management and ownership." This will allow the end-users to efficiently process payments and disbursements; and reliably process massive transaction volumes.
Not Bitcoin or Ethereum, this time Cardano [ADA] leads the altcoin pack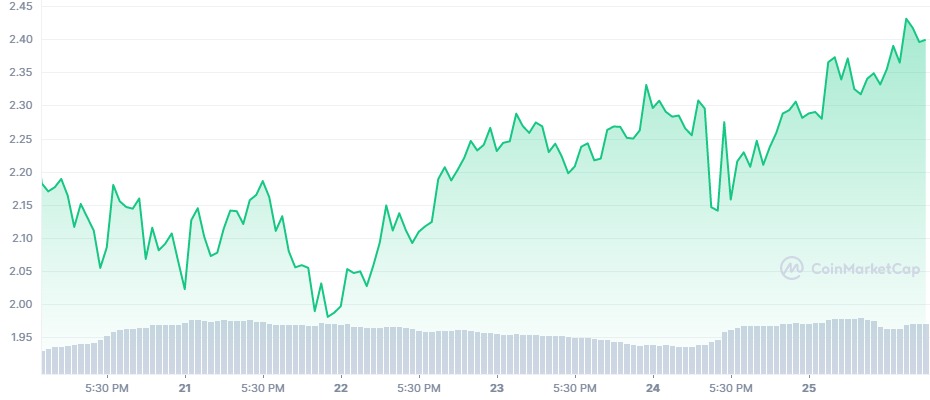 The Cardano Summit 2021 saw a myriad of strategic partnerships to further extend the adoption and utilization of the Cardano blockchain. Its native ADA token saw a significant surge in its price on the first day of the event.
As the broader market rallied, ADA went on lead the pack after surging by more than 8% over the past 24-hours. At the time of writing, the third-largest crypto asset was trading at $2.46.
---