The cryptocurrency market has received some positive news this week. Therefore, the impact of such developments can be seen all across the market. Many cryptocurrencies, including Bitcoin (BTC), are trading on the greener side. Similar positive momentum is recorded by Cardano (ADA). The latest inflation rate decision by the FED was a major contributor to the green digital asset market.
Cardano (ADA) has breached the $0.30 resistance level this week. It now faces the next resistance level, around $0.32. At the time of writing, Cardano (ADA) is trading a little over $0.31. It has a market cap of over $10.71 billion. Moreover, the coin is green in terms of daily and weekly price changes.
ADA is expected to continue its upward rally. However, the uptrend seems to be steady for the token. Nonetheless, ADA is eyeing the much anticipated $0.40. If it continues its good run in the next week, can surely aim for the price mark.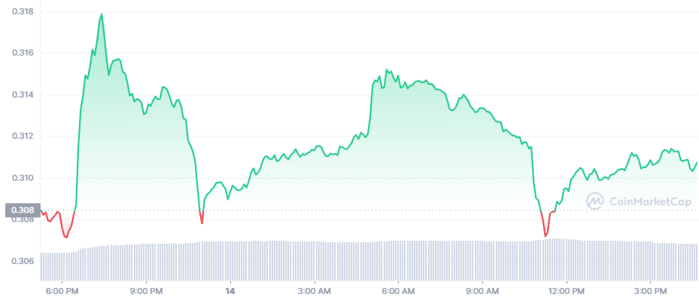 Several Positive Factors Contribute to the Success of Cardano (ADA)
It was reported that the Cardano network had recorded the most development activity in the last week. The network has many pending projects in the pipeline, making it the most active and developed chain this month. Such news is encouraging for the network, as it recently completed its Vasil hard fork upgrade in September.
Since this update, many dapps have announced integration with the network. This increased development activity has ensured a positive sentiment around Cardano's native cryptocurrency, ADA. Many investors and analysts believe that the upcoming launch of these projects will act as a catalyst for the coin's price in the future.
With more consumer adoption, Cardano (ADA) hopes to get back on its feet. The cryptocurrency is currently down by 90% from its all-time high of over $3. Nonetheless, the coin is gaining momentum, and it is aiming for the $0.40 price mark for the first time in about five weeks.
On the other hand, the co-founder of the Cardano blockchain, Charles Hoskinson, has also remained active on Twitter. He has interacted with followers and commented on the arrest of Sam-Bankman Fried, along with other market aspects. Moreover, he believes that SBF's actions will lead to more strict regulatory rules for the crypto market.