Cardano [ADA] was among the few among the top ten crypto-asset whose figures flashed green. It has performed phenomenally well especially at the backdrop of a significant lack of momentum in the broader market.
Cardano [ADA] has surged by nearly 50% over the past week after sustaining a rally that started on the 5th of May. Despite minor roadblocks, the crypto-asset maintained the winning streak and replaced Dogecoin to become the fourth-largest by market cap in the leaderboard.
It was up by more than 23% over the past day alone which pushed its price to an all-time high of $2.37. At press time, ADA was holding a market cap of $74.85 billion while recording a trading volume of $12.07 billion over the last 24-hours.
Cardano [ADA] 1-Day Price Chart: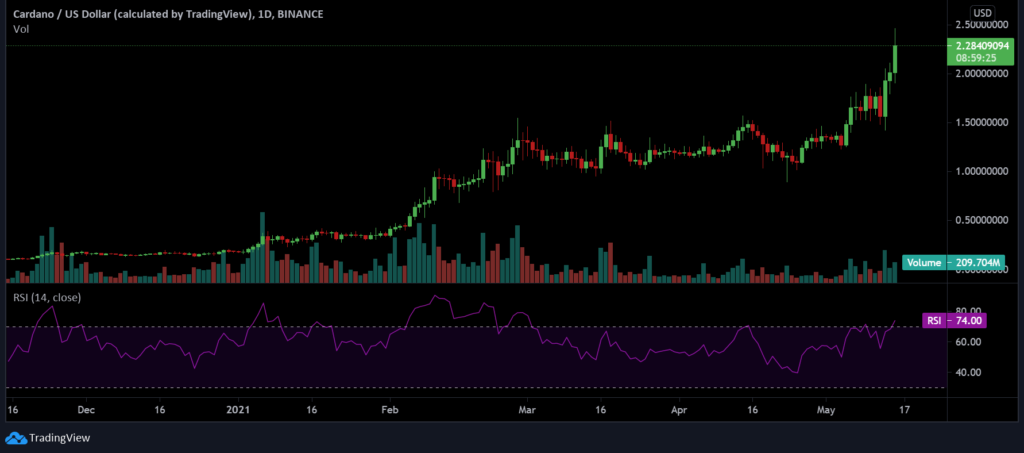 The digital asset's daily price chart looks promising. The Volume, for instance, has been on a steady incline since the last week of April. During the same time, ADA recovered from a market-wide correction and started an upward trend. At the time of writing, the high volumes backed the peak formation by the token's price which was a bullish indicator about a healthy market.
The Relative Strength Index [RSI], peeked above the overbought conditions which demonstrated growing confidence in ADA and a strong sentiment of buying pressure among the investors despite a market-wide rout.
The above chart signified that the price has been backed by good technicals. But could that be the only reason for the surge?
Alternatives?
As noted above the cryptocurrency market is not really having a good time. Thanks to Tesla Chief Elon Musk's 180-degree spin on Bitcoin, citing hefty environmental cost, the entire market bled and lost significant valuation.
While it did start the age-old debate and discussions about Bitcoin's impact on the environment, it also opened up conversations surrounding alternative tokens which are less carbon-intensive.
Taking the opportunity on Musk's episode, the founder of Cardano, Charles Hoskinson went on to tag the tech giant in his latest tweet which read,
@elonmusk are we finally going to have the Cardano conversation? Come to my farm in Longmont with Kimbal. Got sweet tea and minidonkeys

— Charles Hoskinson (@IOHK_Charles) May 13, 2021
Hoskinson had previously claimed that the Cardano network consumes about 6-gigawatt hours [GWh] of energy similar to proof-of-stake [PoS] tokens such as Polkadot [DOT] and Algorand [ALGO], which is quite tiny when compared to that of Bitcoin's energy consumption.
Another important milestone that could have catapulted the price of ADA token to new heights could be the much-anticipated launch of Alonzo hard fork this month which is expected to see the delivery of the Goguen era of Cardano's roadmap.
The upgrade essentially involves the implementation of secure smart contract capabilities.
---
If you found this article interesting, here you can find more Cardano News