Blockstream, a leading provider of blockchain technologies, launched Blockstream Satellite on August 15, an innovative service offering free access to the Bitcoin network.
Blockstream Satellite transmits real-time Bitcoin block satellite data in space, offering availability across two-thirds of the earth mass, with plans for almost global coverage by the end of the year.
Today there are an estimated four billion people worldwide who are not connected to the Internet due to the lack of availability in their area. As members of the growing Bitcoin community and as believers in technology to create a positive social impact, Blockstream wants to make bitcoin available to more people around the world.
To access the network, it is enough that only one person in a community has access to the data of the blockchain through Blockstream Satellite, allowing the distribution of that data to other people locally. Although users of Blockstream satellites still need Internet access (cellular, satellite internet, etc.) for bitcoin transactions (the average size of the bitcoin transaction is only 250 bytes), Blockstream Satellite handles Bitcoin's blockchain broadcasting , Which is projected to grow at 8 gigabytes per month.
At Blockstream they are convinced that more people participating reinforce the overall robustness of the network. Blockstream Satellite also provides an additional layer of reliability for blockchain data in the event of a network outage.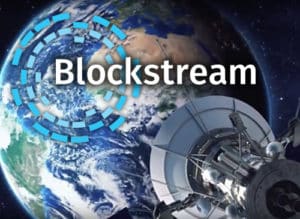 The Blockstream satellite network currently consists of three geosynchronous satellites at various positions on Earth covering four continents; Africa, Europe, South America and North America. Ground stations, called tele-doors, connect data from the Bitcoin public block network to network satellites, which then transmit the data to large areas around the world. Additional teleports are being phased in to allow global coverage.
By the end of 2017, additional satellites will be added to the Blockstream satellite network, which will enable global coverage and reach almost all people on the planet.
Blockstream Satellite makes extensive use of GNU Radio open source software, which enables cross-platform implementation of software-defined radios (SDR). The use of SDRs eliminates the need for specialized hardware, which greatly reduces costs and makes the technology widely available.
It is believed that Blockstream Satellite will accelerate the adoption of Bitcoin. Blockstream Satellite creates a way to bring Bitcoin to more people, especially in places where there are limitations of internet.
We invite you to follow the day by day about the cryptocurrencies, blockchain and bitcoin world at Crypto-economy.